Pork or beef ribs? Baby back or St Louis? BBQ or smoked? For me, I like juicy BBQ pork ribs that are tasty, juicy and not too fatty. There is nothing worse than dry meat that is lathered in sauce to make it tasty and swallowable! I usually opt for the meatier baby back ribs but I decided to make some juicy BBQ St. Louis pork ribs for a change.
I've sampled St. Louis ribs at restaurants and they have never been juicy and succulent. I decided to adapt my usual baby back pork rib technique to the St. Louis ribs and they were really juicy BBQ pork ribs. Not only were they juicy, they were tender and SO flavorful! I usually apply my own home-made dry rub, but this time, I decided to buy the pre marinated Costco St. Louis ribs and was pleasantly surprised.
Tips.
Precook.
I always pre-cook my ribs before BBQing. For these St. Louis ribs, I decided to slow cook them in a very low temperature oven until the internal temperature reads 130 degrees fahrenheit or 55 degrees celcius.
Baste often.
During the slow cook process, the heat evaporates the moisture, resulting in drying out your meat so basting with a thick sauce is vital. Basting not only keeps your meat moist but also flavors your meat. My basting sauce always has an element of sweet, salty and tangy!
Internal temperature.
In order to cook perfect meats ALL THE TIME, invest in an instant read / leave in thermometer. This would be a perfect gift for the person that BBQs. I can give you approximate times, but thickness of meat and ovens vary.
BBQ
The final cook is the BBQ. I use medium heat (about 350 F or 177 C) which is sufficient to caramelize the basting sauce, creating that wonderful browning and shine. If the heat is too high, the sugars in the basting sauce just burns before the meat can reach an internal temperature of 140 degrees fahrenheit (60 degrees celcius). This part of the cooking should not take more than 15 minutes. Flip and baste at least twice on each side during the BBQ process. This is also where you can achieve the criss-cross grill marks on your meat! Remove your ribs and allow your ribs to rest and reach 145 degrees fahrenheit (63 degrees celcius) which is safe to eat pork.
For all you BBQers out there, let me know what you think of these juicy BBQ pork ribs?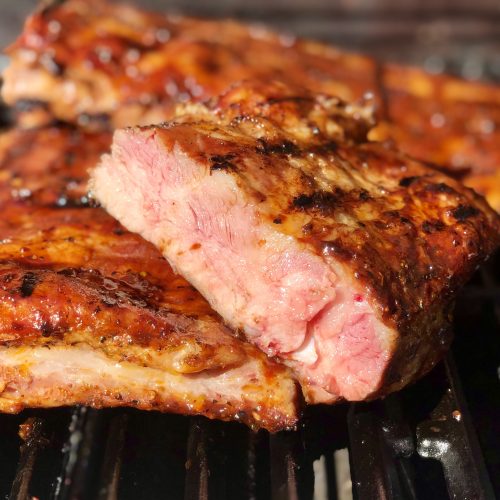 BBQ PORK RIBS. Dry rub with basting sauce.
This delicious BBQ Pork basting sauce keeps your ribs succulent and tasty
Instructions
Mix dry rub ingredients together

Generously sprinkle the dry rub on both sides of the ribs. You may not need all of the dry rub. The amount of rub depends on the size of your rack of ribs.

Allow to marinate for at least 4 hours, preferably overnight.

Mix above sauce ingredients

Preheat oven to 250° fahrenheit

Cook ribs until internal temperature reaches 130° fahrenheit (55° celcius). Using a brush, baste ribs occasionally during slow cooking

Preheat BBQ to medium heat around 350° fahrenheit (177° celcius)

BBQ ribs until internal temperature reads 145°F or 63° C. Remove and let sit 5 minutes before cutting.
Tried this recipe?
Let me know how it was or if you have any questions or suggestions!