This delicious easy "casian" (cajun asian) shrimp recipe was developed by accident. This past week, we were celebrating my extended family's June birthdays and Father's day. We decided to have a pseudo "clam bake", and since it is not Maine lobster and clam season, we substituted them for lobster tails, shrimp and scallops.
When my daughters were young, they LOVED the Bubba Gump restaurtant. They would order the shrimp that came with a cajun broth and they loved dunking the shrimp into the broth. Years ago, I found a recipe that claimed it was their dunking broth and my daughters thought it tasted delicious. I decided to pull out that recipe for this occasion.
Since I didn't have any cajun spice, I decided to make my own blend from scratch and to my surprise, I liked it even better. As I was making the broth, I realized that the spices without the seafood broth would make an excellent paste for sauteed shrimp. I replicated the recipe a few days later with colossal butterflied shrimp, added a few of my own ingredients and it was SO finger licking good that one of my daughters said it was better than shrimp with drawn butter! I definitely had to agree. The cajun mix is somewhat spicy, but the spice level can be adjused accordingly. It also took me less than 15 minutes to get this zesty quinoa kale salad topped with cajun shrimp meal on the table. Something I thought definitely worth sharing!
Tips for making easy "casian" (cajun asian) shrimp.
Shrimp.
For this quick "casian" (cajun asian) shrimp recipe, I use colossal shrimp 10-14 count with the shell on. I usually purchase it on sale from the grocery store in IQF form (individually quick frozen). They usually come in 2 lb quantities, but I just save the shrimp until I need it.
When I was young, my mother told me that I always had to sprinkle shrimp with coarse salt, toss it a few times and place it in a colander. Over the years, I figured out the reason for this process. Besides the salt flavoring the shrimp, the salt also extracts the excess moisture from the defrosting shrimp which helps in firming up the meat, giving it a better "crisp" mouthfeel. After adding the salt, place the shrimp in a colander to drain the excess water.
If you are using frozen shrimp, simply run cold water over the shrimp to remove the ice. Once the shrimp have thawed, salt, toss and drain.
Deveining and butterflying the shrimp.
If you've purchased shrimp that requires deveining (because it's usually cheaper), use a small serrated knife and run it along the spine of the shrimp while the shrimp is flat on the cutting board. Make the incision almost all the way through since this is the way to butterfly the shrimp. This will expose the "vein" which looks like a dark colored thread which you can remove. See my video on All about shrimp to learn how to devein the shrimp with a knife.
Cooking the shrimp.
Three simple words when cooking shrimp: DO NOT OVERCOOK! Overcooked shrimp are rubbery and tough! When the flesh turns white and the shell turns "pink", it's cooked.
Dry rub.
The dry rub consists of a combination of black and white peppers. The two peppers each have their own unique taste and this recipe requires that you use both.
If you want the shrimp to be extra spicy, add cayenne chili powder.
Acid.
The tomato paste, lemon juice and worcestershire sauce all provide a different tangy, acidic taste to the shrimp that complements the spiciness. The addition of the acid also creates just enough liquid so the spices and herbs will adhere to the shrimp better.
Ways of eating "casian" cajun asian shrimp.
This shrimp can be eaten with a green salad like my quinoa kale salad, a cole slaw like my no-mayo, spicy coleslaw, corn on the cob or with rice. It can even be treated as a delectable appetizer! Whichever way you eat it, you cannot go wrong. Enjoy and let me know in the comment section.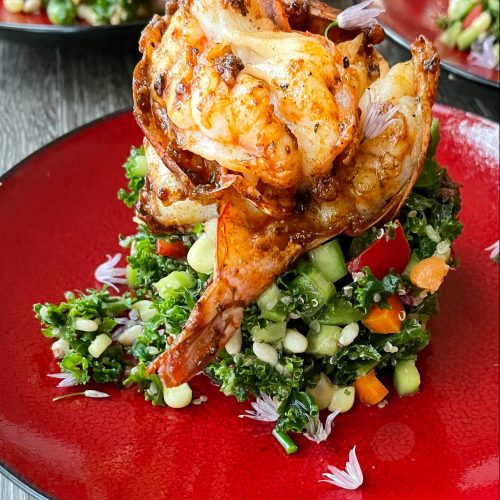 QUICK "CASIAN" (CAJUN ASIAN) SHRIMP
Delicious finger licking shrimp that has the cajun spiciness melded with a hint of tanginess.
Ingredients
16

colossal

deveined shrimp

¾

tsp

coarse sea salt

2

Tbsp

butter

1

Tbsp

fresh chopped garlic

1

tsp

fresh ground pepper

½

tsp

white pepper

1

tsp

sweet paprika

½

tsp

dried thyme

½

tsp

dried oregano

1

tsp

garlic powder

½

tsp

sugar

½

tsp

chicken bouillon powder

1

tsp

tomato paste

1

Tbsp

worcestershire sauce

1

Tbsp

fresh lemon juice

¼-½

tsp

cayenne chili powder

Optional depending on taste
Instructions
Devein and butterfly shrimp. Keep the shell on!

Sprinkle coarse salt on shrimp and place in a colander to drain the excess water that the salt will extract from the shrimp.

Allow to marinate for at least ½ hour.

Prepare all your dry spices and mix together.

Place shrimp on skillet with skin side up. See video

When shrimp turns opaque, flip to cook the other side.

While cooking, add tomato paste and spice mix.

Add worcestershire sauce and lemon juice. DO NOT OVERCOOK!

Add cayenne chili powder for extra spiciness, if needed.
Video
Notes
This recipe requires shell-on shrimp.  If you are not using shell-on shrimp, reduce the amount of salt for the marinade.
Nutrition
Serving:
4
shrimp
Calories:
26
kcal
Carbohydrates:
5
g
Protein:
1
g
Fat:
1
g
Saturated Fat:
1
g
Polyunsaturated Fat:
1
g
Monounsaturated Fat:
1
g
Cholesterol:
6
mg
Sodium:
583
mg
Potassium:
110
mg
Fiber:
1
g
Sugar:
2
g
Vitamin A:
341
IU
Vitamin C:
3
mg
Calcium:
32
mg
Iron:
1
mg