Chinese aromatics is equivalent to the French mirepoix which is the flavor base to all dishes. The Chinese aromatics consist of garlic, ginger and scallions which are very aromatic (pleasant smelling) when fried in oil. The scallions can be substituted with shallots and leeks for a different flavor profile.
Besides providing aroma and flavor, garlic and ginger also provide many health benefits.
In Chinese restaurants, somewhat large pieces of sliced garlic, ginger and scallions can be found in the dish. This can be good or bad for the eater who doesn't like these aromatics. They can easily pick it out from the dish or they end up with a big mouthful of an unpleasant aromatic!
I prefer to chop my aromatics fine which not only intensifies the flavor, but also makes the aromatic indistinguishable in the dish. The only challenge to cooking with this somewhat finely chopped aromatic is that it tends to brown or burn quickly so it needs to be added to the hot oil just before adding the next ingredient to immediately reduce the oil temperature.
Tips for making Chinese aromatics.
When making Chinese aromatics, I make enough that will last me about a month and store the combined mixture, with some cooking, in the refrigerator. This makes it easy and efficient to spoon out the needed quantity whenever I need these aromatics.
As mentioned earlier, these aromatics tend to brown and caramelize quickly so time is of the essence when stir frying. Have your meat or vegetables ready that will be immediately added to the wok / pan after adding the aromatics to the hot oil. This will result in reducing the oil temperature a little, preventing the aromatics from burning.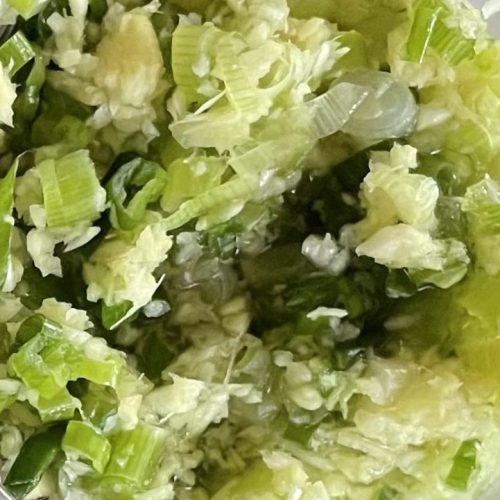 CHINESE AROMATICS
Chopped garlic, ginger and scallions used for all stir frying dishes.
Ingredients
1

bulb

fresh garlic

2

inch

fresh ginger

4

stalks

chopped scallions

¼

cup

cooking oil
Instructions
Peel and large chop ginger.

Add to a personal chopper and chop until fine pieces.

Place in a sealable container.

4 stalks chopped scallions

Add oil. Store in refrigerator until needed. Will last for 1 month in refrigerator.
Video
Nutrition
Serving:
5
meals
Calories:
105
kcal
Carbohydrates:
1
g
Protein:
1
g
Fat:
11
g
Saturated Fat:
1
g
Polyunsaturated Fat:
3
g
Monounsaturated Fat:
7
g
Trans Fat:
1
g
Sodium:
2
mg
Potassium:
39
mg
Fiber:
1
g
Sugar:
1
g
Vitamin A:
96
IU
Vitamin C:
2
mg
Calcium:
8
mg
Iron:
1
mg
Net Carbohydrates:
1
g