I was recently asked by several folk to teach them to be more competent in the home kitchen. This is one of the recipes they requested. I did a side-by-side cooking comparison between ground meat that was marinated and not. The marinated dish was definitely more tasty which made me think about how to constantly elevate simple dishes for time-crunched people. My goal is to develop recipes that are adapted to be easy, tasty, healthy and quick. This mapo tofu recipe is one of them. See my other Quick Meals.
Mapo tofu is one of my daughter's favorite dishes which I had not made for a while. The warm, stewy combination of velvety tofu accented with somewhat spicy and juicy morsels of flavorful ground meat is such a comfort food for my family, especially when it's cold outside. (Below 60 degress fahrenheit in California!)
Variety of mapo tofu.
Mapo tofu originated from China's sichuan province. It is traditionally made spicy and tongue grabbing with the addition of chili paste and sichuan peppers. Several years ago, my family went to China, and we signed up for a private Chinese cooking lesson at a Beijing restaurant. The food we made was heavy with both oil and sichuan peppers and quite frankly, not enjoyable.
Sichuan peppers produce a tingling, tongue numbing effect. This is usually combined with chili peppers to create a flavor called "mala" or numb-spiciness. I realized that I didn't quite enjoy that restaurant's "authentic" mapo tofu and preferred a savory, somewhat spicy and not so tongue grabbing version of that dish. My daughter, Jocelyn, loves the "mala" sensation, while the rest of my family find this tongue numbing feeling too weird. This recipe spans the spectrum with options depending on your personal preference.
Tips for making mapo tofu.
Meat.
Any ground meat such as beef, pork, chicken, turkey and lamb can be used since it is masked by the bold seasonings of this dish. If you have the time, marinate the meat with the basic meat marinade before cooking does take it up a notch!
Tofu.
There are various types of tofu from block and silken tofu that is soft to extra-firm. Health wise, the firmer block tofus have more calcium than the others. The type of tofu used is personal preference. I prefer using the silken, medium-hard tofu for mapo tofu, because it has the soft, silky mouth feel, but just firm enough so that it holds up in the stew.
Seasoning.
In doing a side-by-side experiment with marinated meat and not, the mapo tofu with the marinated meat tasted better than the meat that was not marinated.
Non spicy.
If you don't like spicy at all, use the garlic and black bean sauce paste or regular bean paste without the chili.
Spicy.
For the spicy version, you can either add dried or fresh chilis, chili paste or chili bean paste. If you have time, you can make your own spicy black bean sauce which stores well in the refrigerator and can be used for many dishes. I use my spicy chili, garlic black bean sauce and oyster sauce as the base for the "stew". You can also buy a chili bean sauce at any Asian grocery store. The amount used would determine the spiciness of the mapo tofu.
Mala or numb-spiciness.
This traditional version of the dish requires both a chili bean paste (toban djan) and ground sichuan pepper which together, create the "mala" flavor and sensation. Sichuan peppers can be bought whole and then ground or can be purchased in the ground form that is known as "prickly ash". If you have never worked with this ingredient, taste it first to determine how much "mala" you would like to add to the dish as this taste can be very overpowering!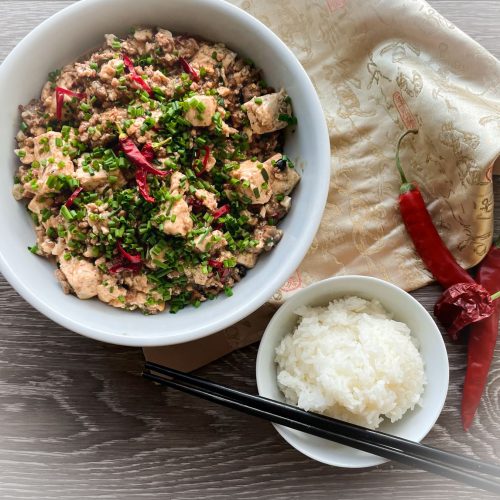 MAPO TOFU
Mapo tofu is so easy to make with just tofu, ground meat and a few Chinese ingredients. Customize as you see fit!
Ingredients
454

g

ground meat

396

g

medium firm silken tofu

medium firm to firm tofu.
Sauce
1

Tbsp

chili / bean paste

toban djan or make your own

1

Tbsp

combination of chopped ginger and garlic

aromatics

1

cup

water

1

tsp

cornstarch

1

Tbsp

sesame oil

3

stems

scallions

⅛-¼

tsp

ground sichuan pepper to taste

extra red peppers for spiciness

2

Tbsp

cooking oil.
Instructions
Grind sichuan pepper corns in a coffee grinder, blender or pestle and mortar until coarse ground.

Marinate ground meat with marinade ingredients. Allow to marinate while preparing the other ingredients.

Cut tofu into 1" (2.5 cm) cubes.

Slice scallions diagonally

Add oil to wok / saucepan

Add chili paste and garlic / ginger paste (aromatics) and ground sichuan pepper corns. DO NOT BURN THE PEPPER CORNS as this will result in a bitter taste.

Add ground meat and stir fry until almost done.

Mix water, cornstarch and sesame oil.

Simmer for a few minutes and allow sauce to thicken.

Add scallions, stir and serve!`
Nutrition
Serving:
4
g
Calories:
455
kcal
Carbohydrates:
7
g
Protein:
25
g
Fat:
36
g
Saturated Fat:
10
g
Polyunsaturated Fat:
6
g
Monounsaturated Fat:
16
g
Trans Fat:
1
g
Cholesterol:
81
mg
Sodium:
182
mg
Potassium:
487
mg
Fiber:
1
g
Sugar:
2
g
Vitamin A:
8
IU
Vitamin C:
1
mg
Calcium:
54
mg
Iron:
3
mg
Net Carbohydrates:
6
g
Tried this recipe?
Let me know how it was or if you have any questions or suggestions!