This spicy chai (sourdough) gingerbread cookie recipe came about due to a fundraiser for The John Foundation. This amazing charity in India educates children and gives women employable skills. I've known about The John Foundation for over a decade and finally got to personally visit it with my daughter a few years ago. It was a real eye opening experience and one charity that has a high return on investment! If you are interested in learning more about this charity, I actually made a private video that I'd be happy to share with you. Please let me know in the comment section. My daughter and I decided to make these gingerbread cookies that had an added Chai twist. We used royal icing and made our version of "henna" designs on the elephants.
The cookie was tasty and the texture actually got better with time! It reminded me a little of the Biscoff cookies except not as sweet. However, I thought that if it were a little more "spicy", it would make it more flavorful. So I decided to tweak the recipe.
In the original recipe, it called for adding the ingredients of a tablespoon of chai tea as the chai spice. I decided that using the "raw" ingredients and blending it fresh would add to the spiciness. So, I have 3 levels of spiciness in the recipe! I also added sourdough discards in one batch and incorporated the sourdough technique with a long resting period. Based on the appearance of the baked sourdough cookie, I believe that this technique would make the cookie more nutritious, although I cannot prove that without taking it to a science lab. Adding the sourdough also made the cookies rise more.
Tips.
Chai.
This recipe calls for 3 teaspoons of Chai. If you don't have whole cloves, cardamom, black pepper or cinnamon in the pantry, you can either substitute it with the ingredients in a chai teabag or use ground spices. When using the ingredients in a teabag and your teabag contains black tea, measure out 4 teaspoons of chai tea.
If you have whole cloves, cardamom, black pepper or cinnamon, the best way to blend this into a fine powder is to use a coffee grinder. Otherwise, you can substitute the whole spices with ground spices.
Hand or mixer?
You can make this recipe either by hand or mixer. The dough is a lot softer when using a mixer. However, after refrigeration, the dough can be rolled out and shaped with cookie cutters. After making the dough, spoon the dough onto plastic wrap. It may be too soft to shape into a flat square / rectangle. If so, just wrap tightly with plastic wrap and then flatten to make it fairly uniform.
Getting consistent thickness
For thicker gingerbread cookies, the dough should be rolled to 1/4" or 6 mm thickness. For thinner, crispier cookies, the dough should be rolled to 1/8" of 3 mm thickness. I discovered that FREE paint sticks are excellent tools to get your dough thickness uniform. One gallon paint sticks are 1/8" and five gallon paint sticks are 1/4" thick. Most hardware stores that sell paint will give these away for free!
Rolling out the dough.
Prevent cookie dough from sticking.
It is a lot easier to roll out the dough between 2 sheets of parchment paper. The parchment paper prevents the dough from sticking to the work surface and your rolling pin. It also makes it easier to remove the cookie when transferring it onto the cookie sheet.
Place the sticks on either side of the dough, place the parchment paper on the top and roll along the sticks until the rolling pin reaches the height of the sticks. This will result in straight and uniform cookie dough.
The cookies do expand slightly, especially if you add sourdough discards. Cool the cookie completely before frosting.
Royal icing.
When making royal icing, beat your egg white until they form soft peaks on medium low speed before adding your powdered sugar. Your icing should be fairly thick.
Applying the icing.
Use royal icing to decorate your cookies. I usually use it sparingly as it is very sweet and the entire cookie does not have to be lathered in icing! See this helpful tip and trick on frosting cookies without a piping bag.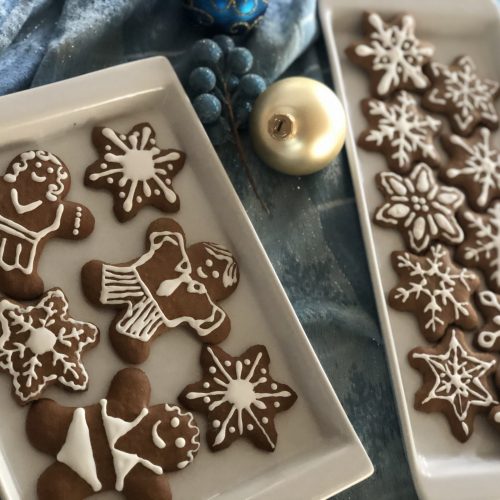 SPICY CHAI GINGERBREAD COOKIES
A twist on the regular, gingerbread cookie made with sourdough discards.
Ingredients
360

grams

All purpose flour

60

grams

sourdough starter

optional

1

tsp

baking soda

2½

tsp

ground ginger

2½

tsp

ground cinnamon

½

tsp

salt

½

cup

unsalted butter

Softened but not melted.

¾

cup

dark brown sugar

1

egg

⅓-½

cup

molasses
Chai mixture made from ground spices
1

tsp

ground cardamom

1

tsp

ground cloves

1

tsp

finely ground black pepper
Chai mixture from whole spices
1

tsp

whole cardamom

12 whole cardamom

1

tsp

whole cloves

30 whole cloves

1

tsp

whole black peppercorns

50 whole black peppercorns
Chai mixture from herbal tea bags
3

tsp

contents of tea bags
Instructions
Chai mixture using whole spices. Spiciest taste
Using a coffee grinder or blender, combine cardamom, cloves and black peppercorns. Grind to a fine powder.
Chai mixture using ground spices. Spicy taste
Mix together ground cardamom, ground cloves and finely ground black pepper. If you black pepper is not fine, use a blender to grind these spices.
Chai mixture from herbal tea bags. Mild taste
Grind to a fine powder using a blender or coffee grinder.
Cookie dough
Sift flour, baking soda, ginger, cinnamon, salt and chai spices together. Do not sift the brown sugar.

In a stand mixer, whip the butter and sugar until fluffy.

Add the starter until combined.

Beat in eggs and ⅓ cup molasses until combined

Add flour mixture until combined. If your dough is not soft and crumbly, add a little more molasses.

Place in plastic wrap and flatten into a square patty

Refrigerate for at least 3 hours, better overnight when using sourdough. This cookie dough can last a week in this form so it can be made ahead of time.
Baking cookies
Preheat oven to 350° fahrenheit or 176° celcius.

Roll cookie dough between 2 pieces of parchment paper until 1/8" or 3 mm thickness

Cut cookie shapes with cookie cutters.

Transfer cookies from parchment paper to cookie tray. See video
Royal icing
Beat egg white at medium low speed until they hold soft peaks. I use a hand mixer.

Slowly add powdered sugar until well blended.

Add lemon juice at the end and beat for another 30 seconds.

Cut the tip of parchment paper cone or corner of freezer bag.
Video
Notes
You can omit the sourdough starter.  The cookies will be crispier and not as lofty but still delicious!
This recipe makes about 48 cookies, depending on the size of your cookie cutter.
If you are using sourdough, I suggest refrigerating the dough overnight to reap the benefits of the sourdough process!
Nutrition
Serving:
48
cookies
Calories:
81
kcal
Carbohydrates:
14
g
Protein:
1
g
Fat:
2
g
Saturated Fat:
1
g
Cholesterol:
9
mg
Sodium:
54
mg
Potassium:
54
mg
Fiber:
1
g
Sugar:
8
g
Vitamin A:
67
IU
Vitamin C:
1
mg
Calcium:
12
mg
Iron:
1
mg