This delicious summer chef salad was developed in Nantucket, Massachusetts, a small island an hour's ferry ride from Boston. It's a quaint New England town which seems to be home to affluent people with Summer homes on the island. Year round residents range around 11-15,000 while summer vacationers can push the population number to around 80,000.
One of my daughters has moved here so I decided to come with her and soak up the Nantucket life for a few weeks. I've eaten at delicious restaurants like The Beet that has interesting creations, The Wicked Island Bakery with its delicious laminated dough (croissant) creations and bought the freshest fish and softshell crabs from Glidden's island seafood. My daughter and I recently made friends with some year-rounders who taught us how to surface fish for porgies and we've had 2 meals with fish caught within 2 hours!
This summer chef salad consists of a mixed green salad base with four addtional "P" ingredients: hearts of Palm, split Peas, semi-ripened Peaches and slivers of Parmesan cheese. This recipe came about due to the limited reasonably priced produce available on the island as well as to get a well balanced meal in one dish. This was a combined effort between my daughter and myself. It was so delicious that it was worth a recipe write-up, because I will definitely be making this in the future! My daughter and I dressed it up with a minimal amount of olive oil and vinegar and it was oh so delicious!
Tips for making the summer chef salad
Protein
Split peas.
This salad is a protein bomb with hickory smoked turkey dices, a perfectly boiled egg, split peas and parmesan cheese.
Split peas is usually just associated with split pea soup. However, they have amazing health benefits. In 100g of cooked split peas, the nutritional value is:
Calories: 118
Fat: 0.4g
Sodium: 2mg
Carbohydrates: 21.1g
Fiber: 8.3g
Sugars: 2.9g
Protein: 8.3g
Since split peas are peas that have been shelled, dehydrated and split, they need to be rehydrated. This is when flavor can be infused to create tasty bits throughout the salad.
*Boil these split peas in chicken stock to enhance the flavor of your salad at a 1:2 split pea to stock ratio.
Meat.
For the diced meat, use any seasoned lunch meat. The key is to cut it into diced pieces that are not too small.
* If you have a deli service counter at the grocery store, request that your lunch meat be cut into slices slightly less than half inch (1 cm). This allows you to get the dice sizes perfect for a salad. (The same can be done for pizza toppings!)
Cheese.
Cheese is another form of great protein and taste. For salads, I prefer strong tasting cheeses including feta and parmesan. For the parmesan, slice the cheese thin or purchase parmesan slivers. Grated parmesan from a can is a definite no-no!
*If using crumbled Feta cheese for salads, do not mix it into the salad as it tends to break down. If it requires mixing, wait until just before serving to briefly toss it in.
Produce
Besides the regular base of lettuce mix, 2 other ingredients are worth mentioning that provide an interesting taste and mouth feel.
Peaches.
It's the start of stone-fruit season, (fruits with large pits or stones like nectarines, apricots etc.) so some fruit are not quite at their peak. Fruit such as peaches or nectarines provide a tasty crunch when substituting for cucumbers.
*Slice or dice semi-ripe, firm and slightly juicy peaches or nectarines to provide a sweet-sour taste and crunch to this salad.
Hearts of Palm.
Hearts of palm are the inner core of certain palm trees. It is not readily available in its fresh state so canned hearts of palm is the usual option. Canned hearts of palm come in 2 options: whole and salad cut. The salad cut pieces are about 1/2 " thick. This is a little too thick for this summer chef salad, but would work well for other salads. Slice the salad cut into 3 or 4 slices, if desired.
Eggs.
Cooking perfectly boiled eggs is a skill. My youngest daughter developed a fail-proof technique for perfect boiled eggs. Boil the eggs for 6-7 minutes to avoid the overcooked and unsighly green edge around the yolk! See how to cook perfectly boiled eggs.
Dressing.
This summer chef salad is packed with flavor. The hearts of palm gives a tart briny taste, the hickory smoked turkey or any seasoned lunch meat provides it own unique flavor, the split peas boiled in chicken stock is savory and the sharp tasting cheese brings out the umami. With all these tasty flavors, olive oil with a little white balsamic vinegar is the perfect pairing with this salad. If this flavor is too light, a vinaigrette is better than a creamy dressing.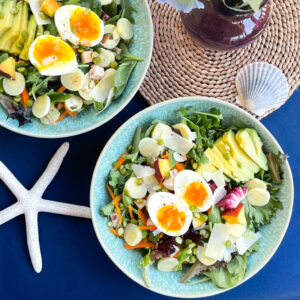 SUMMER CHEF SALAD
This summer chef salad substitutes seasoned split-peas, semi-ripe peaches, paremesan cheese and hearts of palm for the usual tomato, cucumber and shredded cheese. Delicious with a light vinaigrette or on its own!
Ingredients
¼

cup

dried split peas

1

can

hearts of palm

1

semi-ripe peach

142

g

salad mix of your choice

1

cup

water

1

tsp

chicken bouillon powder

113

g

thick slice seasoned deli meat

(<½" or 1 cm thick) hickory smoked turkey, black forest ham etc. works well.

2

large

eggs

Parmesan cheese slivers
Instructions
Prepare split peas and egg
Inspect dried split peas to remove any debris

In a small saucepan, combine water and chicken bouillon.

1 cup water,

1 tsp chicken bouillon powder

Add split peas and cook for 15 minutes or until done to your liking.

Add eggs to split pea water.

Remove from water and place it in a bowl of cold water to stop it from cooking.

Place cooked split peas in a seive to drain the water. Allow to cool.
Prepare peaches
De-pit washed peach and dice into cubes.
Plating the salad
Place salad mix on the base

142 g salad mix of your choice

Add other ingredients on top

Garnish with parmesan cheese slivers.
Nutrition
Serving:
2
people
Calories:
249
kcal
Carbohydrates:
28
g
Protein:
23
g
Fat:
6
g
Saturated Fat:
2
g
Polyunsaturated Fat:
1
g
Monounsaturated Fat:
2
g
Trans Fat:
1
g
Cholesterol:
204
mg
Sodium:
1021
mg
Potassium:
652
mg
Fiber:
7
g
Sugar:
10
g
Vitamin A:
1358
IU
Vitamin C:
20
mg
Calcium:
66
mg
Iron:
3
mg
Net Carbohydrates:
21
g
Tried this recipe?
Let me know how it was or if you have any questions or suggestions!