This simple, elegant and delicious caprese inspired tomato salad is an adaptation of the Italian Caprese salad. The traditional caprese salad is made with mozzarella, tomatoes and basil drizzled with olive oil and balsamic vinegar. To make this a little heartier and more eye-catching, I add arugula to give it more body and substitute regular mozzarella with burrata.
Difference between mozzarella and burrata.
According to La Cincina Italiana, mozzarella and burrata are made similarly, except that burrata has cream which explains the richer flavor, softer texture and higher calories. For this caprese inspired tomato salad, it is worth the switch.
"Two kinds of cheese
Both are fresh cow's milk cheeses made using the pasta filata (stretched curd) method. But while mozzarella, also known as fior di latte, has been produced in Campania since the 12th century, burrata was first produced in Andria, Puglia, invented by Lorenzo Bianchino in 1956. A heavy snowfall rendered the transport of dairy products difficult, so the cheesemaker decided to use the stretched curd from mozzarella as a casing to store the cream. And so burrata was born.
Mozzarella vs. burrata
Mozzarella is produced from curd, which you get by adding lactic ferments and rennet to pasteurized cow's milk. The next steps involve cutting the curd and extracting the whey. At this point, the curd is cut into strips and kneaded in boiling water, manually or mechanically, to make it "spin" or "stretch," thus transforming it into pieces of mozzarella. The final phase is cooling the pieces in water.
Burrata is also made from the stretched curd of the mozzarella, but in this case, it's not the main substance of the dairy product – instead, it serves as a casing. Inside, there is a soft and creamy filling: stracciatella, frayed pasta filata mixed with cream. While mozzarella has a more delicate taste and a more elastic texture, burrata is softer and more flavorful – but also, due to the cream, higher in calories."


Tips for making caprese inspired tomato salad.
Tomatoes.
Fresh tomatoes are optimum. I prefer the taste of cherry tomatoes, but any good tasting tomatoes work well. If your tomatoes are not bite size, cut them into wedges. Using a variety of color like purple, red and yellow tomatoes makes the salad more eye appealing.
Basil.
This caprese inspired tomato salad includes basil, arugula and oregano. For the basil, I prefer to cut it into thin stips. If you don't have an herb cutter, use a very sharp knife. One of my chef friends told me that cutting basil with a blunt knife leads to bruising the basil which results in brown edges. The best way to " "chiffonade" (cut into thin strips) herbs is to stack the leaves, roll it into a cigar and slice thinly. Depending on whether you roll the leaves from top to bottom or side to side will determine the length of the strip. I usually use my herb cutter to cut the leaves.
Salt.
If you have coarse salt, the salty surprises make it tasty.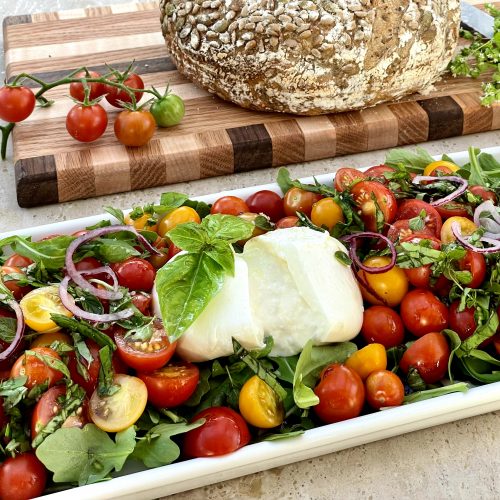 CAPRESE INSPIRED TOMATO SALAD
This caprese inspired tomato salad includes arugula, oregano, red onion and burrata.
Ingredients
1

ball

fresh burrata cheese

113

g

arugula leaves

226

g

fresh chopped tomatoes

1

Tbsp

olive oil

1

Tbsp

balsamic vinegar

sliced red onion

fresh oregano

fresh basil

salt to taste

fresh ground pepper to taste
Instructions
Cut larger tomatoes into segments and place in bowl.

Mix tomatoes with salt, pepper, olive oil and balsamic vinegar.

Chiffonade (cut) basil leaves

Place arugula at base of platter.

Sprinkle cut basil, oregano on top of tomatoes.

Add more salt and pepper if needed.

Place burrata in center and cut.

Top with thinly sliced red onion.
Nutrition
Serving:
2
g
Calories:
105
kcal
Carbohydrates:
8
g
Protein:
3
g
Fat:
8
g
Saturated Fat:
1
g
Polyunsaturated Fat:
1
g
Monounsaturated Fat:
5
g
Cholesterol:
1
mg
Sodium:
30
mg
Potassium:
464
mg
Fiber:
2
g
Sugar:
5
g
Vitamin A:
1897
IU
Vitamin C:
34
mg
Calcium:
108
mg
Iron:
2
mg
Tried this recipe?
Let me know how it was or if you have any questions or suggestions!