This easy chicken piccata with white wine sauce (with sauteed squash blossoms) is a twist on the traditional piccata recipe. "Piccata" is the Italian word for "pounded". Meat, usually veal, is pounded into cutlets and fried in a lemon butter sauce. For my chicken piccata, I use either chicken tenderloin strips or chicken breasts. The pounding not only helps tenderize the cutlets, but also gives them a uniform thickness which helps them cook quickly and evenly. Pounding the cutlets to a 1/2" (~1 cm) uniform thickness keeps the cutlets tender since it's a very quick pan fry.
This recipe also uses mushrooms. You can jazz it up by using an assortment of thinly sliced mushrooms. I also add capers which provide the saltiness to the sauce and white wine which gives it a more rounded flavor. A combination of butter and olive oil is used to saute the chicken and mushrooms.
Tips for making easy chicken piccata with white wine sauce.
Chicken.
Use chicken tenders, or breast meat as this results in uniform thickness. Chicken thighs can be used, but it is more difficult to work with. Sometimes, it is more cost effective to de-skin and de-bone split chicken breasts rather than buying skinless chicken breasts or tenderloins.. See video below.
If the chicken breasts are very thick, butterfly cut the breasts to make them thinner. If the breasts are small, tenderizing the meat with the "mallet" will make the cutlets thinner with a uniform thickness. When using the meat tenderizer, place a plastic wrap over the meat before pounding. This prevents meat from being lodged in the tenderizer, making it easier to clean.
Capers.
Capers can be found bottled in most grocery stores. These are preserved and will last a long time refrigerated. They are delicious with bagels, lox and cream cheese and the capers together with the caper juice enhance the flavor of the piccata sauce..
Season the chicken.
The chicken is seasoned with salt, pepper and fresh herbs (optional) just to give the meat some taste. Fresh herbs such as rosemary, thyme or oregano can be used. Most of the flavor will be coming from the delicious piccata sauce.
Dredging the cutlets in flour.
Dredge (coat) the cutlets in a plate of flour before frying. This coats the meat and provides a crust to which the sauce will adhere. The flour also acts as a thickener when the wine is and caper juice is added.
Cooking order.
In order to keep the chicken cutlets tender, the chicken cutlets are sauteed first. When the chicken is 80% cooked, remove the cutlets. The mushrooms are then cooked and the capers, caper juice, lemon juice and white wine are added. The chicken is then added back into the sauce. This allows the sauce to be mixed with the chicken and the sauce to thicken, resulting in a delicious chicken with just the right amount of sauce.
If you try this recipe, let me know what you think in the comment section.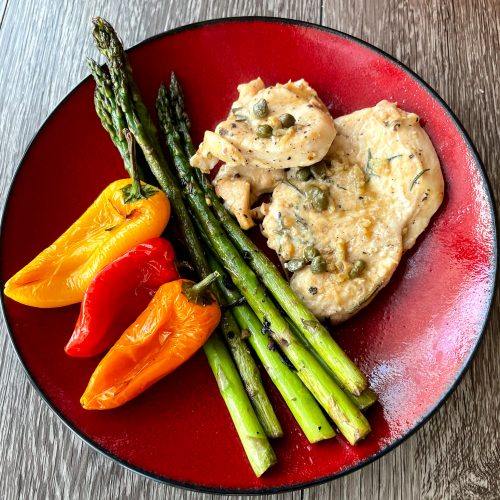 EASY CHICKEN PICCATA WITH WHITE WINE
One skillet recipe to make this quick and easy chicken piccata with white wine sauce.
Ingredients
455

g

chicken breast or tenderloins

Estimate about 2 tenderloins per person

114

g

mushrooms

1

Tbsp

marinated capers

1

Tbsp

caper juice

¾

cup

white wine

fresh lemon juice

salt

pepper

fresh herbs

optional

1

tsp

fresh chopped garlic

1

Tbsp

finely chopped shallots

1

Tbsp

butter

1

Tbsp

olive oil

¼

cup

all purpose flour

for dredging chicken. Not all of it will be used.
Instructions
Prep
If the chicken breasts are too thick, butterfly them into thinner pieces before pounding (tenderizing.)

Using a meat tenderizer, place a plastic wrap on the meat slices before tenderzing. Pound the meat until it reach ½ ' (1 cm) thickness.

Season cutlets with salt, pepper and fresh herbs (optional) Let marinate while prepping rest of ingredients.

Finely chop fresh garlic.

Thinly slice mushrooms to ensure quick cooking.
Saute chicken
Place flour in a shallow dish.

Preheat skillet large enough to hold all the ingredients.

Add ½ the butter and oil into the skillet.

Dredge each cutlet into the flour and place into skillet.

Saute cutlets on each side until 80% cooked. DO NOT OVERCOOK.
Make sauce
Add the rest of the butter and oil into the skillet

Caramelize garlic and shallots together.

Add mushrooms to skillet.

Add capers and caper juice.

Add fresh lemon juice to taste.
Assemble
Add chicken cutlets back into skillet. Taste sauce to see how much lemon juice to add.

Mix sauce and cutlets. Sauce should thicken with cutlets added.
Video
Nutrition
Calories:
446
kcal
Carbohydrates:
12
g
Protein:
51
g
Fat:
13
g
Saturated Fat:
2
g
Polyunsaturated Fat:
2
g
Monounsaturated Fat:
7
g
Trans Fat:
1
g
Cholesterol:
146
mg
Sodium:
391
mg
Potassium:
1129
mg
Fiber:
1
g
Sugar:
3
g
Vitamin A:
86
IU
Vitamin C:
5
mg
Calcium:
37
mg
Iron:
2
mg
Tried this recipe?
Let me know how it was or if you have any questions or suggestions!