My mother-in-law loved piña coladas. She loved the combination of pineapple and coconut. When we went to restaurants, she would have a piña colada with a hint of rum! I always told her that she was not getting her money's worth when she requested just a hint of rum, but that is how she liked it. I am not a drinker, so drinks with alcohol need to have no taste of alcohol and be absolutely delicious to be worth the calories. Otherwise, I would prefer my seltzer water for frozen juice cubes!
Felipe, my daughter Jessica's boyfriend is a foodie and a great help in the kitchen! He always raves about his piña colada so I asked him to make it during his recent visit. They are REALLY good. I think that the fresh, RIPE pineapple is key. The natural sweetness and taste pairs so well with the creamy coconut milk. I guess I've always had restaurant piña coladas which were just okay because they are made with pineapple juice or unripe pineapple. Thanks Felipe for sharing your delicious piña colada recipe!
From Felipe...
Some of my fondest memories as an adult were going to the beach with my whole family. My parents live in Colombia, while I live here in the US. Every year since I moved here for college I would go home for the Christmas holidays. Right after Christmas, my family would go stay at a beach house. My dad and I had it figured out. We would spend the entire first day at the pool, and enjoy countless piña coladas and empanadas (for another post).
Piña colada was originally made with just pineapple juice, coconut cream, and rum. I have found, though, that using the pineapple fruit adds body, texture and flavor. A piña colada done right is neither too sweet nor does it have too much alcohol. It should be refreshing. That being said, it is quite simple to make.
Tips for making piña colada.
Fresh Pineapples.
You want the sweetness to come from fresh, ripe pineapples (and from the cream of Coconut), not from syrup. Many recipes call to add pineapple juice. I like to use a whole pineapple. If you don't want to go through the process of peeling and cutting a pineapple, fresh chunks from a reliable store will do the trick. Avoid putting the core of the pineapple in, its healthy but bitter. I've found frozen pineapple chunks to be tart, and not super sweet, because it is easier for processors to cut and freeze partially ripe fruit that are firm rather than softer, juicy fruit. However, if nothing else is available, you can use frozen chunks and add a little more cream of coconut.
I have found that you can achieve a 'smoothie' texture while keeping the quality of ripe fresh pineapple that is not diluted by ice if you peel and cut a pineapple and place half of the ripe pieces in a freezer bag in the freezer the day before making the piña colada. You do need some unfrozen pineapple to liquify the
Rum
Rum is a liquor made from sugar cane. There are two main types of rum: white (clear) rum and dark rum. Most white rums are not aged. Most dark rums are aged, which provide a more potent flavor. There is no need to use fancy aged rum since a basic non-aged rum does the trick. Any would do (Queue Barcardi / Malibu). I like to add a little of the aged golden/dark rum for an extra flavor kick, but its not a requirement.
Cream of Coconut vs. Coconut cream vs. Coconut Milk.
Cream of coconut is very sweet coconut extract with a syrupy consistency. It is widely used in bars for cocktails, Coco Lopez is the staple and you can find it at most supermarkets. Coconut cream is unsweetened (more natural). We like using both to avoid making it too sweet. If you can't find Cream of coconut, then just use coconut cream, and add condensed milk to compensate for the sweetness (add small amounts, taste, and add more as needed. It's not a 1:1 ratio). Coconut milk, is different from coconut cream. Think of the difference between regular milk and cream.
Ice
Ice should be added sparingly as it does dilute the taste. The blended ice helps achieve the piña colada consistency that you like.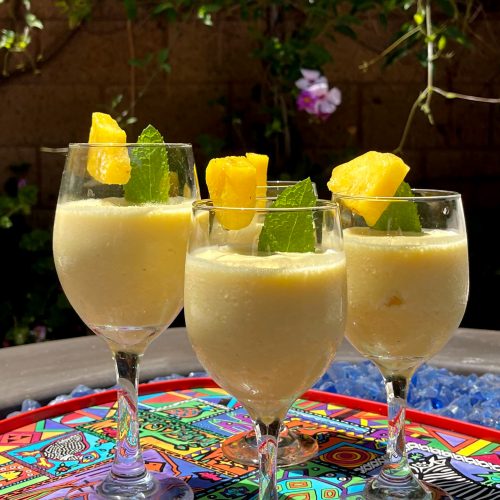 PIÑA COLADA
A delicious adult tropical drink of fresh Ripe pineapple and coconut that tastes like a smoothie, but great for entertaining!
Ingredients
200

g

Refrigerated Pineapple

Peeled. Remove center. And cut into wedges/cubes.

400

g

Frozen Pineapple

50

ml

Cream of Coconut

150

ml

Coconut Milk

Unsweetened

120

ml

Rum

white or aged or a combination of both

Ice as needed
Instructions
Day Before
Peel and cut pineaaple into chunks.

Remove the core / center of the pineapple and cut into chunks.

Place ¾ of the chunks in a freezer bag and put in freezer (helps with the consistency of the drink without diluting the flavor.)

Refrigerate the rest of the chunks
Blending
Place all the ingredients together in a blender. Blend until it reaches a 'smoothie' like consistency.

Add ice sparingly to improve consistency if needed. DO NOT ADD TOO MUCH ICE AS THIS DILUTES THE FLAVOR!
Notes
This recipe includes 12 hours to freeze fresh pineapple chunks.  This is optional, but this process does result in a more flavorful drink that is undiluted by ice.
Nutrition
Serving:
4
g
Calories:
272
kcal
Carbohydrates:
29
g
Protein:
2
g
Fat:
10
g
Saturated Fat:
9
g
Sodium:
13
mg
Potassium:
247
mg
Fiber:
3
g
Sugar:
23
g
Vitamin A:
87
IU
Vitamin C:
72
mg
Calcium:
26
mg
Iron:
2
mg