For my family, nothing screams summer than a meal of BBQ marinated ribs, grilled corn on the cob, a salad like a no-mayo, spicy coleslaw and a watermelon salad or watermelon. These BBQ marinated pork ribs are juicy and delicious. The key is to allow them to marinate for AT LEAST 24 hours. I usually marinate pork ribs for 48 hours. It is well worth planning ahead. Because these ribs are so tasty and juicy, I tend not to like them drenched in sauce. However, there are some of you who like saucy ribs, so the recipe has been adapted for extra sauce for those who feel the need to have a coating of BBQ sauce on their ribs.
Tips for making BBQ marinated ribs.
Although I am partial to baby back ribs, there are other types of ribs that can be used. The choice of ribs really depends on your personal preference. Baby back ribs are shorter, meatier, and usually the leanest ribs.
Spare ribs are cut from the belly part of the pig, have longer bones and less meat than baby backs. They usually have this brisket flap and the shape of the rack is irregular.
St. Louis style spare ribs have been trimmed of the rib tips and brisket flap and the rack has a uniform, rectangular shape.
Country style ribs are not actually from the ribs, but from the should blades. They are therefore not sold as a rack of ribs but as individual "ribs"
Whatever style ribs you purchase, they will be delicious. I usually buy a frozen vacuum sealed pack of ribs (wet aged) when on sale and keep them on hand for whenever the urge for BBQ pork ribs arises!
BBQ marinade.
I like making my own marinade. I recently bought a very popular brand of BBQ sauce, because I was pressed for time. I came home and read the ingredient list. I was horrified. The first ingredient was high fructose corn syrup! That is one of the ingredients that I stay away from and always find a substitute! Isn't that the ingredient that is responsible for the obesity epidemic in the USA? Needless to say, that BBQ marinade was promptly returned.
The hoisin sauce and ketchup are important in my homemade marinade. It provides the sweet, savory and thickness for the marinade. Hoisin sauce can be found in most Asian grocery stores.
Marinating the ribs.
A rack of ribs is somewhat unwieldy to handle. Cut the rack of ribs in half, cutting between the bones. Combine the ingredients for the marinade and rub it onto the washed and dried ribs. These ribs can be placed in a flat dish like a rectangular glass pan or in a large ziploc bag. Turn the ribs over every few hours to allow the marinade to permeate through the entire rack. This is very important if you want well flavored ribs!
If you've bought more ribs than you can consume, freeze the marinated ribs in a freezer bag and defrost them when needed. The marinade will be very watery, and it is advisable to make a little sauce for a glaze just before serving to get the shiny, delicious "eat me" look!
Cooking the ribs.
I prefer to pre-cook my ribs in the microwave to ensure that the center of the ribs is cooked evenly. Otherwise, the ribs tend to dry out when cooking them on the BBQ for the entire time. If you are doing more than 2 half racks, microwave 2 at a time, rather than stacking all of them and microwaving them all at once. In this way, it allows for even cooking and takes about the same amount of time.
BBQ or broil.
If you don't have a BBQ, you can always broil the ribs. For meatier ribs, cook the meatier side facing the heat first since this will require more time. It is best to use a instant-read thermometer to determine the doneness of the ribs. The internal temperature of the ribs should read 145 degrees F or 63 degrees C.
If the ribs are marinated for at least 24 hours and are constantly turned and the ribs are basted with the marinade juices during the cooking process, the ribs are flavorful as is. The extra sauce can be basted right before serving. This extra sauce should be set aside from the marinade as you don't want the raw meat contaminating the "glaze" that will be consumed without cooking.
Enjoy and let me know what you think in the comment section.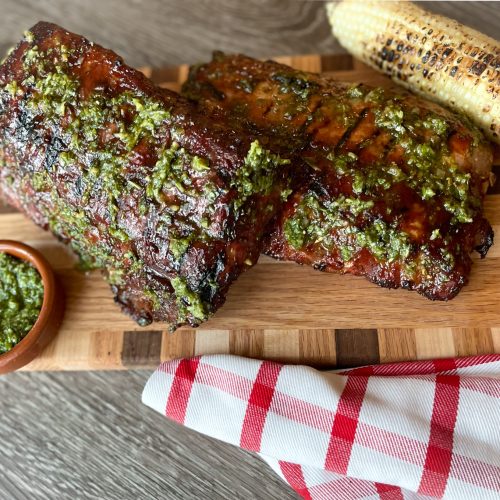 BBQ MARINATED BABY BACK RIBS
These baby back ribs are full of delicious flavor. Made from home-made BBQ sauce without fructose syrup!
Ingredients
1

rack

baby back pork ribs
Instructions
Make marinade
Mix all the marinade ingredients into a container or large storage bag for marinating.

300 ml Ketchup,

300 ml Hoisin Sauce,

100 ml light soy sauce,

3 tsp salt,

3 tsp sugar,

2 tsp white pepper,

3 Tbsp whiskey,

3 tsp garlic powder

Save 125 ml (or more) of marinade for glazing the meat after cooking.

Cut the ribs so that each rack has 7-8 ribs. This is a good size for marinating and BBQing.

1 rack baby back pork ribs

Generously coat the washed pork ribs with the marinade.

Let marinate in the refrigerator for at least 12 hours, making sure to turn the ribs and re-coat with a brush.
Cooking the ribs
Place the ribs in a microwave safe dish and microwave for 8 minutes on each side for each 7-8 rib rack.

Pre-heat BBQ or oven to 375℉ (191℃)

BBQ ribs until internal temperature reaches 145℉ (63℃) or bake ribs on a foil-covered pan until done. 20 minutes depending on thickness of ribs.

Baste the ribs with the leftover marinade every 5 minutes.

When done, either baste the ribs with the glaze and caramelize for a few minutes or serve immediately for saucy ribs.
Nutrition
Serving:
4
g
Calories:
651
kcal
Carbohydrates:
66
g
Protein:
34
g
Fat:
26
g
Saturated Fat:
9
g
Polyunsaturated Fat:
5
g
Monounsaturated Fat:
11
g
Trans Fat:
0.2
g
Cholesterol:
100
mg
Sodium:
5341
mg
Potassium:
748
mg
Fiber:
3
g
Sugar:
43
g
Vitamin A:
427
IU
Vitamin C:
4
mg
Calcium:
94
mg
Iron:
3
mg
Net Carbohydrates:
63
g
Tried this recipe?
Let me know how it was or if you have any questions or suggestions!