Ever been to a restaurant and ordered their dumplings in chili oil? It's delicious. Plain chili oil is just spicy with heat but the perfect chili oil for dipping dumplings is one that combines sweet, tangy, spicy and a hint of alcohol.
Laoganma chili crisp is used as a base. Although this is a delicious sauce on its own, it lacks a well rounded flavor which you get with the addition of other ingredients. This garlic chili oil dipping sauce takes less than 3 minutes to make and will definitely elevate your dumplings!
Tips for making garlic chili oil dipping sauce.
This sauce is microwaved for a few seconds to dissolve the sugar and the heat helps to combine and mellow the flavors, especially the fresh garlic!
Laoganma chili sauce
This delicious sauce can be eaten right out of the bottle. There are various flavors, but for this sauce, the chili sauce WITHOUT black beans works best.
Srirarcha chili sauce
Sriarcha sauce is added to provide some acid to balance out the flavors. I find that just the plain laoganma is somewhat one dimentional, but adding some flavorful acid and extra heat (if you like spicy) takes it up a notch.
Chicken bouillon powder
Instead of salt, the umami comes from the chicken bouillon powder. You can use the chicken bouillon powder with or without MSG, depending on your preference.
Mix the ingredients in a bowl and microwave it.
Heating the sauce
The ingredients are heated in the microwave to save time. You can heat it in a small saucepan if a microwave is not available. If you are increasing the quantity of ingredients, do not increase the microwaving time in proportion to the ingredients. The purpose of microwaving the sauce is to ensure that the sugar has completely melted and to mellow the spiciness of the fresh garlic. This does not require too much heat.
Let me know your thoughts in the comment section on this chili sauce enhancement. Did it take it up a notch?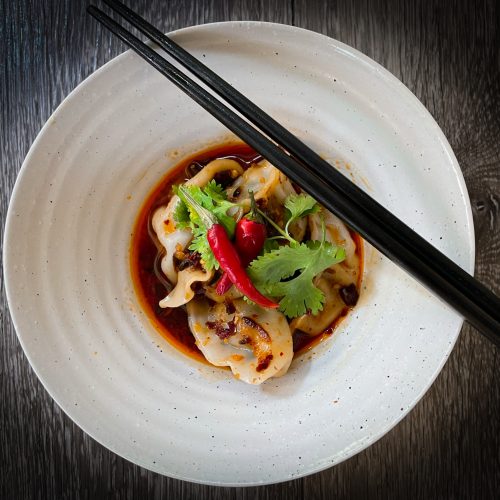 EASY GARLIC CHILI OIL DIPPING SAUCE
This delicious chilli oil combines already made chili crisp with other ingredients to make a delicious, flavorful dumpling accompaniment.
Ingredients
1

clove

fresh minced garlic

½

tsp

sugar

1

Tbsp

Laoganma spicy chili crisp

1

Tbsp

sesame oil

½

tsp

chicken bouillon powder

½

tsp

Sriracha chili sauce

optional for added acidity and spice

cilantro and chopped scallions

for garnish
Instructions
Notes
This sauce is per person so that it can be made when a quick lunch is needed for one person!
Nutrition
Serving:
1
g
Calories:
165
kcal
Carbohydrates:
9
g
Protein:
1
g
Fat:
14
g
Saturated Fat:
2
g
Polyunsaturated Fat:
6
g
Monounsaturated Fat:
6
g
Cholesterol:
1
mg
Sodium:
365
mg
Potassium:
76
mg
Fiber:
1
g
Sugar:
4
g
Vitamin A:
32
IU
Vitamin C:
4
mg
Calcium:
11
mg
Iron:
1
mg
Net Carbohydrates:
8
g