These decadent sourdough chocolate brownies were born out of necessity to provide my gluten-intolerant mother with a brownie that she could enjoy. After much tweaking, I came up with this recipe that's made out of sourdough starter but is moist, has a light texture and tastes absolutely scrumptious. I actually prefer these brownies than the heavy, dense brownies plus my stomach feels better since it's made with sourdough. If you've every had brownies from Fairytale brownies, these taste just like them!
Tips for making decadent sourdough chocolate brownies
The major ingredients for these decadent sourdough chocolate brownies are chocolate chips, butter and sourdough. A combination of dark brown and granulated white sugar is also used. Brown sugar gives the brownie its softer texture.
Sourdough
It is easier to work with sourdough that is ACTIVE and light so that it incorporates easier into the batter without making it dense. The sourdough should also be at room temperature rather than refrigerated. Because the sourdough also acts as the leavening agent, carefully incorporate the sourdough into the batter with the folding method without deflating it. Fold until just incorporated. Do not overmix. See video
Sugars
As mentioned earlier, a combination of both dark brown sugar and granulated white sugar is used. Dark brown sugar is different from light brown sugar because of the amount of molasses in the sugar. Dark brown sugar has twice as much molasses than light brown sugar, giving it a richer caramel flavor as well as making the end product a little softer. The granulated white sugar gives the brownie some structure as well as add sweetness.
Chocolate
For these decadent sourdough brownies, both chocolate chips and unsweetened cocoa powder is used. Unsweetened cocoa has a chocolatey taste without the sweetness. This makes the brownies more chocolatey without making it more sweet.
Melt the chocolate chips with the butter in the microwave. It is better to use room temperature butter which will melt faster in the microwave without burning the chocolate.
Coffee
Instant coffee enhances the chocolate flavor. Add a teaspoon of instant coffee to the chocolate mixture if you have instant coffee available.
Egg mixture
It is important to get the egg mixture to the correct consistency in order to get the right texture for the brownies. Beat the eggs and sugars together until the mixture is light and creamy in color. If using a hand blender, this may take 5 minutes for the color of the mixture to change.
Pan size
Bake these decadent sourdough chocolate brownies in an 8 x 8 inch cake pan lined with parchment paper. The batter will be really thick so spread the batter to the edges of the pan and then smooth the surface of the brownie. If the dimensions of your pan are larger than a 64 square inch surface area, it will result in a thinner, drier brownie so use the correct pan size!
If you bake square or rectangular cakes a lot, I would suggest investing in an adjustable rectangular cake frame. It has no bottom so this gadget allows you to have the exact rectangular or square pan size that you need. Simply place it on a sheet pan and line the interior with parchment paper. Secure the edges with binder clips to prevent the frame from moving. This frame has save me so much money since I don't have to buy 2 pans of multiple dimensions! This is a great investment.
Baking decadent sourdough chocolate brownies
The suggested baking time is 20 minutes or slightly less for these decadent sourdough chocolate brownies. You do not have to insert a tester unless you completely forgot to set your timer. The tester will come out a little gooey so do not bake longer as these will overbake the brownies. It is absolutely delicious to have them a little fudgy! Once out of the oven, remove the brownies immediately from the pan by pulling up the brownies by the parchment paper to prevent them from overbaking.
Serving decadent sourdough chocolate brownies
Cut the brownies when cooled into 16 squares. Enjoy and let me know what you think in the comment section.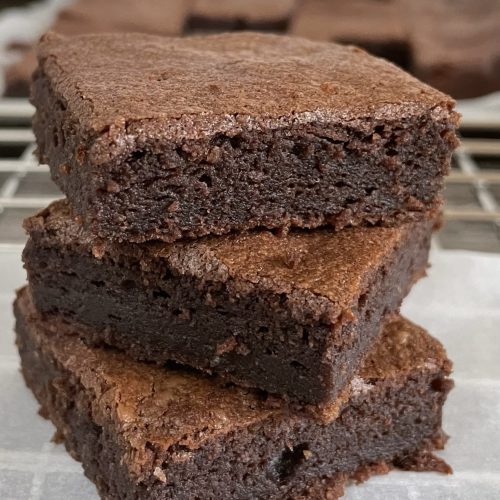 DECADENT SOURDOUGH CHOCOLATE BROWNIES
15 minute simple and delicious chocolate lava cake can be made with or without sourdough starter.
Equipment
8 x 8 cake pan lined with parchment paper

parchment paper
Ingredients
126

grams

semi-sweet chocolate chips

2

Tbsp

unsweetened cocoa powder

120

grams

unsalted butter

120

grams

active sourdough starter

75

grams

brown sugar

25

grams

granulated white sugar

2

large

eggs

½

Tbsp

pure vanilla extract

¼

tsp

salt
Instructions
Line cake pan with parchment paper

Melt chocolate chips and butter until all the butter is completely melted. Approximately 1 minute depending on the strength of your microwave

Add cocoa powder and stir.

Beat eggs and sugar together in another bowl until frothy and light in color.

Add chocolate mixture, vanilla and salt and beat until incorporated.

Add active starter to egg mixture and whisk until incorporated.

Place mixture into a greased 8 x 8 baking pan.

Bake for 20 minutes until the top appears cooked. The toothpick test may result in overbaking the brownies.
Notes
Extra time will be needed to activate sourdough starter.
Nutrition
Serving:
16
pieces
Calories:
142
kcal
Carbohydrates:
12
g
Protein:
2
g
Fat:
10
g
Saturated Fat:
6
g
Polyunsaturated Fat:
1
g
Monounsaturated Fat:
3
g
Trans Fat:
1
g
Cholesterol:
40
mg
Sodium:
48
mg
Potassium:
71
mg
Fiber:
1
g
Sugar:
9
g
Vitamin A:
225
IU
Calcium:
15
mg
Iron:
1
mg
Net Carbohydrates:
11
g