My daughters love tacos and now, birria tacos. What are birria tacos? Birria is a stewed meat that's cooked over several hours and consist of the birria meat and the consomme or broth in which the birria meat is simmered. These tacos are then dipped into the wonderful, flavorful broth much like french-dipped sandwiches. Traditionally, these tacos are dipped into the fat rendering of the broth and then fried, resulting in a crunchy, orange corn taco shell. Here is a healthy birria tacos version.
My first encounter with these birria tacos was when I went on a "taco crawl" with my supper club many years ago. We experienced amazing and authentic tacos in our neighboring city that we didn't know existed! One of the stops was at La Super Berria in Santa Ana that everyone in the taco crawl raved about. The meat was super succulent and the broth was delicious. Not to mention that the fresh corn tortillas were dipped in the fat and fried, yielding a dark orange, crsip taco.
I recently had birria tacos in NYC at the Birria-Landia food truck. These were delicious, but super rich. I decided that I was going to make my own healthier version when I got home for people who are prone to upset stomachs due to excess grease!
Tips for making healthy birria tacos
This recipe marinates the meat overnight. Although this is not necessary, it does render tastier meat. The cooked meat is also refrigerated overnight so that the fat of the meat congeals. Most of the fat is then removed, resulting in a less fatty consomme.
The fat can be placed in another bowl, heated and brushed onto the corn tortillas before heating on the pan. This is how it's traditionally served but is less healthy. The flavor from dipping the tacos in the broth is more than tasty enough without the fat rendering from the meat!
This healthy birria taco recipe is made with (lean) pork. A trimmed pork shoulder or butt is used. I like buying this cut when it's on sale and then making the entire piece when hosting large gatherings, freezing some for future use or giving some away. These healthy birria tacos are also excellent for a DIY meal. I recently fed over fifteen people with birria to spare!
Given that most pork shoulder or butt cuts are large, this recipe is best made in a large saucepan on the stove that will take about 5 hours to simmer. These healthy birria tacos can be made in an instant pot or slow cooker, but a smaller quantity of meat can be used.
Meat.
Beef, lamb, goat or pork can be used. The stewing meats or tougher cuts of meat are ideal because of the long simmering process which will break down the meat fibers. As mentioned earlier, marinating the meat allows the meat to fully absorb the flavors and is highly recommended.
Spiciness and smokiness
The spiciness for this stew is dependent on your heat tolerance. You can use Chipotles peppers in adobo sauce which are smoked peppers in a chili paste or if that is not available, use a combination of chili powder and liquid smoke which works just as well. The canned peppers in adobo sauce consomme results in a darker broth whereas the stew made with chili powder and liquid smoke will be brighter.
Tomatoes.
Most recipes call for fresh roma tomatoes. I used canned tomatoes instead. Crushed tomatoes are preferable. However, if that is not available, take whatever canned tomatoes are available and use an immersion blender to blend them to a thick sauce consistency.
Onions.
Diced onions are very important to the overall flavor of the consomme. Saute the onion until translucent. This brings out the sweetness of the onion that balances the acidity of the tomato.
Cooking the meat.
This meat requires a long 5 hour simmer. The heat gradually breaks down the meat fibers making it very tender and succulent. By the end of the cooking process, there will be a thick layer of fat on the top. This can be discarded by refrigerating the meat overnight and removing the congealed fat.
Serving the birria tacos
Corn tortillas are traditional. Purchase corn tortillas that are thicker and hold up when dunked in broth. For a no frills taco, serve the birria with chopped onion and cilantro. However, for a healthier option, I like including more vegetables like shredded lettuce, pico de gallo, avocado and sour cream.
Freezing the meat
Birria tacos are great for meal prep, especially if you want to freeze the meat for future use or as one of my daughter's friend said, "gives you the highest return for your labor!" Once the stew is made, spoon it in portion sizes either in plastic freezer bags or containers. Remember to label your containers with the contents and date!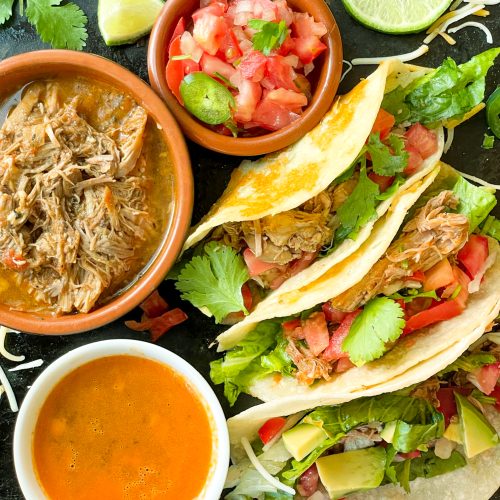 HEALTHY BIRRIA TACOS
Same great taste with a fraction of the fat! These pork birria tacos are great for entertaining and meal planning. This recipe is great for freezing leftovers for future use. It tastes better with time!
Ingredients
3

kg

pork shoulder or butt

Cut into 3 " chunks. Use bone to add flavor.

6

cups

chicken broth OR water and chicken bouillon

for every cup of water, add 1 tsp chicken bouillon

2

Tbsp

dried thyme

2

Tbsp

dried oregano

2

large

onions, diced

794

g

crushed tomatoes (1 large can)

Use an immersion blender to blend other canned tomatoes until pureed

3

Tbsp

cooking oil
Condiment options
shredded cheese

sour cream

shredded lettuce

salsa
Instructions
Debone shoulder and cut into large chunks about 8 cm (3 ")

3 kg pork shoulder or butt

In a large bowl or storage bag, mix the marinade ingredients together.

4 tsp salt,

2½ Tbsp paprika,

2 tsp white pepper,

1½ Tbsp cumin powder,

340 g chipotle peppers in adobo sauce canned,

½ cup apple cider vinegar

Preheat large saucepan with oil.

Saute pork chunks until browned. Do not pour sauce into saucepan at this time.

Pour remaining sauce from marinade into saucepan together with crushed tomatoes, broth, thyme and oregano.

6 cups chicken broth OR water and chicken bouillon,

2 Tbsp dried thyme,

794 g crushed tomatoes (1 large can),

2 Tbsp dried oregano

Refrigerate birria to congeal fat.

Remove fat for a healthier option.

Reheat berria, separate the meat from the broth and serve with tortillas and condiments.

shredded cheese,

sour cream,

shredded lettuce,

salsa
Nutrition
Serving:
15
people
Calories:
259
kcal
Carbohydrates:
11
g
Protein:
26
g
Fat:
12
g
Saturated Fat:
3
g
Polyunsaturated Fat:
2
g
Monounsaturated Fat:
6
g
Trans Fat:
1
g
Cholesterol:
84
mg
Sodium:
1421
mg
Potassium:
650
mg
Fiber:
4
g
Sugar:
5
g
Vitamin A:
1344
IU
Vitamin C:
10
mg
Calcium:
72
mg
Iron:
4
mg
Net Carbohydrates:
7
g
Tried this recipe?
Let me know how it was or if you have any questions or suggestions!