Coming from South Africa with a British influence, this rotisserie chicken pot pie with puff pastry combines the best of everything I like in a savory pie. I appreciate a tasty filling that has substance and is not mushy: tasty, chunky rotisserie chicken with fresh vegetables. It also needs a perfect balance of sauce and chicken filling: not too dry and not too soupy! The pastry should not be tough but light and flaky, and using puff pastry is the perfect topping for this tasty, cheater rotisserie chicken pot pie with puff pastry.
Tips for making rotisserie chicken pot pie with puff pastry
Rotisserie chicken.
Shred the rotisserie chicken into fairly large chunks approximately 1.5 - 2 inch (4 - 5 cm) strips. It should be large enough so that one can taste a chunk of chicken but small enough so that a knife is not required when eating. The skin and the bones can be saved to make a delicious, rich chicken broth.
Vegetables.
For this rotisserie chicken pot pie with puff pastry recipe, fresh carrots, celery, onion, mushrooms, garlic, frozen corn and peas are used. I do not use the frozen carrot-pea, medley mix which is the ingredient in most recipes as the cell structure of the carrots break down when they are frozen and as they thaw, excess water is released, preventing them from caramelizing and sweetening.
The garlic, onion and carrots. are sauteed primarily to caramelize them, extracting the sugars and providing sweetness to the filling. The rest of the vegetables are briefly sauteed since most of the cooking is done in the oven when the pastry is browning.
Seasoning.
Salt, black pepper, mushroom seasoning and herbes de Provence is used to flavor this pot pie. Herbes de Provence can be purchased in most grocery stores but can be made from a combination of dried herbs. I make my own with a combination of dried rosemary, thyme, marjoram and a little lavender.
Sauce.
The sauce is made from flour, butter and milk. A roux made up of equal parts of butter and flour is stirred with a whisk and the milk is added a little at a time to avoid lumps. The video shows how this is done as the procedure is somewhat tricky.
Puff Pastry.
It is worth it to get puff pastry that is made with 100% butter. The taste is better, and all-natural butter puff pastry is healthier than ones made with trans-fats. So, look at the ingredient list to ensure that it's made with butter. Some of the better-known brands that you'd assume would make their pastry with butter, don't! There are a few brands that make an all-butter puff pastry such as Dufour Classic pastry and Trader Joes which are usually sold during the holiday season.
Picking the right oven-safe dish
I believe that one of the best parts of a pot pie is the wonderful pastry on the top so picking the right oven-safe dish is important. If the dish is too deep and narrow, less pastry will be needed to cover the top. Depending on the dimensions of the puff pastry, find a shallow oven-proof dish that is slightly smaller than the pastry. You can always use a rolling pin to roll out the pastry to achieve the correct dimensions before cutting the pastry edges.
Getting the flakiness in the puff pastry.
Using a sharp knife, cut the edges of the puff pastry dough to expose the butter and dough layers. Avoid applying the egg wash to the edges to allow the layers to separate and form. In the image below, the left side of the corner was cut with a knife and the right side was not. Roll the discards of the dough into rosettes and place them in the center for decoration.
Apply an egg wash to the pastry for a golden brown color and insert a few vent holes to allow the steam from the filling to escape. This reduces the moisture in the pastry, allowing it to crisp and brown.
Another way to obtain flakiness is to create steam from the melted butter which then separates the layers of dough. This is achieved by making sure that the pastry is always cold and work quickly so that the butter doesn't melt. Then initially bake the pot pie in a hot 425 degree fahrenheit (218 degrees celcius) oven for 10 minutes and later reduce the oven temperature to 375 degrees fahrenheit (191 degrees celcius).
The combination of a delicious, hearty chicken filling combined with a light, flaky pastry makes this rotisserie chicken pot pie with puff pastry absolutely amazing! Enjoy and happy cooking. If you've made this recipe, let me know what you think in the comment section.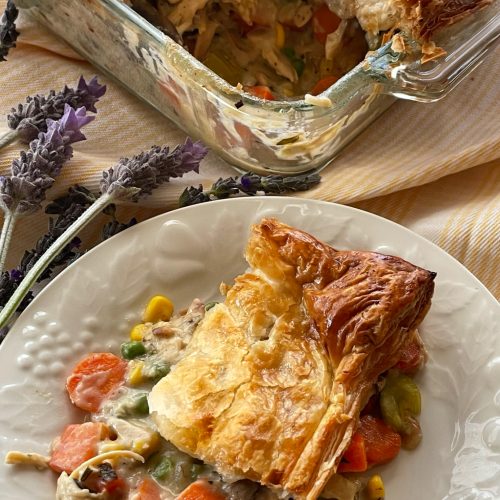 ROTISSERIE CHICKEN POT PIE with PUFF PASTRY
A delicious rotisserie chicken and vegetable filling topped with a light, flaky puff pastry.
Equipment
1 oven-proof dish

Shallow dish. Shape and size about the size of the puff pastry sheet.
Ingredients
1

Sheet

All-butter puff pastry

1

egg

1

Tbsp

water
Filling
500

g

pulled rotisserie chicken meat

300

g

fresh carrots,

chopped

150

g

fresh celery,

chopped in ½ " slices

100

g

onion

diced in ¼" pieces

227

g

mushrooms

slices in ¼" slices

3

cloves fresh garlic

2

Tbsp

olive oil

½

cup

frozen corn

½

cup

frozen peas

1

tsp

sea salt

½

tsp

black pepper

2

tsp

herbes de provence
Instructions
Add olive oil to a medium saucepan.

Add garlic and onion to caramelize.

3 cloves fresh garlic,

100 g onion

Add carrots and celery and cook until al dente.

300 g fresh carrots,,

150 g fresh celery,

Add frozen corn and frozen peas and stir.

½ cup frozen corn,

½ cup frozen peas

Add salt, pepper, herbes de Provence and stir.

1 tsp sea salt,

½ tsp black pepper,

2 tsp herbes de provence

Pour mixture into oven-proof bowl.
Make sauce.
Melt butter in saucepan and heat until bubbling.

Using a whisk, stir the flour into the butter.

While whisking, slowly add milk a little at a time and whisk until completely incorporated before adding more milk until all the milk is added.

Add mushroom seasoning to sauce.

Add the filling mixture and chicken and stir to incorporate.

500 g pulled rotisserie chicken meat
Baking the pot pie
Preheat oven to 425°F (177° C)

Prepare the puff pastry by cutting the edges with a sharp knife.

Place the pastry over the pot pie, extending over the edges.

1 Sheet All-butter puff pastry

Whisk the egg with water to create an egg wash.

Brush the pastry with egg wash and avoid the sharp, cut edges.

Using a knife, insert vent holes into the pastry to allow the steam to escape during baking.

Bake at 425°F (218° C) for 10 minutes.

Turn temperature to 375°F (191° C) for 30-40 minutes until golden brown.
Nutrition
Serving:
6
servings
Calories:
572
kcal
Carbohydrates:
42
g
Protein:
32
g
Fat:
31
g
Saturated Fat:
8
g
Polyunsaturated Fat:
4
g
Monounsaturated Fat:
15
g
Trans Fat:
0.003
g
Cholesterol:
103
mg
Sodium:
876
mg
Potassium:
845
mg
Fiber:
5
g
Sugar:
11
g
Vitamin A:
8823
IU
Vitamin C:
12
mg
Calcium:
198
mg
Iron:
4
mg
Net Carbohydrates:
38
g
Tried this recipe?
Let me know how it was or if you have any questions or suggestions!