I enjoy peanut butter cookies. However, I wanted to take advantage of the health benefits of almonds, almond flour and sourdough so I decided to make these sourdough almond butter cookies. I have now decided that this is now going to be my go-to nut butter cookie. It is definitely a softer, more moist cookie than other cookies, but the edges can be baked to crisp if that's your preference. My favorite part is the soft cookie and the hint of salt with each bite! They are definitely addictive and don't last long!
Tips for making sourdough almond butter cookies
Sourdough.
Sourdough discard is ideal for these cookies. Do not use a levain that has been recently mixed as this results in bits of tough dough pieces that are scattered throughout the batter. Allow the starter or levain to ferment / relax before using. Sourdough in raw cookie dough is still active and continues to break down the gluten in the flour. If the cookie dough is left in the refrigerator, over time, the sourdough will break down the carbohydrates and the cookies will not rise as well, and the fermentation process will start to make the cookies really sour! To avoid this from happening, leftover cookie dough made with sourdough needs to be frozen. See below on how to freeze these cookies.
Almond butter.
Use an almond butter that has no added sugar. Almond butter is already expensive relative to peanut butter so why pay so much for a cheap ingredient such as sugar. If you only have almond butter with sugar in you cabinet, you may have to reduce the sugar in the recipe so that it won't be too sweet.
Almond extract
Almond extract gives these cookies the unique almond flavor. However, for some, this may be overpowering. This can then be subtituted for vanilla extract.


Making the sourdough almond butter cookie dough.
Using a paddle on a stand mixer, beat the cookie dough batter until light and fluffy.
Add the flour after the butter-sugar mixture is light and airy. When the ingrdients are thoroughly combined, add the almond butter.
At this point, the cookie batter is too soft to mold. The dough requires refrigeration for 24 hours. This allows the sourdough to work and the dough to harden. Once the cookie dough has hardened in the refrigerator, the color will have darkened and the dough will be stiff.
Use a cookie scoop to make cookie balls. Flatten the balls with the tines of a fork to form discs.
Bake the cookies to your preference. The longer the cookies are baked, the crisper it will become.
Storing sourdough almond butter cookies
As mentioned above, the sourdough in these sourdough almond butter cookies dough will continue to consume the carbohydrate over time and the result will be very flat cookies. To prevent this from happening, freeze the cookie dough discs on the cookie sheet. Once frozen, place them in a freezer bag and bake as needed. Enjoy and let me know what you think of these sourdough almond butter cookies!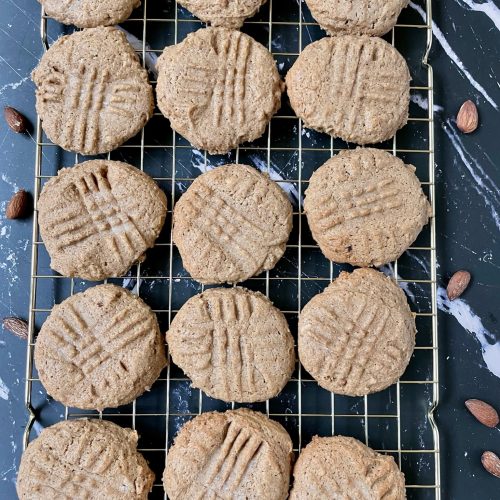 SOURDOUGH ALMOND BUTTER COOKIES
Almond butter cookies made with sourdough and almond butter.
Ingredients
120

grams

sourdough starter

250

grams

almond butter

112

grams

unsalted butter

175

grams

dark brown sugar

50

grams

granulated sugar

2

large

eggs

200

grams

all purpose flour

100

grams

almond flour

5

grams

baking power

5

grams

baking soda

3

grams

coarse sea salt

3

grams

fine sea salt

½

tsp

almond extract

or vanilla extract

2

Tbsp

flour

to assist when flattening the cookies with a fork.
Instructions
Combine butter and sugars in a stand mixer bowl with a paddle attachment until light and fluffy.

112 grams unsalted butter,

175 grams dark brown sugar,

50 grams granulated sugar

Add almond butter, eggs, sourdough starter and combine.

120 grams sourdough starter,

250 grams almond butter,

2 large eggs

Sift together all purpose flour, almond flour, baking powder, baking soda.

200 grams all purpose flour,

100 grams almond flour,

5 grams baking soda,

5 grams baking power

Add salt and almond extract and combine.

3 grams coarse sea salt,

3 grams fine sea salt,

½ tsp almond extract

The cookie dough will be soft. Place it in the refrigerator for an hour to harden and be more manageable.

Using a cookie dough scoop, scoop cookie dough onto baking trays lined with a silicone mat.

Dip the tines of a fork into the flour and depress onto cookie ball, making a disk and a criss cross decoration.

Refrigerate individual dough discs on the cookie trays overnight to allow the starter to work the dough. You can also freeze the cookie dough into discs for future use.

Preheat oven to 350° F or 177° C.

Bake cookies for 12-15 minutes until done.

Remove cookies and allow to cool for 5 minutes before removing them from baking tray. Enjoy.
Nutrition
Serving:
36
cookies
Calories:
130
kcal
Carbohydrates:
13
g
Protein:
3
g
Fat:
8
g
Saturated Fat:
2
g
Polyunsaturated Fat:
1
g
Monounsaturated Fat:
3
g
Trans Fat:
0.1
g
Cholesterol:
17
mg
Sodium:
109
mg
Potassium:
68
mg
Fiber:
1
g
Sugar:
7
g
Vitamin A:
93
IU
Calcium:
37
mg
Iron:
1
mg
Net Carbohydrates:
11
g
Tried this recipe?
Let me know how it was or if you have any questions or suggestions!