There's nothing better than a hearty beef stew with vegetables on a cold night. This stew is rich and flavorful. There is no added water or broth in this stew and the sauce / gravy comes entirely from the juicy tomatoes and wine, making this a hearty, rich and healthy stew that has more vegetables than meat by weight! The wine that is added is a red wine that gives the stew a rich, robust flavor so choose a wine that is full bodied with rich tannin notes.
This stew can be made in a traditional saucepan, dutch oven or instant pot. When the beef stew is allowed to rest for a day, the flavors meld and develop so leftovers or making this dish a day ahead actually tastes better!
Tips for making hearty beef stew with vegetables.
Time
Stews can be cooked in an hour with an instant pot or simmered for several hours in a saucepan or dutch oven depending on what you own. Regardless of the cooking method, the end result is a rich, tasty and hearty beef stew with vegetables that is delicious.
Eventhough there is a 40 minute "Stew" mode on the instant pot, I never throw in all the meat and vegetables together and press "start". When the vegetables are pressure-cooked for 40 minutes, the result is a mush or a thick beef and vegetable potage! Instead, pressure cook the meat and sauce long enough to tenderize the meat (approximately 20-30 minutes) and then add the vegetables at the end and continue to cook the meat and vegetables together. I use the saute function for cooking the vegetables at the end for about 15-20 minutes depending on the size of your vegetable pieces, because it takes about the same amount of time to pressure cook with building and releasing the pressure. You also have more control over your vegetable doneness when you can see how they are cooking.
Beef
Grocery stores sell beef stew meat in a package. The beef stew meat are the tough cuts from chuck and round roasts and should therefore be less expensive than steak. Sometimes, stew meat is more expensive than steaks,. In that case, it is more cost effective to buy a chuck, clod, eye or bottom round roast and cube it up yourself. The meat should have some fat on it for flavor as well as to provide some melted fat (rendering) during browning / braising.
Allow the beef cubes to briefly marinate while cutting the vegetables by combining the beef chunks with the flour, salt, pepper and herbs. The flour on the beef chunks form a coating around the beef. Saute the minced garlic and diced onion to caramelize, sweetening the onion, before adding the beef. When sauteeing the beef, the flour together with the oil, will not only brown the meat but also help thicken the sauce when the tomatoes are added.
Vegetables
Besides the tomatoes, onion and garlic that are needed for the sauce, dense vegetables that hold up well during boiling are ideal for this stew. Use sweet yams instead of potatoes. Yams hold up better in the cooking process, and the sweetness of the yams complement the acidity of the abundant tomatoes that are in the stew. Cut the vegetables into large chunks to prevent them from disintegrating and becoming completely mushy during the cooking process. Smaller cut vegetables cook faster than larger cut vegetables. When adding the vegetables to the stew, layer the vegetables so that the denser vegetables that require more heat are at the bottom, and the vegetables requiring less cooking time are at the top.
The need for flour
All purpose flour is used in this stew recipe. If a gluten-free option is needed, tapioca starch, potato starch or corn STARCH not cornmeal can be substituted for the all purpose flour. The meat chunks are coated with flour to provide a layer that will caramelize faster. It is also used as a thickener.
For this recipe, a small amount of flour is used to brown the meat and the rest is added when adding the vegetables to thicken the sauce from the vegetable juices. DO NOT add all the flour to the meat and try to brown it. It creates a thick layer on the bottom of the instant pot and starts to burn....trust me!
Hearty beef stew with vegetables leftovers
As mentioned earlier, the stew tastes better with time and would last up to 4 days in the refrigerator. Stew can be frozen for future use. When freezing the stew, freeze it in portion-sizes that would be sufficient for a meal rather than freezing a large quantity as it is not good to constantly refreeze and thaw food. Freezing the stew in freezer bags are a great way to save freezer space and eliminate the air from the stew container.
If you tred this recipe, please let me know what you think on social media or the comment section. Enjoy and happy cooking.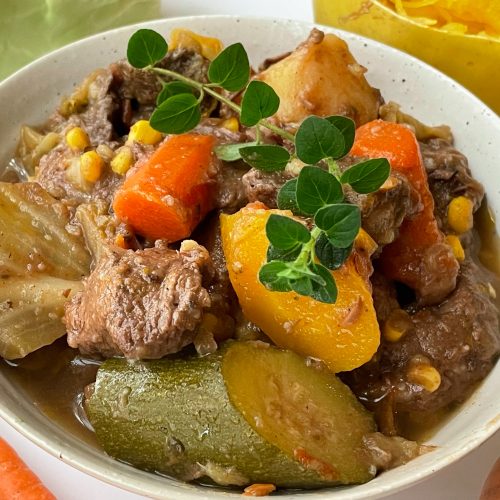 HEARTY BEEF STEW WITH VEGETABLES in INSTAPOT
This hearty beef stew with vegetables doesn't have any added broth or water. The liquid comes from the tomatoes. Very rich and satisfying. Making this the day before and allowing the flavors to blend makes this stew a delicious meal prep item as it tastes better with time!
Ingredients
1

kg

beef stew meat

2

Tbsp

all purpose flour

to be combined with meat

1

tsp

salt

for "marinating" meat

½

tsp

black pepper

1

tsp

salt

for vegetables

3

bay leaves

medium

1

tsp

dried oregano

1

tsp

dried thyme

500

grams

roma tomatoes

½" (1¼cm) diced. 3 large for 1x

300

grams

chopped onion

½" (1¼cm) diced. 1 large for 1x

3

cloves

fresh chopped garlic

½

cup

red wine

1

beef bouillon cube

Can be substituted for mushroom seasoning.

3-5

Tbsp

olive oil for sauteeing
Vegetable add-ins
2

Tbsp

all-purpose flour

to thicken sauce with vegetables

3

medium

sweet white yams

1½" (4cm) cubes

5

medium

carrots

1½" (4cm) cubes

3

medium

zucchini

1½" (4cm) cubes

3

celery ribs

½" (1¼cm) slices

¼

head

cabbage

2" (5cm) chunks

150

grams

green beans
Instructions
Combine flour, salt, pepper and dried herbs.

2 Tbsp all purpose flour,

½ tsp black pepper,

1 tsp dried oregano,

1 tsp dried thyme,

1 tsp salt

Toss beef cubs into flour mixture and combine. Let it rest to marinate while you chop all the other vegetables.

Chop all vegetables to dice size pieces for the sauce.

500 grams roma tomatoes,

300 grams chopped onion,

3 cloves fresh chopped garlic

Chop the rest of the vegetables into large chunks that will hold up during stewing.

3 medium sweet white yams,

5 medium carrots,

3 medium zucchini,

3 celery ribs,

¼ head cabbage,

150 grams green beans

Add olive oil to saucepan or instapot on saute

Add wine, beef bouillon cube, bay leaves Mix and pressure cook for 15 minutes.

3 bay leaves,

½ cup red wine,

1 beef bouillon cube,

1 tsp salt

Release pressure. Add vegetables and salt.

Pressure cook for 20 minutes and release pressure.

Add flour as thickener for sauce.

Layer vegetables with the most dense vegetables on the bottom.

Stir to combine meat and vegetables.

Season to taste with additional salt, mushroom seasoning or black pepper.

Serve stew with rice, crusty sourdough bread or spaghetti squash or allow to rest refrigerated for 24 hours for flavors to meld.
Nutrition
Serving:
6
servings
Calories:
602
kcal
Carbohydrates:
82
g
Protein:
44
g
Fat:
9
g
Saturated Fat:
3
g
Polyunsaturated Fat:
1
g
Monounsaturated Fat:
4
g
Cholesterol:
103
mg
Sodium:
1106
mg
Potassium:
3082
mg
Fiber:
14
g
Sugar:
12
g
Vitamin A:
9736
IU
Vitamin C:
86
mg
Calcium:
148
mg
Iron:
6
mg
Net Carbohydrates:
67
g
Tried this recipe?
Let me know how it was or if you have any questions or suggestions!