This refreshing and healthy okra mint salad is an adaptation of a salad that I had a few months ago at a Vietnamese fusion restaurant. The salad at that restaurant was refreshing with the lime juice and mint leaves, but the amount of sweetness was overpowering. I decided to adapt that recipe and add a few other ingredients that I thought worked well. This combination of ingredients and a salad dressing that is zesty and refreshing, hits the spot on a hot summer's day.
Okra is not a normal salad item. I like okra or lady fingers. It is one of those vegetables that is not only packed with health benefits, but also packed with medicinal benefits. I like making a style of okra that is usually served in Indian restaurants. It's dry and covered with spices and full of flavor. I'm not too fond of the okra when it's somewhat slimy!
I normally don't think of adding a large quantity of mint to a salad, but the dressing mellow's out the mint. I also find that slicing the mint leaves instead of keeping them whole is better as it is less overpowering than a mouthful of mint leaves.
This refreshing and healthy okra mint salad also includes feta cheese. The feta cheese is a Greek cheese made from sheep and goat's milk. It has a tangy, sharp flavor and a creamy, texture which adds a layer of creaminess to the zesty salad bringing it to another level.
Tips for making refreshing and healthy okra mint salad.
Okra.
Okra is packed with a substance that is somewhat slimy. It is important to handle the okra properly in order not to have a slimy mess on your hands. When cut okra interacts with water, it becomes very slimy. The trick is to wash the okra first, dry it as much as possible and then cut it into rings. DO NOT WASH THE OKRA AFTER CUTTING!
When cooking the okra, high heat tends to reduce the amount of liquid production so cook the okra is a pan that can sustain high heat, like a wok rather than a non-stick pan. Less salt is added to the okra as most of the salty flavor will be coming from the fish sauce in the salad dressing so do not oversalt the okra!
Constant stirring and cooking will allow the liquid to evaporate that results in a somewhat crunchy, dry and flavorful vegetable.
Other vegetables.
The main vegetables in this salad are okra, cucumbers (preferably persian or ones with less seeds) for crunch, tomatoes and bright peppers for color.
Mint.
Mint is the type of herb that people think are great for garnishes. It has many health benefits, especially for the gut. and is very easy to grow. If you have a mint stalk, remove some leaves at the base of the stalk and immerse the stalk in water. Roots will appear and this can be planted. The mint plant is invasive so it is advisable to contain it in a pot.
Mint has the tendency to brown very quickly so make sure you can immediately immerse your cut mint into the lime dressing to reduce oxidation. I have a very useful tool that helps with cutting herbs uniformally.
Feta cheese.
I like good feta cheese. There are so many varieties of feta. Some are really salty. My family prefers the valbreso feta but this is personal preference.
Other fixins.
You can add other crunchy ingredients as toppings such as deep friend onions and shallots that give it some sweetness and a definite crunch, but these are optional.
The salad dressing for this refreshing and healthy okra mint salad.
This salad dressing is an adaptation of a Vietnamese dipping sauce called Nuoc Cham. The main components are FRESH lime, fish sauce and sugar. If you are not familiar with fish sauce, note that some brands of fish sauce contain MSG (Monosodium Glutamate) which does add to the flavor, but may cause a reaction to people who are allergic to MSG so read the ingredient label.
If you've tried this recipe, let me know what you think in the comment section!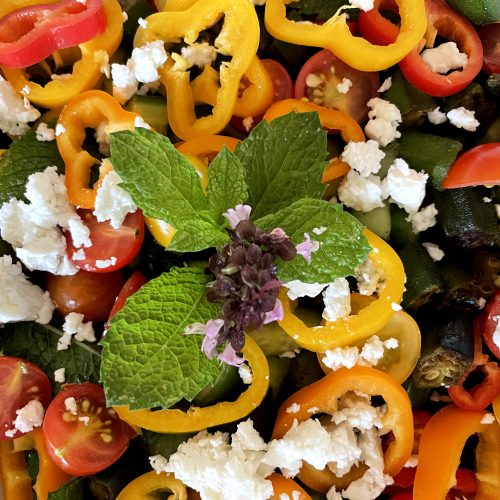 REFRESHING AND HEALTHY OKRA MINT SALAD
This okra mint salad is a fusion salad that combines Vietnamese, Indian and Greek cuisine into this deliciously, refreshing and healthy summer delight.
Ingredients
Salad vegetables
500

g

okra

4

persian cucumbers

100

g

cherry tomatoes

4

mini peppers

yellow, red, orange for color

100

g

Feta cheese
Okra spice
3-4

cloves

fresh chopped garlic

1

Tbsp

ground cumin

1

Tbsp

ground coriander

½

Tbsp

ground tumeric

¼

tsp

sea salt

¼

tsp

pepper

1

Tbsp

onion powder

2

Tbsp

cooking oil.
Salad dressing
¼

cup

fresh lime juice

⅛

cup

fish sauce

1-2

Tbsp

brown sugar

20

g

fresh mint leaves

½

jalepeno

optional
Instructions
Okra
Wash whole okra and dry as much as possible.

Cut into ½ " (1.25 cm) rings. Set aside.

Preheat work or pan until hot.

Add chopped garlic and stir until caramelized

Stir frequently until the okra appears dry and well coated with spices.

Remove from heat and allow to cool.
Salad dressing
Squeeze fresh lime into a container.

Cut mint leaves and immediately add it to salad dressing to prevent oxidation (turning brown).
Prep salad
Cut the cucumbers into half dices and place in a bowl.

Cut up the mini peppers into rings.

Cut the cherry tomatoes into halves.

Combine all the ingredients.

Add salad dressing and toss.

Sprinkle with feta cheese.
Nutrition
Serving:
4
g
Calories:
235
kcal
Carbohydrates:
25
g
Protein:
8
g
Fat:
13
g
Saturated Fat:
4
g
Polyunsaturated Fat:
2
g
Monounsaturated Fat:
6
g
Trans Fat:
1
g
Cholesterol:
22
mg
Sodium:
1015
mg
Potassium:
753
mg
Fiber:
7
g
Sugar:
9
g
Vitamin A:
2318
IU
Vitamin C:
82
mg
Calcium:
295
mg
Iron:
3
mg
Tried this recipe?
Let me know how it was or if you have any questions or suggestions!