What's a clafoutis? (klah-FOO-tee) A clafoutis is a french skillet crepe usually baked with pitted cherries but can be used with other types of fruit that doesn't bleed (lose its juices too easily). This sourdough kefir fruit clafoutis was inspired by my desire to use up sourdough starter and make it healthier with kefir. To my surprise, it was delicious and not as heavy on the stomach.
This sourdough kefir fruit clafoutis will literally take 10 minutes to prep and 30-40 minutes to bake. When it's warm and bubbling, straight out of the oven, it can be served with cream or ice cream as a dessert. It can also be served at room temperature as a breakfast item.
Tips for making sourdough kefir fruit clafoutis.
Type of fruit.
The classic French clafoutis is with pitted cherries. However, fruits that work well as cobblers will work as clafoutis: cherries, blueberries, stone fruit (fruits that have a large pit) such as apricots, peaches, nectarines, mangoes etc. Fresh fruits work better than frozen fruits since frozen fruits have the tendency of bleeding (releasing their juices) more than fresh fruits. This is because the cell membranes of the fruit which hold the water ruptures as the juice / water expands in the fruit during the freezing process. When the fruit thaws, the lack of cell structure results in bleeding.
Cherries.
Cherries are the traditional fruit used in clafoutis. Pitting cherries can be done without any depitting tools, just like hulling strawberries. See my tips on berries and cherries!
Sourdough starter and kefir.
This recipe calls for both sourdough starter and kefir. Regular all purpose flour can be substituted for the starter by using HALF the quantity of starter required. A combination of milk and cream can be substituted for the kefir. However, using sourdough starter and kefir makes this clafoutis a more nutritious dessert!
Extract.
You can enhance the taste of the clafoutis with whatever extract you have. Vanilla essence is the standard, but the sky's the limit. I did a fresh apricot with amaretto (almond extract) that was absolutely delicious!
Cast iron skillet.
Bake the clafoutis in a preheated cast iron skillet. If you don't have a cast iron skillet, a regular cake pan will work. A preheated skillet reduces the cooking time to 30 minutes and also retains the heat longer, especially when served as a warm dessert! If baking in a regular baking dish, baking should take about 40 minutes.
Technique
This is one of the simplest recipes. First combine the egg, extract and sugar until light and fluffy. The airiness of the egg mixture will act as a form of leavening or rising agent.
Whisk the sourdough starter and kefir together until it is uniform without any lumps. Otherwise, it will be very evident in the end product! Once the mixture is uniform, you can add the melted butter and continue whisking.
Grease the pre-heated cast iron skillet with butter prior to pouring in the clafoutis mixture.
When the clafoutis is ready, it should jiggle slightly when gently shaken. Remove from oven at this time as it will continue to cook due to the cast iron skillet! If you are not using a cast iron skillet, the mixture should not be underbaked and therefore not jiggle when gently shaken!
I would love to hear if you tried this recipe and what creative combinations you came up with.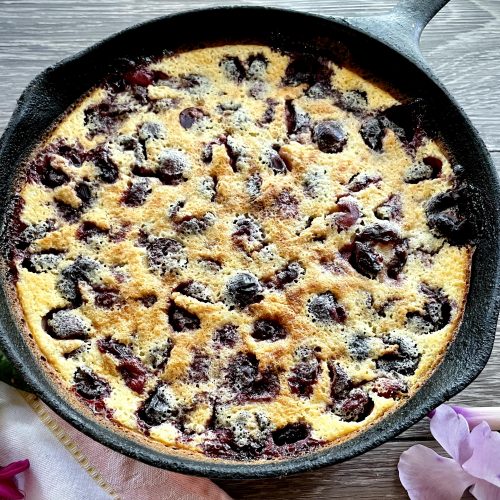 SOURDOUGH KEFIR FRUIT CLAFOUTIS
This sourdough, kefir fruit clafoutis is a delicious crepe-like pancake. Eat hot with ice cream for dessert or plain for a quick breakfast.
Ingredients
3

large

eggs

100

g

sugar

1

tsp

pure vanilla extract

can use almond or other extracts depending on taste.

2

Tbsp

melted butter

1

tsp

butter

for greasing cast iron skillet.

130

g

sourdough starter

¾

cup

kefir

can substitute with milk or cream.

280

g

pitted cherries

can substitute with other berries and stone fruit.
Instructions
Preheat oven with cast iron skillet to 350° F or 177° C

Combine eggs, sugar and extract in a mixing bowl.

3 large eggs,

100 g sugar,

1 tsp pure vanilla extract

Whisk egg mixture together.

Whisk sourdough mixture together.

Add melted butter to sourdough mixture. Whisk until combined.

Combine egg mixture and sourdough mixture together. Whisk until combined.

Grease preheated cast iron skillet with butter

1 tsp pure vanilla extract,

1 tsp butter

Pour in clatoufis mixture.

Bake for 30-40 minutes. Clatoufis should jiggle slightly when done as it will continue cooking.
Video
Nutrition
Serving:
8
g
Calories:
153
kcal
Carbohydrates:
23
g
Protein:
4
g
Fat:
5
g
Saturated Fat:
3
g
Polyunsaturated Fat:
1
g
Monounsaturated Fat:
1
g
Trans Fat:
1
g
Cholesterol:
80
mg
Sodium:
64
mg
Potassium:
106
mg
Fiber:
1
g
Sugar:
18
g
Vitamin A:
258
IU
Vitamin C:
2
mg
Calcium:
45
mg
Iron:
1
mg