What is kefir? According to wikipedia, kefir or kephir, is a fermented milk drink similar to a thin yogurt that is made from kefir grains, a specific type of mesophilic symbiotic culture. I learned about kefir a few years ago when a friend of mine was telling me about her son who had so many stomach issues that he had to drop out of school. She asked if I knew about microbiomes and that good gut health affected weight, mental health and sleep. Hmmm, that triggered my interest! I started doing research on the human microbiome and probiotics. I came across kefir as being a powerful, all natural probiotic. Prior to discovering kefir, I had been making my own yoghurt. I decided to make homemade kefir to see if it made a difference to my health.
Natural homemade kefir is thinner than yoghurt and tastes sour. I would describe it as a drinkable yoghurt, making it easier to consume.
Health benefits.
Kefir has many other health benefits. Kefir is a more powerful probiotic than yoghurt with a lot more microorganisms (some up to 61). The main probiotic is lactobacillus kefiri. This has been demonstrated to inhibit the growth of harmful bacteria including salmonella and e.coli. It has also been shown to have antibacterial properties.
I believe that probiotics in kefir and natural, live cultures like sourdough do contribute to good gut health. One of my daughter's had stomach issues. Once she introduced kefir into her daily regimen, her stomach issues went away. My family now drinks a fruit blended kefir drink every morning to start the day right! What's great is that this super healthy "tonic" only costs the price of milk!
Lactose Intolerance.
The kefir grains ferment the sugars in the milk as well as breaks down the lactose, so people who are mildly lactose intolerant are able to drink kefir. This has been proven with my daughter and mother who are mildly lactose intolerant but are able to drink a daily kefir beverage.
Why should kefir be part of your daily diet?
According to this somewhat technical abstract, some of the benefits are:
The cultures' chemical changes make the milk much easier to digest, allowing the body to absorb more of the naturally present nutrients.
The transformation of lactose to lactic acid allows people, even those with lactose intolerance, to digest kefir and get its full benefits.
High in calcium, amino acids, B-vitamins and folic acid.
Plays a vital role in the development of a healthy digestive tract in babies, as it protects against negative effects of radiation and helps improve the immune system.
Friendly cultures produce specific antibiotic substances which can control undesirable microorganisms and act as anti-carcinogenic factors.
Helps to enhance bowel function and possesses mild laxative properties.
Used therapeutically around the world in relieving Candidiasis, Chronic Fatigue Syndrome, A.D.H.D., Crohn's, Emphysema, and restoring the inner eco-system after antibiotic therapy.
Tryptophan, one of the essential amino acids abundant in kefir, is well known for its relaxing effect on the nervous system.
Kefir stimulates peristalsis and digestive juices in the intestinal tract.
Tips.
Making Kefir.
Most natural food markets sell kefir in the dairy section. Good quality kefir is rather expensive, especially if your family goes through half a liter a day! Being the home kitchen scientist that loves to dabble with cultures, I decided to see whether live kefir cultures can be maintained in a home environment with minimal expense. Just like sourdough starter, homemade kefir can be maintained at home. I decided not to start my kefir from kefir grains, but just maintain a store-bought active and live milk kefir. I make dairy milk kefir, because it has a higher calcium content and my family will drink it. However, there is a water-based kefir which I have never made.
Milk.
I maintain my homemade kefir with organic 1% milkfat cow's milk. Animal milk works best, preferably one with milkfat. The amount of milkfat depends on your taste preference. The higher the milkfat, the thicker and creamier the kefir. Some people claim that kefir grains tend not to thrive in nonfat, alternative "milks" or Ultra High Temperature treated (UHT) milk, due to the lack of adequate "food" for the microorganisms. I have not experimented with this.
Container.
I store my kefir in a glass bottle. You can use the container in which your kefir comes in, but many times, it is not clear so it's difficult to see how much kefir you have in the container. Because kefir grains are live cultures, I routinely just replenish the kefir grains' food by adding milk into the same bottle. You will notice that in the image below, the kefir grains are adhering to the sides of the bottle. This shows a healthy abundance of kefir grains!
Harvesting kefir grains.
If you have friends that maintains kefir, you can ask them for a tablespoon of their active kefir to get you started or you can either purchase kefir grains from a natural food market or amazon! I have propagated kefir grains by actually purchasing milk kefir. When you purchase a good quality, all-natural, organic kefir, you will have active cultures in the kefir. DO NOT BUY flavored kefir since all these flavored kefirs have sugar added. Since there are live cultures in the kefir, you can propagate more kefir grains by feeding it regularly with milk.
Feeding kefir.
I don't want to spend time straining the kefir grains and allowing them to become the "mother" for more kefir, which is the usual recommendation. I just use up the kefir until about one inch (2.5cm) is left in the bottle. (The usage limit line in the above image.) I then replenish the bottle with organic milk (I use 1% milkfat), allowing some space at the top for the kefir to release gas. (The refill line in the above image.) By not straining the kefir, the kefir will have kefir grains (lumps), but this disappears when blended with fruit. You can occasionally dislodge the kefir grains from the sides of the container with a skewer or chopstick as this will accumulate over time.
Allow the kefir bottle to rest on its side to maximize the contact between the "new" milk and keffir grains for at least 12 hours.
Sweetening kefir.
I usually blend it with a very ripe banana and another type of fruit. You can also sweeten it will natural sweetener like honey. I like my drink a little tart so a very ripe banana or fresh seasonal fruits are my go-to options that don't require anything else. Most people are familiar with Indian mango lassi that is made of mango, yoghurt, water and sugar. My mango kefir tastes the same without the addition of water or sugar.
Use whatever fruit is in season to make your delicious and healthy kefir drink!
Kefir uses.
I have used my homemade kefir in many other things besides smoothies such as kefir sourdough pancakes, kefir sourdough English muffins etc. I have also used it as a tenderizer when marinating meats, especially for curries.
If you are health conscious and have never tried kefir, try it for 2 weeks, everyday, and let me know in the comment section if you notice a difference!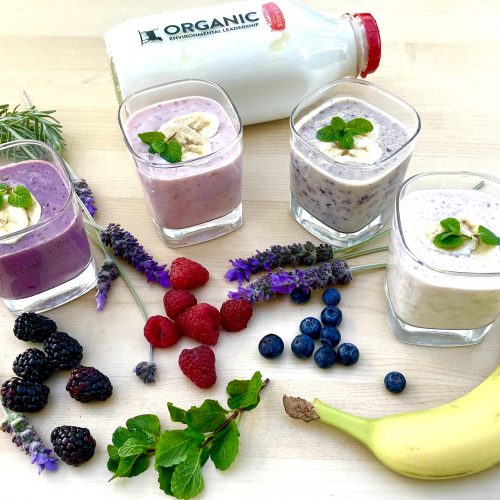 HOMEMADE KEFIR
Homemade kefir allows you to take original kefir grains and make your own at home by adding animal milk.
Ingredients
Kefir from kefir grains
960

ml

milk

1

Tbsp

kefir grains
Kefir from milk kefir
720

ml

milk

240

ml

plain, active, live milk kefir
Instructions
Add kefir grains or 240 ml of plain, active, live kefir to a non-metallic container.

Fill with milk, allowing enough space for the milk to release its gas.

Shake the bottle to allow the kefir grains to distribute within the milk.

Place the bottle on its side to allow the maximum amount of interaction between the kefir grains and milk.

Allow the kefir to rest at room temperature 70° fahrenheit (21° celcius) for at least 12 hours until the milk thickens as it turns into kefir. The keffir will continue to thicken slowly with time in the refrigerator.

Once the milk has thickened, refrigerate to slow the fermentation process.
Maintaining Kefir
Replenish with milk when 240 ml of kefir is left in the container and repeat process.
Nutrition
Serving:
4
servings
Calories:
149
kcal
Carbohydrates:
12
g
Protein:
8
g
Fat:
8
g
Saturated Fat:
5
g
Cholesterol:
26
mg
Sodium:
110
mg
Potassium:
242
mg
Sugar:
12
g
Vitamin A:
419
IU
Calcium:
282
mg
Iron:
1
mg
Tried this recipe?
Let me know how it was or if you have any questions or suggestions!