Fried rice is one of my favorite dishes. It's a meal in a bowl. I watched my mom make it at home. I watched the chef make it in the Chinese restaurant where I washed dishes. Every Chinese restaurant serves fried rice. The secret is, this dish is actually just a quick and tasty way to use up old rice and leftovers. And it's so easy! It takes 15 minutes to prep and 5 minutes to cook. There's a lot of flexibility in the choice and the proportions of ingredients. It's like a salad - you can make do with whatever you have.
When Michelle and I had a Chinese lunch stand one summer, we made hundreds of these. People lined up for it. All the prep was done at home. Out in the field, we fried each lunch to order. When you get the whole sequence down, the cooking takes as little as 2 minutes.
The basic mix includes rice, vegetables, meat, and eggs.
Tips for making easy fried rice.
Type of rice.
Loose grain rice works better than sticky rice. Leftover rice works better than fresh rice, because it has been dried and hardened in the refrigerator.
Vegetables.
You can use either fresh or frozen vegetables. Fresh vegetables, like carrots, will take a little longer to cook and soften. The vegetables are diced. They need to be firm veggies that will stay separate, like onions, corn, peas, mushrooms, and carrots, not soft veggies, like eggplant, which will get mushed up with other ingredients.
Meat.
The meat is also diced. Pork and shrimp are popular in restaurants, but beef, chicken, and chinese sausage ("lap cheung") also work fine. The meat are the flavor surprises in the fried rice. You can use chopped bacon, spam, ham which make wonderful tasty bits in the dish. Fish is too soft to work.
Egg.
I find that it is better if you scramble and cut the eggs separately and in advance, they won't get stuck to the other ingredients. You will also want to add this at the end so that the egg won't get darkened by the other ingredients or shredded from too much stir frying.
A wok is ideal but a regular frying pan will work.
Flavoring.
Salt, sugar and soy sauce are the only seasonings you need. You can add chicken bouillon, but it is not essential. Light soy sauce is preferable as it keeps the fried rice colorful and bright rather than brownish when using the dark soy sauce.
The recipe below seems precise, but remember that this dish requires no precision. Roughly, it's 50/50 between the rice and all the other ingredients. So the proportions might be like this: 1 part eggs, 1 part onions, 1 part corn, 1 part carrots, 1 part pork, 5 parts rice (since the total of all the other ingredients is 5 parts).
Garnish and crunch for this easy fried rice.
Garnish with chopped scallions. We recently took a road trip along the West Coast of the USA up to Seattle. We stayed with some friends there and they cooked fried rice for us. They added thinly sliced iceberg lettuce just before serving. This added the crunch and a little more vegetable!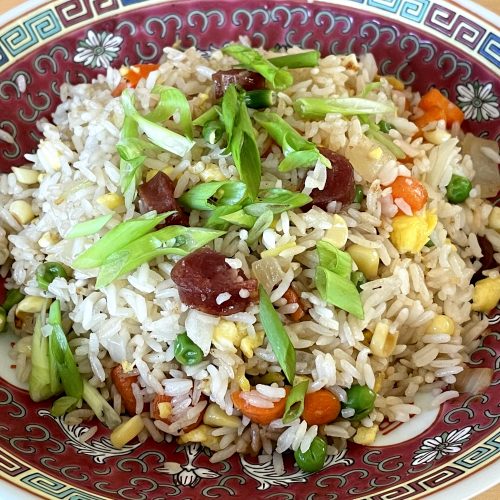 EASY FRIED RICE
This delicious and easy fried rice recipe is made with rice, egg, veggies and a tasty meat. It takes minutes to cook up and is amazing! So, always ask for the leftover rice at the Chinese restaurant!
Ingredients
500

grams

cooked and refrigerated rice

100

grams

corn

fresh or frozen

100

grams

frozen peas

100

grams

diced carrots

fresh or frozen

100

grams

diced onion

100

grams

chopped tasty meat

3

large

eggs, scrambled and chopped

1

Tbsp

cooking oil

1

Tbsp

light soy sauce

½

tsp

salt

¼

tsp

sugar

½

tsp

chicken bouillon powder
Instructions
PREP ON THE DAY BEFORE OR SEVERAL DAYS BEFORE
Leave it in the refrigerator, uncovered.
COOK
Preheat wok / pan to medium heat.

Add carrots, onions, and meat. These ingredients are added first because they take longer to cook.

Cook for 2 minutes until vegetables look cooked.

Cook for another 2 minutes.

Add flavorings. Authentic Chinese fried rice is closer to white than brown.

Add the eggs last. This way, they won't get darkened by the other ingredients or shredded from too much stirring.
Video
Nutrition
Serving:
4
g
Calories:
640
kcal
Carbohydrates:
114
g
Protein:
22
g
Fat:
10
g
Saturated Fat:
2
g
Trans Fat:
1
g
Cholesterol:
151
mg
Sodium:
998
mg
Potassium:
519
mg
Fiber:
5
g
Sugar:
5
g
Vitamin A:
4637
IU
Vitamin C:
23
mg
Calcium:
80
mg
Iron:
3
mg