This Hawaiian inspired breakfast verrine is probably not something that would be served in Hawaii. Most of the breakfasts consist of huge portions of spam, Portuguese sausage, eggs and of course, white rice! After coming back from Hawaii, I wanted to create a healthy breakfast that would transport my family back to "paradise" with the tropical tastes of Hawaii.
In Hawaii, we went to Waikomo Shave Ice in Kauai. Many people said we should try it. I was a little reluctant to try this shave ice as my family had bought this popular dessert earlier from another vendor and quite frankly, there was nothing to write home about. However, I was pleasantly surprised by Waikomo's Shave Ice. The little touches made the difference. The added fresh fruit, the organic fruit syrups made from real fruit rather than neon colored flavored syrup and the chia seed topping made with coconut water! Once I tasted the chia seed topping, I had a lightbulb moment! I would make a chia seed pudding with a combination of coconut milk and regular milk.
One of my daughters introduced me to chia seeds many years ago. She said that they were healthy, so I researched the health benefits of chia seeds. These chia seeds, besides being great for chia pets and sourdough bread, are very nutritious. According to healthline.com, chia seeds are packed with nutrients, antioxidants and high in fiber.
You are probably wondering what is verrine. A verrine is literally the French name for a glass container. These days, any dish in a glass container is considered a verrine. It's similar to a parfait but usually made as a single serving.
Tips for making breakfast verrine.
Verrine.
I believe that a verrine not only needs to be visually impactful, but also has to have a combination of different tastes and textures. The size of the glass should be able to hold all your dish's ingredients and be the correct serving size. I purchased a set of 8 oz. glasses thinking they would make great verrines. I made this Hawaiian breakfast in one and realized that the serving size was way too big. Smaller glasses are definitely more versatile, because they can also be used for appetizers and desserts with the correct portion size.
For those who are candle lovers, the glass containers make wonderful verrines? This glass (pictured below) that currently holds my Hawaiian inspired breakfast had a previous life as a candle!
Hydrating chia seeds.
Chia seeds are hydrophillic (water loving). In my kitchen experimentation, I have found that a 1:3 chia seed to water ratio works for sourdough bread, but a 1:4 chia seed to liquid works for a pudding. The texture is also better when the chia seeds are able to absorb all the liquid for at least 12 hours.
Chia seeds will absorb any liquid. This recipe uses a combination of regular milk and coconut milk. You can sweeten the chia seed pudding by adding honey, syrup or my favorite, condensed milk! If you don't like your chia seed pudding cold, heat it in the microwave for a minute or two before assembling your verrine.
Color.
What makes verrines so appetizing is the ability to see all the beautiful colors. Layering your ingredients helps create the different and distinct colors. For this Hawaiian inspired breakfast verrine, there's nothing better than seasonal fruit, diced to a size that fits into your glass, creating an artist's palette of color.
Texture.
I believe that a perfect verrine is one that is an explosion of fireworks in a glass. It is more interesting to your palate if you not only enjoy different flavors, but also experience various textures spoonful by spoonful. For this breakfast verrine, the chia seed is like a textured pudding. I made my own granola for the crunch as I find store-bought granola a little too sweet. If you don't have time to make your own granola, just sprinkle a little bit of salt onto your granola before placing it in your verrine. This adds to the taste.
Taste.
So what are the different tastes in this Hawaiian inspired breakfast verrine? The chia seed is slightly sweet. If you prefer your chia seed sweeter, add condensed milk! It changes this verrine from a breakfast to a dessert. I mentioned adding a little bit of salt in the granola to balance the sweet. For your fruit, include both sweet and acidic fruit. If you like passion fruit, you can add it as a topping. I prefer to add passion fruit butter which is both tart and creamy. Lemon curd works well too!
Enjoy this delicious and beautiful breakfast verrine and let me know in the comment section what other combinations you have made.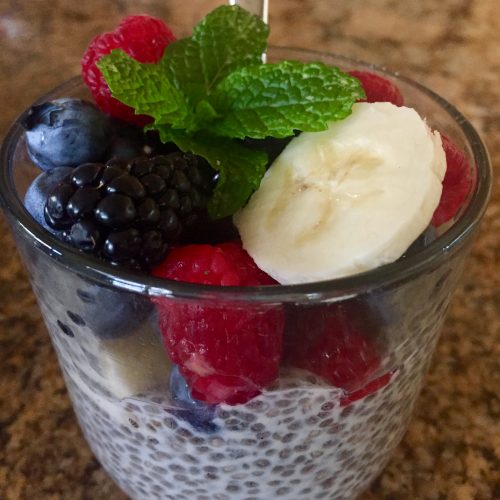 CHIA SEED PUDDING
Chia seed pudding is nutritious and tasty. Allow chia to absorb a milk (liquid) of your choice and top with crunchy granola and fresh fruit for a delicious breakfast alternative.
Ingredients
90

grams

chia seeds

245

grams

milk (liquid of your choice)

245

grams

coconut milk

condensed milk

optional for sweetness
Instructions
In a large container, add you liquid

Using a whisk, gently whisk the chia seeds as you slowly pour the chia seeds into the liquid.

Stir until mixture is lump free.

Refrigerate for at least 12 hours until mixture thickens.

Add sweetener if required.

Serve in a glass container with your favorite toppings
Notes
If you desire coconut chia, substitute half the milk for coconut milk.
Nutrition
Serving:
4
servings
Calories:
184
kcal
Carbohydrates:
15
g
Protein:
8
g
Fat:
11
g
Saturated Fat:
3
g
Cholesterol:
12
mg
Sodium:
56
mg
Potassium:
253
mg
Fiber:
8
g
Sugar:
6
g
Vitamin A:
198
IU
Vitamin C:
1
mg
Calcium:
280
mg
Iron:
2
mg
Tried this recipe?
Let me know how it was or if you have any questions or suggestions!