These fresh fruit scones with sourdough and kefir are delicious and so easy to make. If you have sourdough discard and are looking for a way to make a not-so-sweet, healthy version of scones, this is the recipe! Although these are blueberry scones, you can make any fruit in season if you understand how to handle the fruit and when to incorporate it.
In my previous life, I supplied a contracted starbucks bakery with ingredients for their blueberry scones. I learned a thing or two. If you don't want your blueberries to bleed so that you will have blueberry scones rather than blue scones, use small, frozen blueberries. Commercially there are wild and cultivated blueberries. The wild blueberries being smaller in size than the cultivated. This can be applied to any fruit that you want to incorporate into the scones!
Tips for making fresh fruit scones with kefir and sourdough by hand.
Technique.
Incorporating the butter.
The key to most butter dough recipes is to not overwork the dough. This results in a tough texture. If you have a food processor, "pulse" the butter just until the dough is incorporated. If making it by hand (see video), rub the pieces of butter between your finger tips and thumbs in one direction until the flour and liquid is just incorporated. DO NOT OVERWORK the dough.
Incorporating the liquid.
Some batters require you to add a little bit of a mixture and fold. Scones are different. I usually create a well in the center of the flour and pour the liquid in all at once. I then start incorporating the flour into the mixture by hand until it barely comes together and then turn it out onto my working surface to bring the dough together to form a disc. You DO NOT want to knead it as this toughens the dough.
Incorporating the fruit.
Add the fruit to the bowl and incorporate after the flour mixture comes together to prevent the fruit from rolling all over your work surface.
Cutting the scones.
You can either use a biscuit cutter to cut the scones into rounds or use a knife and cut your disc into wedges or squares. Dip your scone / biscuit cutter in flour before cutting to allow the scones to easily slip out of the cutter. If you do not have a scone / biscuit cutter, use a soup can or tuna fish (water chestnut) can. Remove the tops and bottoms to make your own home-made cutters. I also use these as molds for plating!
Achieving tall scones.
Over the years, I've learned a few tricks to help achieving tall scones.
Use active starter
Use baking powder that has not expired
The scone dough should be 1.5" (3.8cm) high
Make clean, sharp cuts that don't push the edges down by using a floured knife or floured cutter.
When the baking powder starts to activate with the rest of the ingredients, work quickly to get the scones cut and into the oven.
Tips for making fresh fruit scones with kefir and sourdough with food processor.
If you have a food processor, making scone batter is quick and easy. See video. Use frozen fruit to incorporate the fruit into the batter with the food processor. Otherwise, you can incorporate fresh fruit into the batter by hand.
Ingredients for fruit scones.
Fruit.
When making fruit scones, use fruit that don't have too much juice. Berries are good options. If the berries are somewhat overripe, you can place them in the freezer so they won't bleed into the scones. Make sure that the fruit will freeze inidividually as it will be very difficult to incorporate a frozen block of fruit! Do this by placing the fruit on a silicone mat or parchment paper onto a baking tray and separating the fruit so they don't freeze in a clump!
Butter
It is important to keep the butter cold. Do not use softened or melted butter as this tends to make the dough tough. Also, cut your hard butter into 1/2" (1.25cm) cubes instead of 1" cubes which are oftentimes suggested to make it easier to incorporate quickly, the smaller the pieces of butter, the faster it is to incorporate!
Sugar.
Granulated sugar is used for the scones. Before baking, sprinkle the tops with coarse sugar like turbinado sugar.
Kefir.
I make these scones with kefir rather than buttermilk or cream. This makes these scones less rich and more healthy, which I prefer. You do not taste the sourness of the kefir, but it gives the scones a nice balance with the rich butter and sugar. The kefir is also be used as an egg wash substitute at the end so don't rinse the container until after you've applied the wash onto the scones.
Baking Powder.
Baking powder gives the scones the extra rise in the oven. It is important that your baking powder is still "active". I once used expired baking powder to make scones for a "High Tea" baby shower that I was hosting. Needless to say, the scones were more like shortbread than scones. Thankfully, you cannot go wrong with butter and cream in your ingredient list so we called them shortbread
Egg wash.
You can add an egg wash or leftover kefir-egg mixture to the top of the scones. An egg wash will give the scones a golden brown appearance.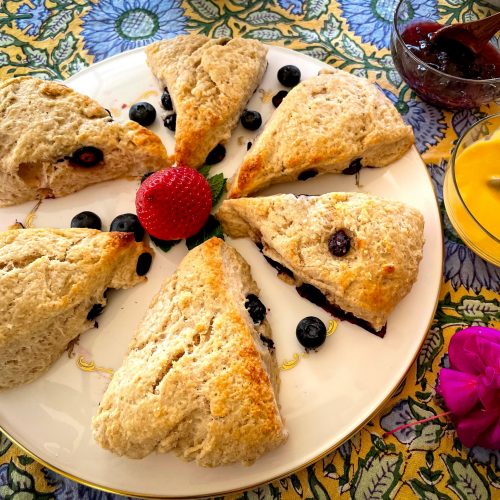 FRUIT SCONES with sourdough and kefir
Fresh fruit scones made with sourdough and kefir. A healthier option to the regular scones but just as yummy!
Ingredients
315

g

all-purpose flour

1

Tbsp

baking powder

50

g

granulated sugar

½

tsp

salt

84

g

unsalted butter cut into ½" cubes

120

g

kefir

120

g

active sourdough starter

1

large

egg

150

g

firm fruit

fresh or frozen, preferably berries.

1

tsp

coarse sugar

turbinado sugar works well (optional)
Instructions
Preheat oven to 375° F (191°C).

Sift or mix together flour, baking powder, sugar and salt.

Toss butter chunks into flour mixture.

Using fingertips and thumbs of both hands, rub the mixture in one direction until butter is incorporated. Flour mixture should be the size of peas. DO NOT OVERWORK.

In another bowl, whisk together kefir, active sourdough starter and egg.

Add entire liquid mixture to dry ingredients.

Mix with hands until barely incorporated. DO NOT OVERMIX.

Add fruit and incorporate.

Turn onto working surface and knead to form a 1.5" (3.8cm) high disk.

Using a biscuit cutter, cut into 9 2.5" rounds or squares.

Apply a wash with the leftover kefir or egg wash.

Sprinkle with coarse sugar. (optional)

Place on a baking tray lined with parchment paper or a silicone mat.

Remove from oven. Serve warm with butter, fruit preserves and clotted cream. Enjoy!
Video
Nutrition
Serving:
9
units
Calories:
256
kcal
Carbohydrates:
39
g
Protein:
5
g
Fat:
9
g
Saturated Fat:
5
g
Polyunsaturated Fat:
1
g
Monounsaturated Fat:
2
g
Trans Fat:
1
g
Cholesterol:
42
mg
Sodium:
287
mg
Potassium:
60
mg
Fiber:
1
g
Sugar:
8
g
Vitamin A:
299
IU
Vitamin C:
2
mg
Calcium:
107
mg
Iron:
2
mg
Tried this recipe?
Let me know how it was or if you have any questions or suggestions!