This homemade garlic black bean sauce is one of the staples in my household. It's delicious steamed with any type of meat pork ribs, beef and bitter melon, zucchini and chicken etc. I used to buy the ready-made garlic and black bean sauce until I ran out of it and had some dried black beans in the refrigerator. I decided to whip up my own homemade garlic black bean sauce but add extra garlic! Now, I use my homemade black bean sauce all the time. It's tastier and a fraction of the cost of store-bought black bean sauce. I also find that I can blend this with a little chili for an extra kick and you can alter the spiciness depending on your spice tolerance.
Tips for making homemade garlic black bean sauce
Black beans.
The black beans needed for this recipe are the salted black beans. These can be found in most Asian grocery stores.
Chinese cooking wine.
I usually tend to interchange the alcohol depending on what I have available in the house, but for this homemade black bean sauce, the taste of the Shaoxing Chinese rice cooking wine is subtle and not overpowering. I recommend not substituting this.
Mushroom seasoning.
This is the secret ingredient! It provides the umami that store bought garlic black beans sauce lack. This is a definite must and don't substitute this with salt! This mushroom seasoning is found in Vietnamese grocery stores. I highly recommend reading the ingredient label. I went to one grocery stores and they had about 5 different brands with similar pictures. The difference was in the ingredient list. Look for an all natural mushroom seasoning with no MSG or other additives.
Blending.
The consistency of the sauce / paste is personal preference. If you prefer to have the whole black bean present, blend half of the black beans into a paste and then add the whole black beans into the mixture at the end. The stronger the blender, the finer the paste. I use the cuisinart hand blender which is not as powerful as the vitamix, but it does allow me to make a smaller quantity of the homemade garlic black bean sauce. The sauce is somewhat chunky which I like.
Storing the homemade garlic black bean sauce.
The best way to store the homemade garlic black bean sauce is in a sealed container like a mason jar and place it in the refrigerator. It will last for 2-3 months. Let me know what you think of this sauce in the comment section!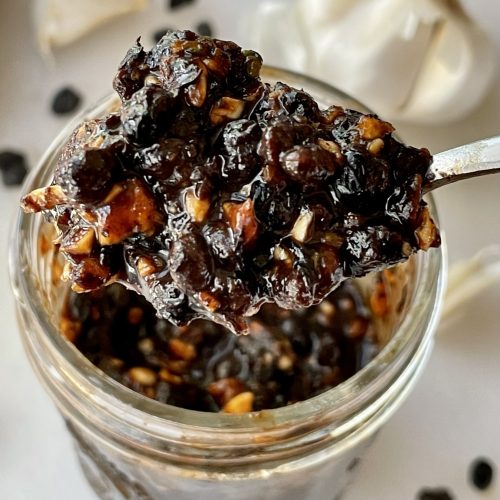 HOMEMADE GARLIC BLACK BEAN SAUCE
Equipment
Food processor or blender
Instructions
Add all the ingredients into a hand blender except half of the black beans.
Nutrition
Serving:
1
Tbsp
Calories:
43
kcal
Carbohydrates:
4
g
Protein:
4
g
Fat:
2
g
Saturated Fat:
0.2
g
Polyunsaturated Fat:
0.01
g
Sodium:
269
mg
Potassium:
13
mg
Fiber:
1
g
Sugar:
2
g
Vitamin A:
0.2
IU
Vitamin C:
1
mg
Calcium:
7
mg
Iron:
0.2
mg
Net Carbohydrates:
3
g
Tried this recipe?
Let me know how it was or if you have any questions or suggestions!