Chinese lettuce wraps are so easy to make and are great for entertaining, especially for a DIY meal. There is no carb in this recipe, making it great for those looking for a healthy meal. I'll let you in on a secret...If you have any of the potsticker or dumpling filling left over, stir fry the filling, add a few extra ingredients and make lettuce wraps! This Chinese lettuce wraps filling has additional ingredients that give it an extra crunch. Unlike many recipes that are drenched in a heavy sauce that is either too salty or too sweet, this Chinese lettuce wrap recipe allows the individual ingredients to showcase themselves and allows each person to add as much or as little sauce as they would like when assembling their wraps.
Tips for making Chinese lettuce wraps.
Meat.
Ground chicken, turkey and pork are preferable as these meats tend to take on the flavor of the marinade. Beef and lamb can be used, but these meats have a stronger, meatier flavor. It is important to marinate the meat before stir frying to allow the meat to have a good flavor.
Chinese sausage
Morsels of Chinese sausage is key to a good filling. This not only provides color, but also a good flavor. Dice the Chinese sausage and saute it first to render (melt) the fat in which the rest of the ingredients can be fried.
Lettuce.
Use lettuce that you can roll. Iceberg and butter lettuce work well. If you are using iceberg lettuce, remove the core and gently separate the leaves. Use a pair of scissors to cut them into the cup shape that will hold the filling. Don't throw away the unused iceberg lettuce scraps. Add the shredded lettuce to fried rice. A friend of ours from Washington added it to fried rice and it added a nice crunch. Iceberg lettuce gives the wraps more of a crunch than butter lettuce.
Butter lettuce is definitely easier to work with and the color is a lot brighter than iceberg lettuce. I find romaine lettuce not as easy to wrap due to its shape and the firmer core.
Lotus root.
Fresh lotus roots are great to add to stir fries for an additional crunch. Not only does it provide a sweet crunch, but it also has many health benefits. The key is not to overcook lotus root otherwise it will start to become sticky. Lotus root can be found in Asian grocery stores. When picking a lotus root, make sure that the ends are sealed and no holes are exposed. You will be cutting these ends off, but make sure that no critters took up residence in the lotus root as a result of the holes.
Jicama.
I oftentimes substitute jicama for water chestnuts. Jicama is a crunchy tuber with a similar texture to water chestnuts. Remove the fiberous outer layer with a peeler. Since jicama can be difficult to cut, cut the jicama in half and place the flat side on the cutting board before cutting it into slices, strips and then dices. This will prevent knife injuries!


Garnishes for the Chinese lettuce wraps.
To add some color to the meat mixture, add shredded carrots, chopped scallions, fresh cilantro and toasted pine nuts.
Sauce for the Chinese lettuce wraps.
Hoisin sauce is a sweet and tangy sauce that is a great accompaniment. I don't add a lot to the meat mixture, because it makes it too sweet. Allow your guests to add their own amount of hoisin sauce. Chili sauce like sirracha can also be added for spiciness!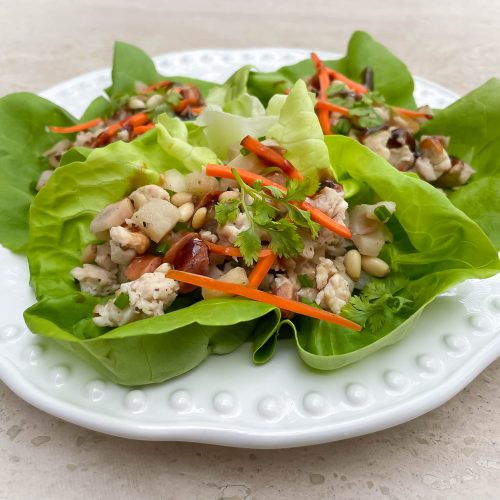 CHINESE LETTUCE WRAPS
Healthy Chinese lettuce wraps are simple, healthy, delicious and great for entertaining.
Ingredients
454

g

ground meat

chicken, pork, lamb

1

stick

Chinese sausage.

250

g

jicama or water chestnuts

1 small jicama or 1 small 8 oz. can of water chestnuts for 1x recipe

250

g

fresh lotus root.

1 small tuber for 1x recipe

2

Tbsp

cooking oil.

½

tsp

chicken bouillon powder

Salt can be substituted

2

Tbsp

light soy sauce

Mixed with 2 cups water for soaking mushrooms

30

grams

dried shitake mushrooms

2

cups

water

For soaking dried shitake mushrooms

1

Tbsp

fresh chopped garlic
Garnish
1

head

iceberg or butter lettuce

50

grams

scallions

cilantro, carrot slivers, pine nuts

Sirracha chili sauce
Instructions
Soak mushrooms
In a bowl, wash and soak mushrooms overnight

2 cups water,

2 Tbsp light soy sauce
Prep vegetables and sausage
Peel and dice vegetables into small dice sized pieces

250 g jicama or water chestnuts,

250 g fresh lotus root.,

30 grams dried shitake mushrooms
Marinate meat
Mix meat with corn starch, salt, sugar, pepper, soy sauce, hoisin sauce, whiskey and sesame oil or use bulk marinade (2 Tbsp with 1 tsp corn starch) plus hoisin sauce

½ tsp salt,

¼ tsp white pepper,

¼ tsp sugar,

1 Tbsp light soy sauce,

½ Tbsp sesame oil,

1 Tbsp whiskey,

1 Tbsp Hoisin Sauce,

1 tsp corn starch

Marinate for at least 1 hour.

Heat a frying pan or wok.

Add diced Chinese sausage to render fat. Remove sausage and place in a container.

1 Tbsp fresh chopped garlic

Stir fry meat until almost cooked.

Remove from wok and place in container with sausage.

Fry the diced vegetables (except scallions) in oil. Do not overcook the lotus root and water chestnuts.

250 g jicama or water chestnuts,

250 g fresh lotus root.,

30 grams dried shitake mushrooms

Add the meat back into the pan or wok and mix together.

Add the chicken bouillon powder for taste, if needed.

½ tsp chicken bouillon powder

Serve mixture with lettuce and hoisin sauce.

1 head iceberg or butter lettuce,

Hoisin Sauce,

cilantro, carrot slivers, pine nuts,

Sirracha chili sauce
Nutrition
Serving:
8
wraps
Calories:
520
kcal
Carbohydrates:
33
g
Protein:
25
g
Fat:
32
g
Saturated Fat:
10
g
Polyunsaturated Fat:
3
g
Monounsaturated Fat:
15
g
Trans Fat:
1
g
Cholesterol:
81
mg
Sodium:
1291
mg
Potassium:
961
mg
Fiber:
7
g
Sugar:
5
g
Vitamin A:
135
IU
Vitamin C:
32
mg
Calcium:
74
mg
Iron:
5
mg
Net Carbohydrates:
26
g