There's nothing better than a summer berry tart that showcases all the different berry tastes individually especially when it's summer and local berries (especially in California) are at their peak ripeness. This summer berry tart has fresh berries over a not-too-sweet egg custard or crème pâtissière that is baked in a sweet shortcrust pastry or pâte sucrée that's deliciously crumbly with a cookie texture. It looks like it would be difficult to make, but it's super simple with a never disappointing outcome!
I started making these tarts many years ago after visiting France as an exchange student and enjoying all their little tartlets. Although this can be made as tartlets, making a large tart is less laborious and time consuming, but just as delicious!
Tips for making summer berry tart
Most fruit can be used that doesn't bleed so pick whatever is in season and allow the fruit to naturally enhance the taste of the dessert.
Types of berries for the summer berry tart
All berries can be used. Large berries like strawberries can be sliced in half. I prefer to remove the strawberry stems by hulling them rather than slicing the tops off. In this way, the strawberry looks more natural. Use berries at their peak of ripeness but are not overripe. Overripe berries tend to bleed (let out their juices) easily and are more difficult to work with. If the berries are slightly underripe and not sweet enough to your liking, a fruit jelly glaze will be added which will slightly sweeten the berries.
Springform pan.
Use a springform pan (a pan with a removable base). This allows the tart to have a decorative edge and makes cutting and serving much easier.
Sweet shortcrust pastry, sweet pastry crust (pâte sucrée)
This pastry has a texture of a cookie rather than a pie as a result of the higher fat content, the addition of eggs and a levening agent. The pastry shell is the only part that is baked before adding the custard and fruit topping. This pastry shell does not require rolling out, but rather pressing the dough into the tart pan.
Sweet pastry cream or crème pâtissière
This egg custard is a less sweet pastry cream or crème pâtissière so if you love sweet, add more sugar. Once the sweet pastry cream is thick enough, pour it into the baked tart shell. Allow the sweet pastry cream to set completely before adding the fruit, otherwise it will be very messy.
Glazing the fruit.
After decorating the tart, apply a thin coat of glaze to give the tart a shine. The easiest way to do this is to liquify some apple or strawberry JELLY in a microwave until thin and runny. Place the jelly bowl into a bowl of boiling water to keep it thin and viscous. Work quickly to apply the jelly. If the jelly starts to thicken, microwave the jelly again and continue the glazing process.
When using strawberry jelly, the red color tends to discolor the custard, so try to brush the jelly only on the fruit and pack your tart full of berries.
Enjoy and let me know what you think!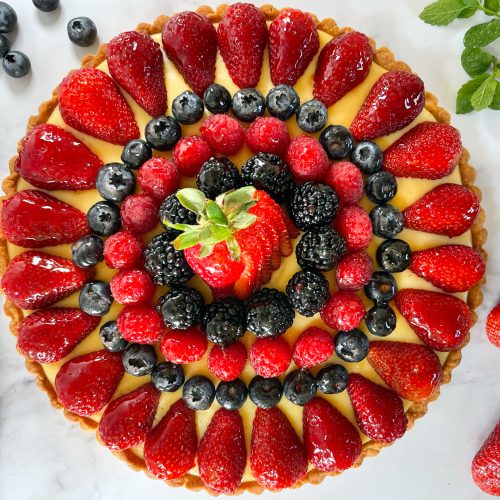 SUMMER BERRY TART
Delicious fresh fruit tart made with a sweet crust pastry and custard
Ingredients
Sweet Pastry Crust
110

grams

unsalted butter

67

grams

sugar

1

egg

240

grams

all purpose flour

1

tsp

baking powder

⅛

tsp

salt

omit salt if using salted butter
Custard
800

ml

whole milk

1½

Tbsp

flour

1½

Tbsp

cornstarch

1½

Tbsp

custard powder

⅓

cup

sugar

Less can be added depending on taste

3

eggs

34

grams

butter
Fresh Fruit topping
1

cup

fresh berries and fruit

Any appropriate fruit in season.

3

Tbsp

strawberry or apple jelly.

NOT jam or preserves. Needs to be clear.
Instructions
Crust by Hand
Preheat oven to 400°F or 204°C

Press into 1 13" round tart pan or pan of your choice. Pan should have a removable bottom.

Poke several holes with a fork into the base of the tart to avoid the pastry from bubbling up during baking.

Place tart pan with removable base on cookie sheet

Bake in oven until golden brown. 5-8 minutes
Crust with Food Processor.
Preheat oven to 400° fahrenheit or 204° celcius

In food processor, combine butter and sugar and blend

Add beaten eggs and dry ingredients to creamed butter. DO NOT OVERMIX. Mixture should be crumbly

Press into 1 x 13" round springform pan with removable bottom.
Custard
Heat milk in a thick bottomed saucepan.

Beat eggs and dry ingredients together in a bowl.

Pour the warmed egg mixture back into the saucepan of heated milk.

Return the saucepan to the stove and cook the custard over medium low heat. Stir continuously until the mixture turns to a very thick custard.
Fresh fruit topping
Heat the fruit jelly in a small bowl in the microwave until it bubbles.

Using a pastry brush, lightly coat the fruit to give it a shine. You may have to keep microwaving the jelly if it congeals or you can place the bowl containing your jelly into a bowl of boiling water to slow down that process.
Nutrition
Serving:
8
slices
Calories:
421
kcal
Carbohydrates:
57
g
Protein:
10
g
Fat:
17
g
Saturated Fat:
10
g
Polyunsaturated Fat:
1
g
Monounsaturated Fat:
5
g
Trans Fat:
1
g
Cholesterol:
131
mg
Sodium:
177
mg
Potassium:
259
mg
Fiber:
1
g
Sugar:
27
g
Vitamin A:
651
IU
Vitamin C:
1
mg
Calcium:
191
mg
Iron:
2
mg
Net Carbohydrates:
56
g
Tried this recipe?
Let me know how it was or if you have any questions or suggestions!