When it's summer time and the temperature is over 80 degrees fahrenheit, there's nothing better than a refreshing lychee lemonade that takes less than 5 minutes to make .
Lychees are a delicious tropical fruit that used to be only imported from Asia. These days, lychees can be found fairly abundantly. However, fresh lychees are very seasonal so when they're available, grab a few bags of fresh lychees, refrigerate them and enjoy these delicious juicy tropical fruits. It's also a great time to make this super simple refreshing lychee lemonade.
Tips for making refreshing lychee lemonade.
For this refreshing lychee lemonade, iced water, fresh lemon juice and canned lychees are used. That's it! This means that this delicious, refreshing drink can be made year-round even when fresh lychees are not in season.
Lychees.
Canned lychees can be found in most ethnic markets. Select lychees that are canned in heavy syrup rather than light syrup. Heavy syrup is needed to complement the fresh, tart lemon juice. By using lychees in heavy syrup, a simple syrup solution is not necessary. The canned lychees are blended to a puree. If fresh lychees are not available, remove a few whole lychees from the can before blending. These whole lychees can be added into the lemonade or used as a garnish.
Lemons or limes.
For 1 can of lychees, only 1/3 -1/2 cup fresh lemon juice is needed. To avoid having to buy extra lemons, cut some center slices for the garnish before squeezing the lemons for juice.
Water.
Only 1 can of water is needed to dilute the lychee lemonade. Placeice i nto the can before adding the water if ice is desired . Don't over dilute the lemonade. If Substitute the water for seltzer water from your soda stream for a flavored seltzer lemonade.
Garnish.
Garnish with fresh mint, skewered fresh or whole canned lychees and a slice of fresh lemon. Enjoy!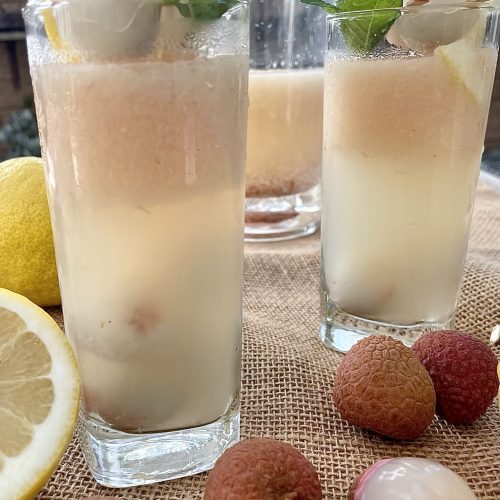 REFRESHING LYCHEE LEMONADE
Simple, quick and delicious refreshing lychee lemonade made in less than 5 minutes. Great for the summer!
Ingredients
⅓-½

cup

fresh lemon juice

567

g

can of lychee in thick syrup

1

can

iced water

mint

optional for garnish

fresh lychees

optional for garnish
Instructions
Nutrition
Serving:
4
glasses
Calories:
98
kcal
Carbohydrates:
26
g
Protein:
1
g
Fat:
1
g
Saturated Fat:
1
g
Polyunsaturated Fat:
1
g
Sodium:
2
mg
Potassium:
263
mg
Fiber:
1
g
Sugar:
22
g
Vitamin A:
1
IU
Vitamin C:
109
mg
Calcium:
8
mg
Iron:
1
mg
Net Carbohydrates:
24
g