When growing up in South Africa, I enjoyed meat samosas or "samoosas". These were thin, crisp, deep fried, perfect equilateral triangle pastry that enclosed a somewhat spicy, savory meat filling. These were one of my favorite snacks served with tea!
In many South East Asian restaurants, there is always some type of samosa. Samosas come in different shapes, wrapper thickness and "regional" fillings. My meat samosa recipe is what I grew up with in South Africa, and I usually make my own since it's hard to find those kind of samosas here in the USA!
Tips to make South African Indian meat samosas.
Samosa wrapper.
I don't make my own samosa wrappers, since I usually buy ready-made samosa wrappers that can be found in the frozen pastry section in most South Asian grocery stores. However, I have found that the samosa wrappers are just like the Chinese spring roll wrappers except for the shape. You can make samosa wrappers from spring roll wrappers by cutting them into thirds.
Filling.
Meat.
You can make the filling with a meat of your choice such as ground chicken, turkey, lamb and beef. They all taste delicious. You can use diced potatoes if you want a vegetarian alternative.
Chili.
The spiciness of the samosa filling can be customized to your heat tolerance by adding or omitting the fresh chilis. You can also alter the amount of chili powder you add to the filling. My suggestion is to start with 1/4 teaspoon of chili powder and keep tasting the filling until you get the heat level that is appropriate for you!
Onion.
This recipe uses both cooked, caramelized onions and raw onions. The fried onions add "sweetness" to the filling and the raw onion gives a little bite and crunch to the samosa. However, when the samosas are baked or fried, the raw onion and other veggies / herbs do get cooked.
Raw onion, other fresh herbs and garam masala is added after the meat filling has cooked. This really brings out the taste and aroma! I also add petit pois for added vegetable!
Frozen peas.
There is a texture difference between regular frozen peas and petit pois. Petit pois are smaller peas and tend to be less mushy! Mushy peas are probably one of the few things that I don't enjoy eating! So, I never buy or use regular frozen peas.
Wrapping the meat samosas.
A flour-water paste is used to seal the samosa wrappers properly. Folding the samosa is the tricky part, because it is somewhat difficult to get that rectangle into an equilateral triangle. See video for tips.
Cooking the meat samosas.
Traditionally, meat samosas are deep fried. You can shallow fry samosas in a pan of oil to reduce the amount of oil needed. Turn them over once one side of the samosa is golden brown. Fried samosas are golden brown and crisp. After frying the samosa, drain the excess oil from the samosa by turning it so that a tip of the triangle faces down onto a paper towel.
I have brushed samosas with cooking oil and baked them for a healthier alternative. They are not as crispy as the deep fried version, but definitely healthier and less oily!
Freezing meat samosas.
When I make samosas, I make a large batch, eat some fresh and freeze the rest. Place the wrapped samosas on a baking tray, making sure they do not touch each other. Freeze the samosas. Once frozen, they can then be placed in a freezer bag.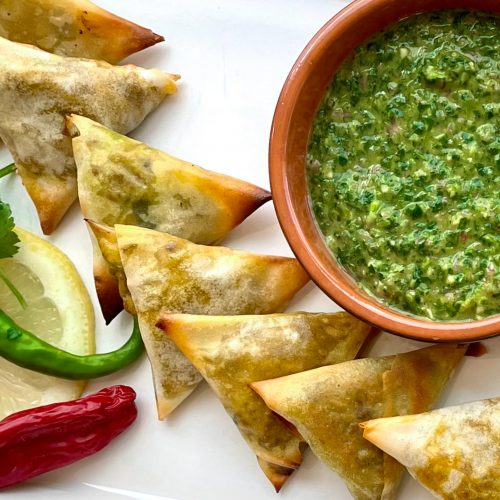 MEAT SAMOSAS (SOUTH AFRICAN STYLE)
These South African meat samosas have a spicy, Indian meat filling and made with samosa wrappers or Chinese spring roll wrappers.
Ingredients
Filling
750

g

ground meat

lamb, beef, chicken or turkey

1½

tsp

salt

2

Tbsp

garlic ginger paste

1½

medium

diced onions

to be used during cooking

1½

medium

diced onions

to be added after cooking

½-1

tsp

chili powder

2

finely diced green chilis

½

tsp

ground tumeric

¼

tsp

white pepper

¼

tsp

black pepper

½

tsp

ground coriander

½

tsp

ground cumin

1

Tbsp

garam masala

50

g

fresh chopped coriander

15

g

fresh chopped mint

5

g

chopped green onion

optional

½

cup

frozen petit pois (green peas)

optional

3

Tbsp

cooking oil.

salt to taste
Wrappers
1

package

samosa wrappers

Chinese spring roll wrappers cut into thirds will work.
Instructions
Making the filling
Dice onions. Half will be used during cooking, half will be used after cooking.

1½ medium diced onions,

1½ medium diced onions

In a large saucepan, preheat oil.

Add garlic, ginger and half of the onions.

2 Tbsp garlic ginger paste,

1½ medium diced onions

2 finely diced green chilis

Add chili powder, ground tumeric, salt, white pepper, black pepper, ground coriander and ground cumin to "roast" briefly.

1½ tsp salt,

½ tsp ground tumeric,

¼ tsp white pepper,

¼ tsp black pepper,

½ tsp ground coriander,

½ tsp ground cumin,

½-1 tsp chili powder

Add ground meat and stir ingredients together.

Add the garam masala spice blend, rest of the raw, diced onion, fresh chopped coriander, fresh chopped mint, fresh chopped green onion and frozen peas.

1½ medium diced onions,

1 Tbsp garam masala,

50 g fresh chopped coriander,

15 g fresh chopped mint,

5 g chopped green onion,

½ cup frozen petit pois (green peas)

Add additional salt and chili powder to taste if necessary.
Assembling the samosa
In a small bowl, mix the flour and water together to form a "glue" paste.

3 Tbsp water,

1 Tbsp flour

See video on how to wrap the samosas.
Frying the samosas
Video
Notes
The nutritional facts is per samosa.
Nutrition
Serving:
4
g
Calories:
66
kcal
Carbohydrates:
6
g
Protein:
3
g
Fat:
3
g
Saturated Fat:
1
g
Polyunsaturated Fat:
1
g
Monounsaturated Fat:
2
g
Trans Fat:
1
g
Cholesterol:
10
mg
Sodium:
116
mg
Potassium:
59
mg
Fiber:
1
g
Sugar:
1
g
Vitamin A:
83
IU
Vitamin C:
1
mg
Calcium:
9
mg
Iron:
1
mg
Tried this recipe?
Let me know how it was or if you have any questions or suggestions!