Thai food is one of my favorite cuisines. Just like Indian food, I like the complexity of the spices and when the various spices are perfectly balanced, it is like a well rehearsed orchestra, each playing their individual instruments but creating one beautiful symphony! This massaman curry with chicken and pumpkin is no different. Here's another delicious dish to repurpose your Fall pumpkins. The massaman curry paste is a fusion of spices influenced from Persia, India and Malay. It includes other spices like cardamom, cinnamon, cloves, star anise, cumin and bay leaves besides the common Thai ingredients of chili peppers, coriander, lemongrass, galangal etc. Naturally, these spices lend itself well to pairing them with Fall vegetables like pumpkin, sweet potatoes, yams etc.
My philosophy is not to try to recreate every recipe from scratch. There are some products out there that are already made and are a lot easier to use than making them from scratch. I have tried to make a Thai curry paste from scratch, but the small quantities I need and use make it difficult to blend in a vitamix. As a result, the end product is compromised.
Tips for making massaman curry with chicken and pumpkin
Vegetables.
The key to making this curry is to understand your ingredients and cook them for the correct amount of time. There is nothing worse than having a curry with raw / undercooked vegetables and a coconut milk based curry that has curdled! I also hate it when the meat is tough and overcooked!
To avoid this, cut your root vegetables uniformly and in smaller dice sizes to cook evenly and in a shorter amount of time. Vegetables that pair well with these spices are pumpkin, squashes, sweet potato, carrots, parsnips.
Herbs.
Lemongrass and kaffir lime are the two fresh herbs that make a HUGE difference to this curry. If you buy lemongrass that has the base of the stalk attached, cut about 3" from the base and set the base in a container of water. Change the water every few days. If the base sprouts roots in a week or two, you can plant this in soil. Here's my lemongrass bush from one little lemongrass stalk and I love adding it to different dishes!
Massaman curry paste.
Not all curry pastes are made equal. I have tried many brands and they vary in taste and quality. My favorite brand is lobo. A culinary school graduate Thai neighbor gave me some of this paste after I had complained that I just couldn't recreate the same taste as I remember when I visited Thailand. When I tried this brand, I was pleasantly surprised. This paste is not commonly sold at Ethnic supermarkets and may need to be purchased online. However, it is well worth the wait and effort!
Cooking the curry
Since this curry involves cooking root vegetables that take longer than other vegetables, the cooking process needs to be adjusted. I like adding fresh lemongrass and kaffir lime that imparts a fresh flavor to the curry paste. The kaffir lime and lemon grass is added to the curry paste and water.
Allow the root vegetables to cook and absorb the massaman flavor by cooking them first in the massaman, fresh herb liquid. Vegetables requiring more cooking time should be cooked first. Subsequently adding the rest according to their cooking time until all the vegetables are 95% cooked.
Once the root vegetables are almost cooked, add the coconut milk, meat or protein and peanut butter. Extended high heat will cause all-natural coconut milk to curdle so gently simmer until the meat is cooked.
Do not overcook the meat. The meat should be tender, flavorful and delicious. The peanut butter gives an added dimension to this already very complex dish. Yum!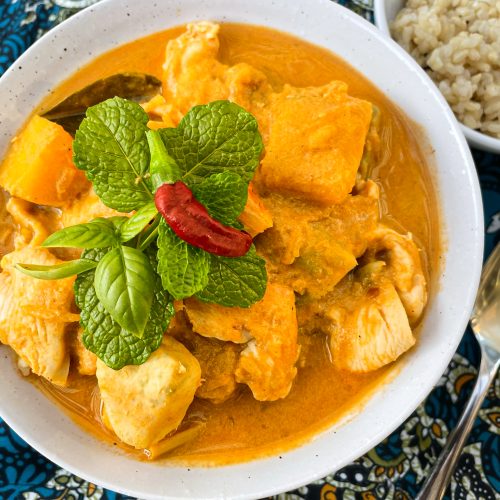 MASSAMAN CURRY WITH CHICKEN & PUMPKIN
Flavorful fusion curry combining Thai and Indian spices. The cinnamon and cloves pair well with the Fall, Winter root vegetables!
Ingredients
Vegetables
350

grams

diced sweet potato / yam

350

grams

pumpkin

1

stalk

fresh lemongrass

3

kaffir lime leaves

depending on your taste

1

juice from fresh lime

fish sauce

to taste
Instructions
Meat
Slice meat into bitesize pieces.

Marinate meat in fish sauce for at least 30 minutes.
Vegetables
Slice pumpkin and sweet potato into 1½" dices for easy cooking.

350 grams diced sweet potato / yam,

350 grams pumpkin

Cut lemongrass into 2 " lengths (~5 cm) and pound the stalks to release juice.

Crumple kaffir lime leaves to release oils. Do not have to break apart!
Prepare curry
Heat saucepan and add entire contents of pack.

1 pack lobo masman curry paste

When the paste sizzles, add water.

Add sweet potato and cook for 10 minutes

Add lemongrass and kaffir lime leaves and cook with potato.

1 stalk fresh lemongrass,

3 kaffir lime leaves

Add pumpkin and coconut milk and cook for 10 minutes or just done.

350 grams pumpkin,

1 can coconut milk

Add peanut butter or peanuts

Remove from heat when done.

You can add the juice from 1 lime and additional fish sauce at this time or let each individual add their own condiments depending on their taste. Garnish with fresh cilantro.

1 juice from fresh lime,

fish sauce
Nutrition
Serving:
6
people
Calories:
328
kcal
Carbohydrates:
6
g
Protein:
19
g
Fat:
26
g
Saturated Fat:
16
g
Trans Fat:
1
g
Cholesterol:
63
mg
Sodium:
543
mg
Potassium:
576
mg
Fiber:
1
g
Sugar:
2
g
Vitamin A:
279
IU
Vitamin C:
16
mg
Calcium:
38
mg
Iron:
3
mg
Tried this recipe?
Let me know how it was or if you have any questions or suggestions!