When I was young, there were a very few foods that I disliked. One of them was brussel sprouts. At boarding school, they were boiled with no flavor and when you bit into the brussel sprouts, you would get a mouthful of slightly bitter brussel sprout juice followed by some mushy brussel sprouts! It wasn't until I was an adult and tried crisp, roasted brussel sprouts that my once negative opinion of brussel sprouts changed! This easy roasted bacon brussel sprouts recipe does everything to address my childhood issues with brussel sprouts!
The brussel sprouts are crisp and crunchy and flavored so well, they are like British crisps or potato chips. The bacon rendering not only flavors the brussel sprouts but also gives a different kind of crunch to the the crisp brussel sprout leaves.
Tips for making easy roasted bacon brussel sprouts
Brussel sprouts.
Wash the brussel sprouts whole and then halve them. Do not wash the brussel sprouts after cutting as the water goes between the leaves which prevents the brussel sprouts from crisping, because it steams rather than roasts the brussel sprouts. Don't worry if the leaves fall off. These individual leaves become very crisp and flavorful. You may even want to pull additional leaves off the brussel sprouts if you love crispy things like I do!
Soread the brussel sprouts evenly in a single layer on the baking tray. Avoid overcrowding as this will result in the brussel spouts being steamed rather than roasted so will not crisp well.
Bacon.
Thick cut bacon is preferable so that it won't burn and shrivel up during roasting, but will result in decent sized pieces. Separate the bacon into individual strips as they will clump together if they are not separated. Spread it evenly throughout the brussel sprouts to allow the rendering (oil) to be uniformally distributed.
Roasting the brussel sprouts.
To minimize cleanup, place a piece of foil onto a baking tray. DO NOT use a silicone mat. Silicone does not conduct heat well so the temperature will not get hot enough to crisp the brussel sprouts!
No additional oil is necessary, the oil comes from the bacon rendering. Flip the brussel sprouts half way through the cooking process to ensure uniform browning.
If roasting multiple items at the same time, separate the oven racks so that the heat can circulate well or if you have a convection oven with a fan, turn on the fan to ensure even cooking. Enjoy this wonderful and easy side dish!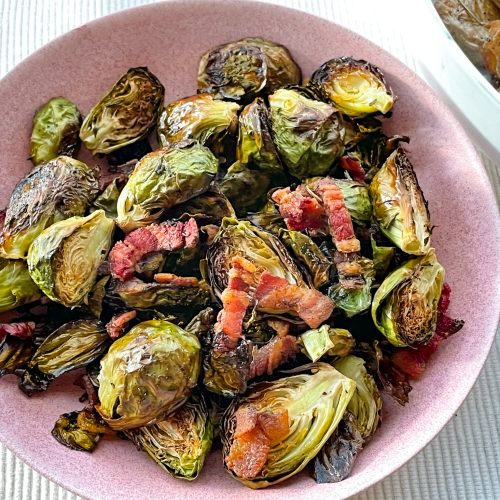 ROASTED BACON BRUSSEL SPROUTS
Super easy roasted bacon brussel sprouts. The brussel sprouts are crisp and flavorful
Ingredients
454

g

brussel sprouts

3

strips

thick cut bacon

¾

tsp

mushroom seasoning

¼

tsp

pepper

1

tsp

herbes de provence
Instructions
Preheat oven to 375° F or 191° C.

Wash and cut brussel sprouts in half.

Cut 3 strips of bacon in ½ " (1 cm) strips.

Line a baking tray with foil. Do not use a silicone mat as it doesn't conduct heat well and won't crisp the brussel sprouts.

Spread the brussel sprouts evenly to form a single layer.

Sprinkle the bacon evenly over the brussel sprouts.

Sprinkle the mushroom seasoning, pepper and herbes de provence.

¾ tsp mushroom seasoning,

¼ tsp pepper,

1 tsp herbes de provence

Flip the brussel sprouts in the pan.

Bake for another 25-30 minutes until the brussel sprouts are crisp to your liking.
Nutrition
Serving:
4
servings
Calories:
166
kcal
Carbohydrates:
11
g
Protein:
7
g
Fat:
11
g
Saturated Fat:
4
g
Polyunsaturated Fat:
2
g
Monounsaturated Fat:
5
g
Trans Fat:
0.04
g
Cholesterol:
18
mg
Sodium:
364
mg
Potassium:
499
mg
Fiber:
4
g
Sugar:
3
g
Vitamin A:
876
IU
Vitamin C:
97
mg
Calcium:
54
mg
Iron:
2
mg
Net Carbohydrates:
6
g
Tried this recipe?
Let me know how it was or if you have any questions or suggestions!