Having grown up in South Africa with a British influence, Saturday lunches consisted of a pot roast, roast potatoes and beet(root) salad. I LOVED the roast potatoes. They needed to be crispy on the outside and fluffy on the inside! These days, as a pre-diabetic, I need to limit my carb intake so when I eat potatoes, they better be worth the carbs! When I used to roast potatoes for a gatherin, one of my least favorite jobs was peeling the potatoes! Believe me, peeling ten pounds of potatoes is no small undertaking! I love these rosemary smashed potatoes because they are like roast potatoes but better! They don't require peeling so it takes less time to prep and the skin which contains 50% of the fiber of the potato, makes it a healthier side.
Tips for making rosemary smashed potatoes
Potatoes.
Try to buy organic root vegetables, especially if the skin is going to be eaten. Buy small potatoes no larger than 2" (5 cm) in diameter. I love the yukon gold and the red potatoes. Cook the potatoes in salted water so that the salt can penetrate through the potato. After the potatoes have cooked, run cold water over them before refrigerating. They do need to cool down so they form a firm texture, making it easier to handle. If time is of the essence, place them in the freezer for half an hour to cool them down, ensuring that they don't freeze, because this alters the texture of the potato.
Place the potatoes on a baking tray lined with foil for easier cleanup. Do not line the baking tray with a silicone mat. The silicone mat prevents the potatoes from crisping, because it is not a good conductor of heat. Use a heavy glass or can and smash the potatoes to 1/2 - 1 " (1 1/4 -2 1/2 cm) in thickness. The thinner the smashed potato, the crispier the potato since there is more surface area to crisp.
Seasoning.
After the potatoes are smashed onto the baking tray, season the potatoes with mushroom seasoning, pepper and rosemary. Salt can be substituted for the mushroom seasoning, but it is definitely better with the bouillon. You will notice that I use mushroom seasoning with almost everything!
Boiling the potatoes
Season the water with salt to allow it to penetrate the potato. Place the roast potatoes in boiling water and wait until the water comes to a rolling boil AGAIN before timing the potatoes for ten minutes. If the potatoes are not sufficiently cooked, they don't smash easily.
Roasting the potatoes
To minimize cleanup, place a piece of foil onto a baking tray. DO NOT use a silicone mat. Silicone does not conduct heat well so the temperature will not get hot enough to crisp the potatoes! Roast the potatoes in a 375 degree fahrenheit (191 degree Celcius) oven for approximately 60 minutes, depending on your preference of crispness. Flip the potatoes halfway through the cooking process. Drizzle more olive oil onto the potatoes if they appear dry as it is the oil that crisps the potato.
If roasting multiple items at the same time, separate the oven racks so that there is adequate space between the racks for the heat to circulate well or if you have a convection oven with a fan, turn on the fan to ensure even cooking.
Once cooked, serve as is because it is that delicious. However, it can be served with gravy, ketchup or your favorite fried potato accompaniment. Enjoy!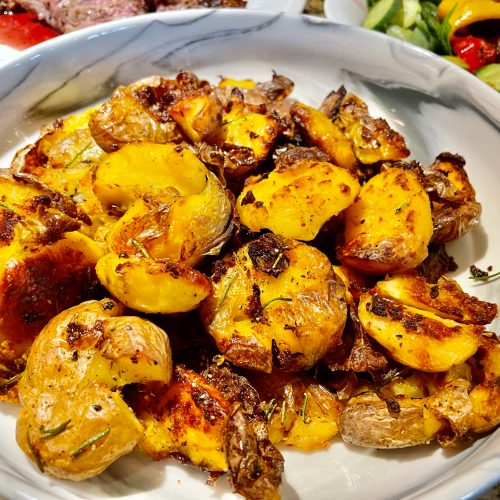 ROASTED SMASHED POTATOES
Delicious roasted potatoes with the skin that are crispy on the outside and fluffy on the inside.
Ingredients
6

cups

water

2

Tbsp

salt

907

g

small whole potatoes

¾

tsp

mushroom bouillon

¼

tsp

pepper

1

tsp

fresh rosemary

or dried herbs of your choice

4

Tbsp

Olive oil for roasting

or more for crisping
Instructions
Wash potatoes with skins.

907 g small whole potatoes

Add salt to water and bring to a boil.

Add washed potatoes to the boiling water.

Allow the water to come to a boil again before timing the potatoes for 10 minutes.

Remove potatoes and run under cold water to cool.

Refrigerate for two hours or put in freezer for ½ hour until cold. DO NOT FREEZE THE POTATOES!

Preheat oven to 375°F or 191°C a half an hour before baking.

Place foil on baking tray and sprinkle olive oil. Do not use a silicone mat as it doesn't conduct heat well and won't crisp the potatoes.

4 Tbsp Olive oil for roasting

Place potatoes on foil and with a glass / can, depress potatoes to smash until 1/2"- 1" (1 - 2.5 cm) in thickness.

Sprinkle with salt or mushroom seasoning, pepper and fresh rosemary.

¾ tsp mushroom bouillon,

¼ tsp pepper,

1 tsp fresh rosemary

Drizzle more olive oil to crisp potatoes.

After 30 minutes, flip potatoes to crisp the other side.

When crisp to your liking, remove and serve.
Video
Nutrition
Serving:
4
g
Calories:
303
kcal
Carbohydrates:
40
g
Protein:
5
g
Fat:
14
g
Saturated Fat:
2
g
Polyunsaturated Fat:
2
g
Monounsaturated Fat:
10
g
Sodium:
189
mg
Potassium:
958
mg
Fiber:
5
g
Sugar:
2
g
Vitamin A:
15
IU
Vitamin C:
45
mg
Calcium:
43
mg
Iron:
2
mg
Net Carbohydrates:
35
g
Tried this recipe?
Let me know how it was or if you have any questions or suggestions!