I was inspired to create my own daily tonic after coming back from a "Wellness Resort" in Vancouver, Canada. Sparkling Hill resort is an amazing spa experience. It overlooks the Okanagan valley and lake. The valley is home to some amazing vineyards so the scenery is just amazing. This refreshing tonic with jujube and goji berries is inspired by a "Sparkling Hill Start Up" drink that is served at breakfast. It was so delicious that I asked the server for several to-go cups every morning. I just couldn't get enough of it.
When I came home, I tweaked the recipe to make it fit for home consumption and added a few ingredients like jujube and goji berries that I've been trying to incorporate into my daily diet. I also substituted white grape juice for apple juice, because I like that taste better. This elixir is the answer! My husband drinks it like water and I just cannot keep enough of it in the fridge.
Benefits of the refreshing tonic with jujube and goji berries.
This tonic has a wonderful, refreshing citrus flavor with a hint of apple cider vinegar and honey. It is infused with herbs such as lemongrass, ginger, cardamom seeds, fennel, peppercorns, lemon, jujube and goji berries. Overall, these ingredients have antioxidant and diuretic properties that lowers blood pressure, have cancer-fighting compounds, have anti-inflammatory effects, improves digestion and lowers blood sugar.
Apple cider vinegar, according to Healthline has been known for
giving the body a good dose of enzymes
increasing potassium intake
supporting a healthy immune system
helping with weight control
promoting pH balance in the body
aiding with healthy digestion
adding good bacteria for the gut and immune function
helping remove "sludge toxins" from the body
soothing skin and helping keep it healthy
healing acne when used externally
It is also said to help with Type 2 diabetes and high cholestrol.
Jujube is a Chinese fruit that has been used in traditional medicine for over 3000 years to help promote sleep due to the antioxident properties of the fruits.
Goji berry is another fruit used in traditional medicine that helps with
energy
athletic performance
quality of sleep
ability to focus
calmness
overall well-being
Tips for making the refreshing tonic with jujube and goji berries.
Lemongrass
Lemongrass has a wonderful aroma and flavor. I highly recommend growing some as they are wonderful and delicious when added to Thai curries. If you want to grow you own lemongrass, buy "fresh" lemongrass from a grocery store that has the base of the stalk attached, cut about 3" from the base and set the base in a container of water. Change the water every few days. If the base sprouts roots in a week or two, you can plant this in soil. This is what I have from one little lemongrass stalk and I love adding it to different dishes and now making this tonic!
Apple cider vinegar
Raw, unfiltered apple cider vinegar with the "mother" is the healthiest and most beneficial vinegar to consume. The "mother" is the natural culture or bacterias in the vinegar which gives the vinegar its cloudiness. These bacteria are the probiotics (also found in sourdough) which is so important for good gut health and a vital ingredient to this refreshing tonic with jujube and goji berries.
Juice
This tonic does require adding either apple or white grape juice. This choice is personal preference.
Sweetener
There is a small amount of sweetener needed to balance the vinegar and lemon. This recipe calls for honey. The original recipe at the resort (in Canada) used maple syrup. The choice is personal preference.
Simmering and steeping
The tonic requires simmering all the ingredients like a tea. Boil the water first before adding the herbs. During this time, allow the water to be at a rolling boil and simmer for 5 minutes. Turn the stove off and allow the liquid to steep for 10 minutes. Sieve the simmered liquid to remove the herbs. Keep the jujube and goji berries and add this back into the tonic.
How to serve the refreshing tonic with jujube and goji berries
Serve this tonic cold! It is so refreshing. I usually don't like cold beverages in the morning, but this tonic is an exception. It is amazingly refreshing! Add a jujube and a few goji berries for aesthetics and added health benefits when consumed! Enjoy and let me know what you think in the comment section.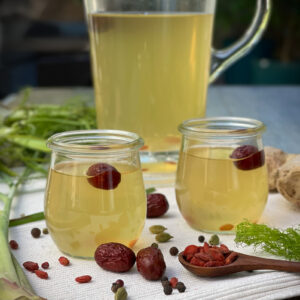 DAILY TONIC WITH JUJUBE AND GOJI BERRIES
Start and end your day with this refreshing tonic made with apple cider vinegar, ginger, lemon and other herbs that are antioxidents and promote metabolism, mental acuity as well as calmness.
Ingredients
Simmering ingredients
1½

litres

water

1

tsp

goji berries

4

jujube

Chinese red dates

1

fresh lemongrass

1

slice

fresh ginger

3

cardamon pods

10

grams

fennel tops

4

peppercorns

20

grams

fresh cut lemon

about half a lemon
Instructions
In a medium saucepan, add water, jujube and goji berries.

1½ litres water,

1 tsp goji berries,

4 jujube

When water is at a rolling boil, add the rest of the ingredients, cover with a lid and allow to simmer for 5 minutes.

1 fresh lemongrass,

1 slice fresh ginger,

3 cardamon pods,

10 grams fennel tops,

4 peppercorns,

20 grams fresh cut lemon

Turn off stove and allow to sit and steep for 10 minutes.

Add back the jujubes and goji berries to the water mixture.

1 tsp goji berries,

4 jujube

Add the rest of the ingredients to the water mixture to create the tonic.

⅓ liter apple juice / white grape juice,

2 Tbsp apple cider vinegar,

2 Tbsp honey
Nutrition
Serving:
4
g
Calories:
98
kcal
Carbohydrates:
25
g
Protein:
1
g
Fat:
0.3
g
Saturated Fat:
0.04
g
Polyunsaturated Fat:
0.04
g
Monounsaturated Fat:
0.02
g
Sodium:
26
mg
Potassium:
152
mg
Fiber:
1
g
Sugar:
22
g
Vitamin A:
11
IU
Vitamin C:
3
mg
Calcium:
31
mg
Iron:
1
mg
Net Carbohydrates:
24
g