UPDATED 2/8/2022
I decided to enhance these easy chocolate dipped strawberries with microwave by adding a drizzle. The white "chocolate" drizzle is easy when the melted white chocolate is at the correct consistency. Your drizzle can be free form or precise, depending on your personality! From the looks of mine, I am more "creative" and definitely not a type A person! No matter what the drizzle looks like, these easy chocolate dipped strawberries will be delicious.
These chocolate covered strawberries are easy to make. When I first started making chocolate dipped strawberries, the recipe called for heating the chocolate in a bain marie which is basically heating the chocolate slowly over boiling water but making sure that the water doesn't get into the chocolate or else the chocolate will seize (turn from a fluid state into a granular mess!).
When I started Michelle's Cookie Gram right out of college, I started to experiment with chocolate chips. I found that chocolate is very easy to use as long as you understand the way it behaves. If you add a colder liquid to a heated chocolate, it will seize. However, if you heat it up with the chocolate, and stir gently to mix, the chocolate will be more forgiving. Also, do not overmix your chocolate. It will turn from a shiny viscous liquid to a dull sludge the longer you stir the melted chocolate.
The amount of chocolate that you microwave is also important. Since microwaves differ in power, it is difficult to say how long it will take to microwave the chocolate. However, chocolate does burn so my suggestion for making chocolate dipped strawberries would be to melt the chocolate in a small bowl so that the microwave can heat them up uniformly.
You can also use this very easy technique for a fail-proof chocolate sauce that is perfect for ice cream, but remember the principles of chocolate:
Melt chocolate in small quantities in the microwave for uniform heating
Add the liquid to the chocolate before microwaving!
Don't overstir the melted chocolate
Tips on melting white chocolate for the drizzle
White "chocolate" does not contain any cocoa solids that are found in regular chocolate, but rather cocoa butter and therefore behaves differently when heated. Some white chocolate just won't liquify when heat is applied if the fat content is low. If your white chocolate chips don't seem to be melting, but rather burning, here are a few tips.
Add some coconut oil prior to microwaving the white chocolate. Gently mix the white "chocolate" with the coconut oil until it becomes a smooth liquid.
Microwave the white chocolate at a lower power level for short intervals at a time.
When the white chocolate has liquified, use a spoon to drizzle the chocolate dipped strawberries or place it in a piping or small freezer / storage bag for more accuracy!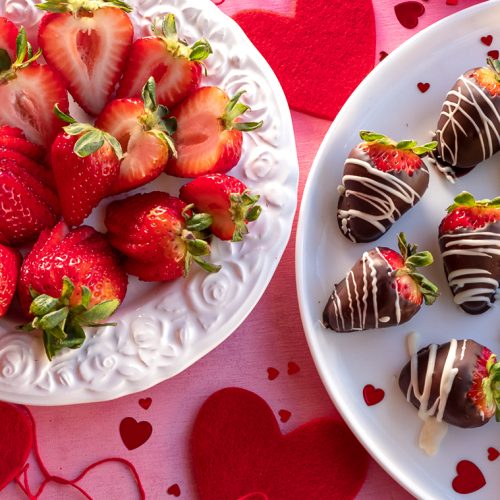 CHOCOLATE DIPPED STRAWBERRIES
So simple you wonder why you ever paid to buy a chocolate dipped berry.
Ingredients
1

Container

Fresh strawberries

Chocolate
Instructions
Dry each one THOROUGHLY with a paper towel.

Melt chocolate in a small bowl in the microwave, approximately 45 seconds depending on the strength of the microwave. The chocolate should glisten but still keep its shape. A small bowl will allow you to use less chocolate and have better berry coverage.

Stir until smooth. DO NOT OVER STIR as it will start to become grainy.

Dip strawberries one at a time and place it on a cookie sheet to harden. Enjoy!
Video
Nutrition
Tried this recipe?
Let me know how it was or if you have any questions or suggestions!