Chinese dried bean curd soup is one of my childrens' favorite soups. It is a typical Cantonese comfort food. One of my relatives taught me how to make it years ago when my children were little. We were visiting her house and had it for a meal and they LOVED it and still do! This Chinese dried bean curd soup with shitake mushrooms is a great tasting, nutritious soup with a clear chicken broth base, ginger, shitake mushrooms and dried bean curd. It works well in a pressure cooker.
Tips.
Ingredients.
Dried bean curd is a soy milk by-product and thus very nutritious. It claims many health benefits. Dried bean curd is high in protein and low in fat and is rich in essential minerals, especially calcium. It is also the perfect food for a low glycemic index diet, because it is said to lower blood sugar and carbs. These sticks require rehydrating. Snap them into pieces and soak them for an hour in a bowl of water. Dried bean curd can be found in most Asian supermarkets and looks like this.
Dried Shitake Mushrooms.
Shitake mushrooms are also healthy. I prefer buying dried shitake mushrooms. First wash your mushrooms by running them under water and rehydrate them in a water-soy sauce mixture. This results in plump and flavorful mushrooms. There is a lot of flavor in the mushroom water so don't throw it away. (That's the reason you wash your mushrooms first!) Some grit may settle to the bottom of the bowl. Slowly pour the mushroom water into your stock, making sure you leave any mushroom grit behind.
Chicken Stock.
When making chicken stock for this soup, I add fresh ginger to give it flavor and also for its medicinal properties. Ginger has always been known as a stomach aid and my mother has always just told me to add fresh, sliced ginger into all my Chinese soup stocks. It seems to give the stock a cleaner and aromatic taste.
Other ingredients.
If you want to make this Chinese dried bean curd soup with shitake mushrooms more as a tonic, you can add 2 slices of dried ginseng root and 2 sliced carrots to the broth. Ginseng is said to be a potent antioxidant that reduces inflammation, increases energy levels, benefits brain function and boosts your immune system. So no harm in adding a little. However, ginseng is bitter so don't go overboard. Otherwise, you'll end up with a bitter stock.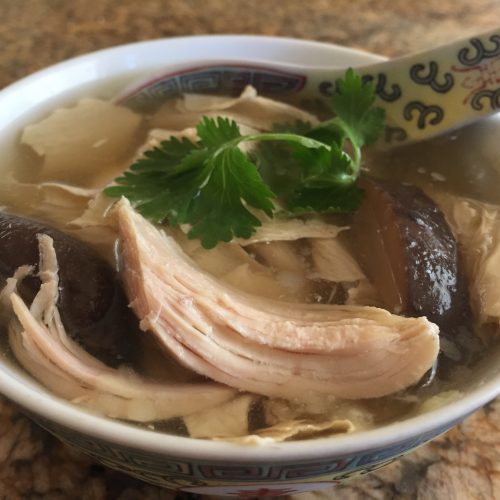 CHINESE DRIED BEAN CURD with SHITAKE MUSHROOM SOUP (腐竹冬菇湯)
Chinese dried bean curd soup with shitake mushrooms is a Cantonese comfort food. The recipe is simple with healthy ingredients and a wonderful flavor.
Ingredients
1

package

Chinese dried bean curd

½

Chicken breast with bones

25

grams

dried shitake mushrooms

About 5 mushrooms

1

piece

fresh ginger

2" in length

1

tsp

sea salt

1

tsp

chicken bouillon powder

¼

tsp

white pepper

1900

grams

Water to make 8 cups
Instructions
Snap dried bean curd sticks into 3 " (8 cm) lengths and place them in a bowl of water to rehydrate for at least an hour.

Wash shitake mushrooms and place them in a bowl with 236 grams (1 cup) of water and soy sauce and sesame oil for at least an hour.

Cut the stems off the mushrooms and slice into ¾ " slices (2 cm).
Making soup in an Instant Pot Pressure cooker
Place cleaned chicken breast, sliced ginger, salt, pepper, bouillon powder, sliced shitake mushrooms in pressure cooker.

Carefully pour the shitake water into pressure cooker without the "grit" at the bottom of the container.

Add water until it reaches the 8 cup level in the pressure cooker.

Cook the broth on the soup setting or 30 minutes

When the broth is made, add rehydrated dried bean curd sticks and cook for 10 minutes without pressure (saute mode)

Season to taste with additional salt and pepper
Making soup in a stockpot
Follow the instructions above, simmering your stock for an hour.

Season to taste with additional salt and pepper
Nutrition
Serving:
4
people
Calories:
186
kcal
Carbohydrates:
30
g
Protein:
14
g
Fat:
2
g
Saturated Fat:
1
g
Trans Fat:
1
g
Cholesterol:
15
mg
Sodium:
1006
mg
Potassium:
198
mg
Fiber:
3
g
Sugar:
4
g
Vitamin A:
7
IU
Vitamin C:
7
mg
Calcium:
88
mg
Iron:
2
mg