Chinese sticky rice in bamboo leaves (zongzi or Cantonese joong) is often served at dim sum. Zongzi is more time consuming rather than labor intensive to make since time is needed to clean and soften the bamboo leaves, hydrate the rice and finally cook the zongzi for 3 hours! So when I make zongzi by myself, I plan on making at least a dozen zongzi. However, when you turn it into a party and have family and friends learn how to make zongzi, it is a fun occasion!
History of Zongzi
Understanding food origins is fascinating. Zongzi is usually eaten during the dragon boat festival. This occurs on the 5th day of the 5th month of the lunar calendar. There is a myth that is associated with eating zongzi. However, for me, it's an excuse to get together with friends and family and make zongzi that have large savory prizes of Chinese sausage, pork belly, dried shrimp, shitake mushrooms and salted duck egg encased in a combination of sticky glutinous rice and mung beans and wrapped in bamboo leaves.
Over the years, I have experimented with making zongzi. There were times when I soaked too many leaves or made too much rice or didn't have enough filling. I wanted to develop a recipe that was a little more "controlled" and create a wrapping method video tutorial that would not frustrate first timers. I've hosted many zongzi parties and the key to a successful, fun event is making the wrapping process fool-proof!
Unlike most families who learn how to make zongzi from their own grandmothers, I was inspired to learn how to make zongzi with my now husband, Alex, during college by a grandmother in Mr. Rogers' Neighborhood! During college, Alex wanted to expose me to American culture so a few of the "must-dos" that I needed to experience was watching Mr. Rogers' neighborhood and Sesame street on TV and dressing up and going trick-or-treating for Halloween!
Tips for making Chinese sticky rice in bamboo leaves (zongzi or joong).
The number of zongzi being made determines the amount of rice and fixins needed. Each zongzi has the following ingredients:
2 leaves
2/3 cup glutinous rice and mung bean mixture
1/4 - 1/3 stick of Chinese sausage
1 piece of salted pork
1/2 rehydrated shitake mushroom
~ 3 rehydrated medium-size dried shrimp
1/2 salted duck egg yolk
peanuts (optional)
Bamboo leaves.
Purchase dried bamboo leaves from any Asian grocery store. They need to be cleaned and soaked overnight so that they become supple and more pliable. Leaves that have small splits can still be used if positioned correctly. However, the leaves are so cheap that an additional leaf can be used. See video on wrapping.
In the video, I use 2 leaves per zongzi and soak a few extra to replace blemished leaves. If you have a few leaves left over, line the pot with the blemished leaves for extra bamboo flavor!
Rice.
Use Glutinous sweet rice so that the zongzi becomes uniform and sticky. To make fairly uniform sized zongzi, I like to use 2/3 cups of the rice, mung bean mixture. I actually scoop out the rice mixture with a 2/3 measuring cup when making each zongzi!
Rice, mung bean ratio.
I don't like the mung bean overpowering the zongzi so this is the rice, mung bean ratio I use. 3 zongzi requires 1 cup of glutinous rice and for every cup of rice needed, I add 1/4 cup of peeled mung beans.
For those who are mathematically inclined-
Divide the (number of zongzi required) by 3 = Number of cups of rice needed and number of cups of water needed for soaking.
Divide the (number of cups of rice needed) by 4 = Number of cups of mung beans needed.
The amount of rice and mung beans needed doesn't quite add up to 2/3 cups per zongzi because the mixture does expand during soaking!
Rinse the rice and mung bean prior to adding the salt and water. I like to hydrate the rice with salt. I add 1 teaspoon of salt for every cup of rice in the water. Add the required amount of water for soaking and not more as this will prevent the rice from over absorbing the water which will prevent it from expanding while boiling as well as resulting in excess leftover raw rice at the end.
Combine the rice, mung beans, salt and water together with the rice for two hours. Drain the rice, if any, through a sieve before wrapping. Do not soak the rice for longer than two hours, because if the raw rice is completely hydrated, the zongzi will look shrivelled rather than turgid. Two hours allows the rice to partially hydrate and expand. The rest of the expansion occurs during the cooking process. If the rice is not partially hydrated before cooking, it will expand so much during boiling, causing the bamboo leaves to split and burst open.
Fixins.
Traditionally, peanuts, dried shrimp, dried shitake, Chinese sausage, salted pork belly and salted duck egg yolk for savory zongzi are used. I like large prizes of tasty morsels.
Peanuts.
You can add raw, peeled peanuts if you like.
Dried shrimp.
Rehydrate medium sized dried shrimp. I use about 3 per zongzi.
Dried shitake mushrooms.
For added flavor and umami, rehydrate dried shitake mushrooms in a water and soy sauce mixture.
Chinese sausage.
The size of the fixins is the most rewarding part of making your own zongzi. Each zongzi gets a quarter to a third stick of Chinese sausage, depending on how generous you want to be!
Salted duck eggs.
You can purchase salted duck eggs that are cooked and come whole in the shell. These are a lot of work! Trust me. It is worth every penny to purchast the salted duck egg yolks that come de-shelled and without the egg white. If you use whole duck eggs, putting the egg whites in the zongzi results in a rubbery, tough texture! Salted duck eggs can be found in the refrigerated section of Chinese grocery stores. If you cannot find them, you can always omit them. My daughters did not like them because they have a pasty, dry mouthfeel.
Salt.
I flavor the zongzi with salt when soaking the rice and boiling the zongzi.
Salted pork chunks.
Cut the pork into one and a half inch cubes. Marinate it overnight with salt, sugar and pepper.
String or twine.
Use 100% natural cotton string. The dye in colored string may come out in the water so don't use it. Do not use nylon string as it is difficult to work with.
Boiling the Chinese sticky rice in bamboo leaves.
The zongzi has to cook for about 3 hours to get the rice sticky. Arrange the wrapped zongzi in the pot in a way to minimize the amount of space between the zongzi. This prevents the zongzi from floating and rice from escaping during the boiling process. The rice will expand so do not tightly stuff the pot! Constantly monitor the water levels of the cooking zongzi and continue to replenish the water with BOILING water.
Saving extra zongzi.
I freeze extra zongzi in freezer bags and simply microwave them in a covered container when needed.
I would love to know how your zongzi turned out after watching my step-by-step Chinese sticky rice in bamboo leaves wrapping video. Please let my know in the comment section. Enjoy!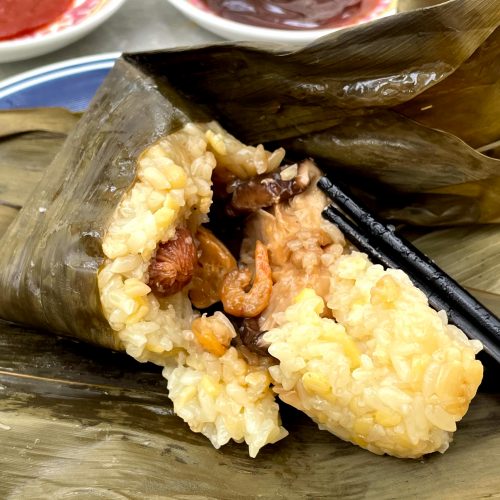 CHINESE STICKY RICE IN BAMBOO LEAVES (ZONGZI 粽子)
A dim sum favorite, savory Chinese sticky rice in bamboo leaves. A hearty meal enclosed in bamboo leaves.
Ingredients
24

pieces

dried bamboo leaves

Add a few more during soaking to replace split leaves.

100% cotton string

All natural, no color!
Rice mixture
555

g

glutinous sweet rice

75

g

peeled mung beans

950

ml

water

for soaking

4

tsp

salt
Pork
453

g

Boneless Pork Butt / Shoulder Roast

some fat is needed

1

tsp

salt

½

tsp

pepper

½

tsp

sugar
Mushrooms
6

medium

pieces of dried shitake mushrooms

1

tsp

light soy sauce

60

g

boiling water
Other ingredients
12

g

dried medium shrimp

About 3 per zongzi

4

sticks

Chinese sausage.

Cut each stick into 3- 4 pieces.

6

salted duck yolks

Cut each yolk into 2 pieces.

2

tsp

salt

For cooking.
Instructions
Bamboo leaves
Clean each leaf and immerse in water.

Soak bamboo leaves overnight until supple.
Dried shitake mushrooms
Rinse the shitake mushrooms in water and place it in a bowl.

Add boiling water and soak overnight.
Dried shrimps
Rinse dried shrimp in water and place it in a bowl.

Add water to just cover the shrimps to rehydrate.
TWO HOURS BEFORE WRAPPING
Rice mixture
Rinse rice and mung beans in a large container.

Add water and allow to soak for 2 hours. DO NOT OVERSOAK!
Chinese sausage
Cut each sausage into 4 pieces.
Salted duck eggs
Cut each duck egg into 2 pieces.
WRAPPING
Place ⅔ cup rice mixture and wrap leaves according to instruction video.
BOILING
Arrange wrapped zongzi into a pot that will hold all the zongzi so that it is securely packed to ensure that no zongzi will come apart.

Add sufficient water to cover all the zongzi.

Add 2 tsp of salt to the water.

Reduce heat to a rolling boil and boil for 3 hours.

Add additional BOILING water if water level falls below the top of the zongzi.

Remove from boiling water and place on a metal rack to cool.
Video
Notes
See step-by-step video on how to wrap the perfect zongzi on YouTube
Nutrition
Serving:
1
g
Calories:
393
kcal
Carbohydrates:
65
g
Protein:
19
g
Fat:
5
g
Saturated Fat:
2
g
Trans Fat:
1
g
Cholesterol:
132
mg
Sodium:
1467
mg
Potassium:
195
mg
Fiber:
4
g
Sugar:
1
g
Vitamin A:
176
IU
Vitamin C:
1
mg
Calcium:
40
mg
Iron:
3
mg
Tried this recipe?
Let me know how it was or if you have any questions or suggestions!