How can this simple and easy-to-make Cantonese poached chicken 白切鸡 / Hainan chicken rice be so popular now? "Bak cham kai" literally translates to white cut chicken. This dish originates from Southern China. This very basic Cantonese dish which, when executed well, results in tender, smooth moist pieces of poached chicken. This is usually served with a ginger, scallion sauce which is absolutely delicious! The Hainan chicken rice is made with the chicken stock which makes it tasty and delicious. Chef Anthony Bourdain's trip to Singapore changed the status of this simple homestyle dish.
I started cooking this Cantonese poached chicken 白切鸡 / Hainan chicken rice when I was very young, because both my parents worked and I was responsible for making the family dinners. This was one of my favorite dishes to cook for the family because it was so easy. However, if I was not attentive and allowed the chicken to overcook, the meat would be tough and dry and could barely be washed down with a drink! Needless to say, my family had many dinners that were "tough to swallow" because I was distracted with something else!
Tips to make Cantonese poached chicken 白切鸡 / Hainan chicken rice
Chicken.
Use chicken with bones. The bones add extra flavor into the broth which when used to cook the rice, makes the rice tasty and delicious. Usually, a whole chicken is poached and then chopped which is the literal translation of "bak cham kai" (white cut chicken). When cleaning the chicken, remove the fatty piece and save this to render (melt) the fat when making the Hainan chicken rice.
Chickens less than 5 lbs are better than larger ones. (Not sure how the USA grows them so big). Larger chickens take longer to poach and cook which results in less tender meat.
Poaching the chicken.
Simmer / poach the chicken for twenty minutes in a saucepan with enough water that just submerges the chicken. Turn off the heat and allow the chicken to poach in the water for an additional hour until the internal temperature of the chicken measures 160-165° F or (71-74° C). (This is for a 5 lb chicken.) If an instant read thermometer is not available, pierce the chicken in the thickest part and the juices should run clear rather than red. If the chicken is undercooked, allow it to poach for another five to ten minutes until the chicken is done.
When the chicken is cooked, place the chicken in an ice bath to stop the chicken from continuing to cook to keep it tender,
Flavor.
Season the chicken overnight with salt to allow the salt to penetrate the meat.
A generous amount of salt is needed when seasoning and poaching the chicken. The salt permeates the meat of the chicken and gives it taste. If you don't add sufficient salt, the chicken will be somewhat bland. Traditionally, salt, slices of ginger and stalks of scallion are used to flavor the broth while the chicken is poaching. This creates a flavorful broth for the rice.
Accompaniments for Cantonese poached chicken 白切鸡 / Hainan chicken rice
This chicken is accompanied by a ginger, scallion sauce. I usually bring out my aromatics which makes an easy and wonderful accompaniment. A mixture of salt and white pepper or soy sauce also make delicious accompaniments.
Rice.
Hainan chicken rice is deliciously flavorful. It is initially fried in chicken rendering and aromatics, then cooked in the chicken broth. This can easily be done directly in the rice cooker, just make sure the rice is cleaned in a different container before adding it to rice cooker.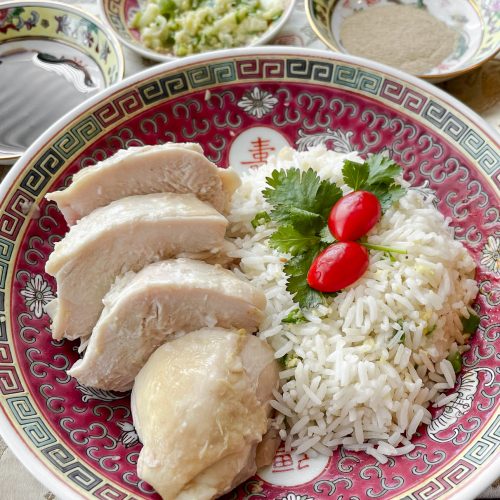 HAINAN CHICKEN WITH SAVORY RICE
This hainan chicke rice recipe uses the whole chicken that is then cut into pieces, Chinese style. Whole chicken can be substituted for bone-in chicken legs.
Ingredients
2

cups

water

4

slices

fresh ginger

3

stalks

fresh scallions

1

whole

chicken

Less than 4 lbs.

2

Tbsp

coarse sea salt

for marinade

4

tsp

sea salt

for poaching broth

4

cups

iced water

in a bowl to stop chicken from continuing to cook.
Instructions
Wash and clean whole chicken.

Find a saucepan that is just large enough to fit the entire chicken.

Fill the saucepan with water so that the entire chicken is submerged under the surface of the water.

Pour the water into a measuring container.

For every 2 cups of water, add 1 tsp of salt into the container.

Add the salt solution back into the saucepan.

Add the rest of the sauce ingredients into a saucepan.

4 slices fresh ginger,

3 stalks fresh scallions

Bring the water to a boil.

Add the chicken, breast side down and bring to a full boil.

Cover, reduce to a simmer and cook for 20 minutes.

DO NOT OPEN LID. Turn off heat and allow to poach for 1 hour until internal temperature measures 160° F or 71° C or juices run clear when a knife is inserted into the thickest flesh.

Remove chicken and place in a bowl of iced water to stop cooking.

Remove from iced water bath and allow to cool.
Nutrition
Serving:
6
g
Calories:
143
kcal
Carbohydrates:
35
g
Protein:
1
g
Fat:
1
g
Saturated Fat:
1
g
Polyunsaturated Fat:
1
g
Monounsaturated Fat:
1
g
Cholesterol:
1
mg
Sodium:
508
mg
Potassium:
52
mg
Fiber:
1
g
Sugar:
33
g
Vitamin A:
7
IU
Vitamin C:
1
mg
Calcium:
21
mg
Iron:
1
mg
Net Carbohydrates:
35
g
Tried this recipe?
Let me know how it was or if you have any questions or suggestions!