South African droewors is a tasty, dried beef sausage snack similar to the South African biltong except with different flavorings. Living in the US, I rarely eat droewors, because it's so hard to find and when you do find it, it's expensive. I never eat beef sticks that are strategically positioned right by the checkout stand, because they are nasty! I recently decided to call up my childhood friend who lives in San Francisco and asked him to give me a boerewors and droewors making lesson. Kevin's dad owned a butchery in South Africa and my parents got all their meat, biltong and boerewors from them, so I knew he was a master South African sausage maker.
Kevin came down with major equipment for boerewors making. It took my family of ten people about four hours to make 40 lbs of a combination of boerewors and droewors. It was a major production but so much fun and the end result was absolutely delicious.
We ran out of droewors within days and I decided to think of ways to make the droewors without having to buy an industrial meat grinder and sausage stuffer. I do own a Kitchenaid sausage stuffer, and I realized it was totally doable with small quantities.
I was always intimidated with making sausage because I didn't know what the end result would be like after drying. However, I realize that cooking a little bit in the microwave prior to stuffing is a good indicator of what the end product would taste like.
Tips for making South African droewors.
I make my own spice mix which had no MSG (monosodium gluatamate) since some of my family members are allergic to MSG. The challenge was finding the right meat to salt, spice ratio and after much research and experimentation, cracked the code! Having said that, tweak the taste to your liking, once you have the correct meat to salt ratio.
When the beef dries, it loses approximately 40% of its weight and the flavors are accentuated as it dries and the water evaporates. This should be a factor when planning how much ground meat you want to start with and the taste of your ground meat before drying.
Beef.
For the droewors, you want the leanest and least marbled cut which is great, because it's also the cheapest! As I mentioned in grilling the perfect steak post, make the butcher at your grocery store your best friend. Many grocery stores will grind / dress (marinate) meat for you. For droewors, have the butcher COARSE grind the meat. This means the butcher will grind the meat once. Most ground beef is sent through the grinder twice.
There should only be about 5% of fat on the meat. You can ask the butcher to cut the excess fat before grinding so that you'll end up with lean ground meat. Otherwise, your droewors will be greasy.
Spices.
I used to buy ready-made spices which you can purchase online, but all of them have MSG (monosodium glutamate) as an ingredient, so I decided to make my own wors (South African sausage) spice. There was no taste difference except for the lack of the tongue grabbing sensation that you get from MSG. I would recommend the Freddy Hirsch Dry Wors Spice from African Hut if you don't want to make your own.
However, it is very easy to make your own boerewors / droewors spices, once you have a good recipe. Freshly ground spices are much more flavorful than already ground spices. So where possible, I use whole spices. To release the oils of the spices, heat them on a skillet (or wok) until you smell the spices but do not burn them. A chopper or regular blender does not grind the spices fine enough since the volume of spices is small, so grind the spices in a spice mill or a coffee grinder until they are fairly fine ground. If you are measuring by volume rather than weight, some of the spices are WHOLE spices rather than ground spices so make the necessary measuring adjustments.
Salt.
Salt is probably the most important ingredient in droewors. It is both the flavoring as well as the preservative so the amount of salt is important. After years of cooking and making biltong, now recipe creation and analysis, I am working toward developing basic seasoning "formulas" that will allow people to cook well...without recipes!
For this recipe, the salt and brown sugar content is 1% of the weight in grams.
Mixing.
Mix the spices into the beef quickly to avoid having the fat coat all the meat. It also helps if the meat is very cold when the mixing is done. When the spices and beef are mixed, marinate all the sausage overnight before hanging.
Casing.
Collagen casing is needed to hold the sausage in shape. I have found that you don't usually eat the collagen casing so paying extra for the "smoked" flavor is not necessary and you don't really taste the smokiness. The plain collagen casing is fine. If using the Kitchenaid sausage stuffer, about 2" (5 cm) of collagen casing will slip onto the stuffer. Measure the casing that will fit, stretch the casing so that it's not constricted, and cut it to size. DO NOT moisten the casing, but just place it over the tube. This will be easier to handle.
Stuffing the sausage.
Stuffing the sausage casing requires 2 people. One person is pushing the ground meat into the stuffer. The other person is holding the casing and guiding the sausage so that it is neither over or under stuffed. Leave about 2 " (5 cm) at the beginning and end to tie the ends. This prevents the sausage from falling out when hanging.
Drying the droewors.
I don't have a designated biltong / droewors maker or dehydrator. Instead, I use my oven that has a convection fan and light that provides sufficient circulating air and heat to dry the droewors in 2-3 days.
Storing droewors.
If droewors is not consumed within a few days, it is best to pack strips into freezer bags and freeze until needed. Enjoy and let me know how yours turned out in the comment section.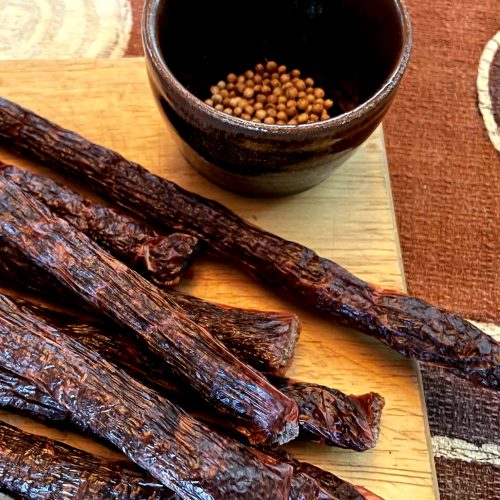 SOUTH AFRICAN DROEWORS
A delicious beef snack made with ground beef and spices, stuffed into collagen casing and dried.
Instructions
Roast spices
Place whole cloves, coriander, black pepper into a skillet / wok and heat until coriander starts to pop and emits an aroma.

Add all the ingredients to the cold ground beef and mix biefly and quickly to incorporate all the spices.

Allow the meet to marinate in the refrigerator overnight.

Prepare the sausage stuffer and stuff with collagen casing with meat.

Keep refrigerated or freeze if not consumed within a few days.
Video
Notes
This recipe is for 1.4 kg (3 lbs) of ground beef which amounts to about 2 lbs of droewors.  Nutritionals are based on a 2 ounce stick.
Nutrition
Serving:
24
g
Calories:
108
kcal
Carbohydrates:
1
g
Protein:
12
g
Fat:
6
g
Saturated Fat:
2
g
Polyunsaturated Fat:
1
g
Monounsaturated Fat:
3
g
Trans Fat:
1
g
Cholesterol:
38
mg
Sodium:
263
mg
Potassium:
211
mg
Fiber:
1
g
Sugar:
1
g
Vitamin A:
12
IU
Vitamin C:
1
mg
Calcium:
14
mg
Iron:
1
mg