What makes "perfect potstickers"? I believe it's the filling of the potsticker and the crispiness of the dough on the base of the potsticker.
I developed this potsticker filling recipe during my college sophomore summer for Sammy Wong's Teahouse. Alex and I had a very simple menu; fried rice, fried noodles potstickers and tea! I learned a few things from our Sammy Wong Teahouse experience: working with your significant other is hard work, and commercial ingredients are not the same as retail ingredients! For Sammy Wong's, we bought soy sauce by the 5 gallon drum and it wasn't until a week into selling our food that we decided to sample our own cooking. We realized that the soy sauce was super concentrated and couldn't believe that there still was a line waiting for our food. Nonetheless, we adjusted our recipe formula and reduced the amount of sodium since we were selling our food to the Harvard Medical School community!
I love making the lacy design that is so simple yet very eye catching and gives the potstickers an extra crispiness.
Tips for making perfect potstickers.
Meat.
You can use ground pork, chicken, turkey, beef or lamb. I have made it will all types of ground meat, but my favorite is pork and lamb. If you are making potstickers with chicken and want to be healthy, I highly recommend combining both chicken breast and thigh together. Chicken breast is healthier but the lack of fat makes it a little dry. If you prefer, you can add cream into the lean meat to make it more moist.
Vegetables.
I like adding vegetables to my potstickers. It makes the meat less compact and makes it healthier. My recipe always has a veggie that gives the potsticker crunch such as the rehydrated black fungus, water chestnuts or jicama.
Jicama is becoming more mainstrain in Asian cooking. I believe it's because the water chestnuts, although crunchy, are not as flavorful. So, if your grocery store does sell fresh jicama, substitute that for the canned water chestnuts!
Soy sauce.
Soy sauce brands taste different. Some are saltier, sweeter, blander, have MSG etc. Even within a particular brand of soy sauce, there may be a basic sauce and a premium sauce. Basic soy sauces can be used for marinades and premium soy sauces can be used as a dipping sauce. I encourage you to taste a few brands and find which one appeals to you.
Frying vs. boiling.
Frying vs. boiling dumplings. See the above video to get that perfect potsticker skin. However you can also boil dumplings. The key to boiled dumplings is not to overboil them. Overboiling dumplings disintegrates the dumpling wrappers so you end up with "naked" fillings! See Boiling the perfect dumpling.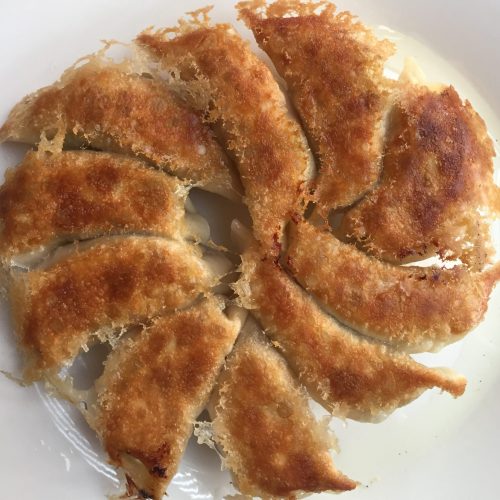 PERFECT POTSTICKERS
Enjoy these delicious potstickers with a crispy base and juicy filling with a surprising crunch! Made with meat and vegetables.
Instructions
Wash and soak mushrooms and fungus overnight with 2 cups water and 2 Tbsp soy sauce.

Chop vegetables into small, diced pieces.

Mix and let marinate for at least 1 hour.
Video
Notes
See Youtube video for how to chop vegetables, fold wrappers and fry dumplings for Perfect Potstickers
The nutritional facts are per potsticker.
Nutrition
Calories:
26
kcal
Carbohydrates:
1
g
Protein:
2
g
Fat:
2
g
Saturated Fat:
1
g
Polyunsaturated Fat:
1
g
Monounsaturated Fat:
1
g
Trans Fat:
1
g
Cholesterol:
5
mg
Sodium:
64
mg
Potassium:
45
mg
Fiber:
1
g
Sugar:
1
g
Vitamin A:
48
IU
Vitamin C:
1
mg
Calcium:
6
mg
Iron:
1
mg
Tried this recipe?
Let me know how it was or if you have any questions or suggestions!