The next best thing after Thanksgiving, besides Black Friday sales, is Thanksgiving leftovers, especially turkey rice congee! Growing up in South Africa, I never celebrated Thanksgiving. My first Thanksgiving was spent with my high-school roommate. All I recall is watching the Macy's day parade over and over again while the smell of turkey and pie wafted through the house, just torturing my roommate and I since we weren't allowed to snack and "spoil our appetites". The thanksgiving feast was the only meal of the day and it was a late lunch!
Many people I know don't like turkey and always substitute turkey for another kind of poultry. I used to feel the same way, because my memory of turkey dinners were dry pieces of meat that needed to be drenched in gravy.
A few years ago, I started brining by turkey which was a game changer. Not only is the turkey moist, the meat is flavorful. Now, my family looks forward to Thanksgiving and the days after. It's now a tradition to use the turkey carcass, neck and giblets for stock that then becomes turkey rice congee for the next few days.
Rice congee or jook is a Chinese staple. My grandmother used to make it for us when anyone was sick. It was a hearty soup when the weather got cold, a definite comfort food. It was the equivalent of chicken soup for the soul! You can make it with any protein...fish, pork, egg, chicken and even turkey!
Tips for making jook
It is preferable to use a non-glutinous rice. Making congee with glutinous rice has a more "sticky" texture. Over the years , I have discovered a few tricks to speed up the process in order to break down the rice to a porridge
Use broken rice.
Broken rice is now sold in Asian grocery stores. The smaller grains make it faster to achieve the congee consistency. If you cannot buy broken rice, put your dry rice grains in a hand blender and briefly pulse it to break it. Do not blend it too long as it will become a powder and that is not what you want.
Pre-soak rice.
Presoak your rice overnight in salted water so that it fully absorbs the liquid.
Use a pressure cooker.
Using a pressure cooker is an easy and quick way to make congee. The pressure helps break down the rice quickly.
Use an immersion blender
An immersion blender helps break down the rice into a congee consistency without having to boil it for a long period. If you plan to use an immersion blender, make sure you blend the rice stock first, before adding your other larger ingredients like the shitake mushrooms and dried scallops.
Additions.
Protein
When cooking the congee, make the basic rice congee first without adding the protein. The protein pieces should only be added towards the end to not only keep the flavor in the tasty protein morsels, but also to keep them tender.
When using cooked meat like rotisserie chicken or roast turkey, shred the meat to bite size pieces. If the meat requires additional flavor, mix it with a little soy sauce and sesame oil.
Toppings
I like offering different kinds of toppings to add. These toppings usually provide a different texture and mouth-feel. Some of the toppings that can be served are:
Scallion / Cillantro
Roasted peanuts
Potato chips
Crispy fried shallots / onions
Lettuce strips
Preserved crunchy vegetables
Fried dough sticks 油條/油炸鬼
Stock.
I do not like adding MSG (monosodium glutamate) to my dishes. The natural flavor comes from the stock. As a result, the congee will not look white as you see in restaurants, but rather the color of the stock.
See Home-made chicken stock. When making turkey broth from your leftover Thanksgiving turkey, remove as much meat from the carcass. Use all the bones, neck including the giblets to make the stock. The amount of saltiness will depend on whether the turkey was brined or not. Once the stock has been made, strain the stove through a sieve to remove herbs, vegetables etc.
Thickening and richness.
I like adding an egg to my congee. This not only adds extra protein and makes it thicker, but adds a richness to the congee. Adding egg to soups is not as easy as it sounds. How and when you add the egg will result in different egg textures. If you add your egg without whisking it prior to adding it to the soup, you will see long strands of yellow and white. If you add whisked egg when the soup is not hot enough, it will "disappear". If you add the egg when the soup is boiling, the egg will immediately cook and be hard. Adding the egg at just the right temperature results in soft, wispy egg distributed evenly throughout the soup.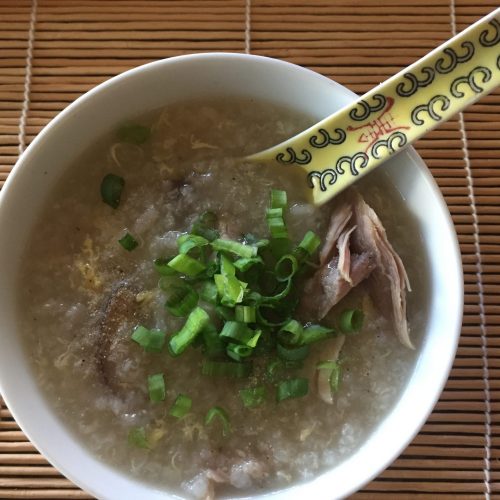 After Thanksgiving TURKEY RICE CONGEE
Nothing better than TURKEY RICE CONGEE with Thanksgiving leftovers.
Ingredients
Turkey stock
1

Turkey carcass, including wings, drumstick bones, neck etc.

1-2

tsp

sea salt

2

tsp

chicken bouillon

3360

grams

water to make

to make 12 cups
Congee
180

grams

uncooked broken jasmine rice.

¼

tsp

salt.

Added to rice during soaking.

25

grams

dried scallops.

About 5 whole scallops

¼

tsp

white pepper.

1680

grams

turkey stock.

7 cups

454

grams

shredded turkey meat.

1

large

egg
Toppings
scallions.

potato chips.

Crispy fried onion or shallots.

crispy dough sticks.

preserved crunchy vegetables
Instructions
Soak ingredients
Wash and soak rice overnight with salt.

Wash shitake mushrooms and place them in a bowl with 118 grams (½ cup) of water and soy sauce and sesame oil overnight.

Soak dried scallops in a small bowl with water barely covering the scallops.
Turkey stock.
Combine all the turkey stock ingredients into a large pot. Bring to boil.

Simmer stock for 1 hour. Turn off stove and let set for another hour. Do not open lid.

Using a sieve, strain the stock to remove any herbs, vegetables etc.

You can now use stock after straining or refrigerate for future use.
Make quick congee using an immersion blender
Drain pre-soaked broken rice and place in pot with 7 cups of stock.

Bring to boil and simmer for 15 minutes.

Using an emersion blender, blend the rice and stock until it becomes the consistency of congee.

Crumble the scallops and add WITH the water in which the scallops were soaked.

Simmer for another 15 minutes.

Add white pepper and shredded turkey meat before serving.

Add additional salt / bouillon to taste.

Serve with toppings on the side
Make congee using a pressure cooker.
Drain pre-soaked broken rice and place in pressure cooker.

Add sliced shitake mushrooms and pepper.

Crumble the scallops and add WITH the water in which the scallops were soaked.

Add enough turkey stock to reach the 8 cup mark.

Pressure cook for 20 minutes.

Release pressure and add egg. See how.

Add white pepper and shredded turkey meat before serving.

Add additional salt / bouillon to taste.

Serve with toppings on the side
Make congee without an immersion blender or pressure cooker.
Follow instructions for pressure cooker, but simmer for 40 minutes.
Video
Notes
Since the turkey is a large carcass, 14 cups of broth can be made.  This congee only requires 7 cups of broth.  I freeze the additional broth for future use.
I use the large pot to make the turkey stock and the pressure cooker for actually making the congee.  However, you can make the entire congee in the large pot.
Nutrition
Serving:
8
cups
Calories:
239
kcal
Carbohydrates:
28
g
Protein:
21
g
Fat:
4
g
Saturated Fat:
1
g
Cholesterol:
45
mg
Sodium:
821
mg
Potassium:
439
mg
Fiber:
1
g
Sugar:
3
g
Vitamin A:
23
IU
Vitamin C:
1
mg
Calcium:
30
mg
Iron:
1
mg
Tried this recipe?
Let me know how it was or if you have any questions or suggestions!